Florine Stettheimer had spectacular views from her living room. She did from her studio, too, overlooking the New York Public Library and Bryant Park—but nothing like the view in a painting from 1933 of her family at home. It opens a retrospective that presents her as always cosmopolitan and always at home—in New York, in Europe, and in modern art.
If you know her at all, you may think of her as halfway primitive and more than halfway mad, and frankly so do I. Not the Jewish Museum, through September 24. It shows a woman in command of her art and her place among artists. It shows her as not just a painter, but also a poet, a designer, and a choreographer, with stage sets to her credit on Broadway—and it is the subject of a longer and fuller review as my latest upload. In that family portrait alone, she commands an entire city.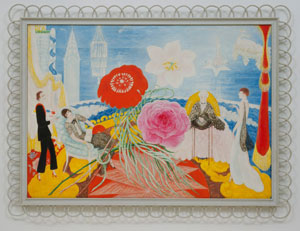 As so often for Stettheimer, the view goes beyond anything that she could ever see. It has her mother and sisters in the most elegant of furnishings and fashion. Yet it opens onto the Hudson River and Lady Liberty, adding untold square feet to their West 58th Street apartment. Flowers bloom in the foreground, large enough to eat them and their surroundings alive. And, wait, is that a second crystalline chandelier next to the first one? No, it is the Chrysler Building, bringing its Art Deco touches indoors.
It is funny and exultant, but also pure theater. (Does one sister pose next to a stage curtain or a domestic one?) It is also a woman's world. Her father, a German Jewish banker, had deserted them long since, and they seem none the worse for it, whether emotionally or financially. It is also thoroughly up to date. The Chrysler Building had begun as recently as 1928, and it reigned as the world's tallest building for eleven months, until the completion of the Empire State Building in 1931.
Stettheimer loved New York for its dry wit and sophisticated pleasures, and she says as much in poetry. "I like slippers gold," she writes, and "oysters cold," beneath a "sky full of towers." She will be sending you out to tour the city as well. Family Portrait, II draws on the Museum of Modern Art, an earlier interior from the Brooklyn Museum, and costume designs from Columbia University, although not another floral river view in the Whitney. The show also includes an elaborate dollhouse with tiny paintings after artists she knew, a collaboration with a sister now based up Fifth Avenue at the Museum of the City of New York. You will have to continue to the American wing of the Met for her The Cathedrals—the cathedrals of art, Broadway, Fifth Avenue, and Wall Street.
The show, then, comes as less a comprehensive survey than a correction. Stettheimer exhibited just once in her lifetime, at Knoedler, one of the city's most elite and progressive galleries, and it bombed. She has gained new prominence from the recovery of women artists, the elevation of craft and design as art, and the dissolution of boundaries between outsider art and, well, everything else. Her most notorious paintings resemble folk art in their busy compositions, flattened perspective, and reduction of people to willowy wisps of paint. Their style made a sensation in a booth devoted to her at the 2017 Armory Show—and they have invited responses from such contemporary artists as Rosson Crow. This exhibition, though, has quite another story to tell, of a worldly woman and a world-class education.
Hers is a world of family, friends, and contributors. Does it seem biting or complacent to present Marcel Duchamp, the founder of Dada, as a dandy? So most often did he, posing in a suit and tie or as his female alter ego, Rrose Sélavy. The show ends with Stettheimer's greatest contribution to theater and most notable collaboration, Four Saints in Three Acts. She was responsible for the designs for the 1934 opera by Virgil Thompson and Gertrude Stein. She did so, much as in a doll house, not with paintings or drawings but figurines.
Collaboration changes everyone. The rapid-fire comedy of Stein's "Pigeons on the grass alas" takes on the slower grace of an African American cast in sultry white robes. One might hesitate to call anything to do with Stettheimer mass culture, although her poetic ode to New York includes Disney cartoons and colored balloons, but the performance took place not in an opera house, but on Broadway. Who knew that one would ever see Stein's name on a marquee? For the artist, too, complicity meant both self-interest and reaching out. She may have welcomed so many into her home as a strategic alternative to public exhibitions, but it was still quite a party.
Read more, now in a feature-length article on this site.