Even great architects have to get things built. If there is one lesson in the hundreds of unbuilt projects in the Frank Lloyd Wright archives at MoMA, it is this.
Then again, some things should never come to be. "Never Built New York" presents an imagined city and a torrent of ideas, at the Queens Museum through February 18.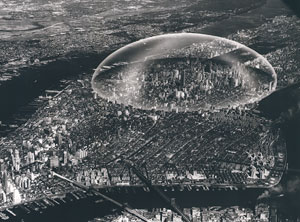 I felt its pleasures and its regrets, but also one huge sigh of relief. In fact, Wright preferred open space, too—and I have added this to an earlier report on the Wright archives as a longer review and my latest upload.
Almost any architect you can name had a shot at New York City and a share in its disappointments. And almost every urban landmark became the target for a makeover, even Central Park. Frank Gehry finally made it into town with his bulging IAC headquarter in Chelsea and twisting tower near the Brooklyn Bridge, but not with a Guggenheim Museum by the East River—and Diller Scofidio + Renfro with the High Line, but not Eyebeam, the arts nonprofit, in the shape of an ascending folded ribbon. Michael Graves had his postmodern moment in the sun, but not with an annex to the Whitney Museum (today the Met Breuer). Marcel Breuer himself proposed a sports center in Queens. Left to their devices, I. M. Pei would have plopped a "hyperboloid" down on Grand Central Station and Wright a party-colored fantasy on Ellis Island.
Real estate being what it is, Manhattan gets most of the attention, although Norman Bel Geddes had a plan to keep the Dodgers in Brooklyn. If the outer boroughs fare poorly, public transit fares worse—unless you count bridges to New Jersey, a gondola by Sergio Calatrava, and yet another soul-crushing highway or two from Robert Moses. Luxury is the word of the day, although Isamu Noguchi and Louis I. Kahn designed a playground, and Buckminster Fuller hoped for apartments in Harlem. Why would they have resembled nuclear power plants? Why, for that matter, would anyone want to cover Manhattan with a glass dome? I hesitate to say, but futurism for Fuller has a mind of its own.
The curators, Sam Lubell and Greg Goldin, are not saying either. And the exhibition design by Christian Wassmann makes things more puzzling still. A room follows plans north from the foot of Manhattan, but with only a handout to determine which is which. I promise that you will fail. The same handout applies to forty models in white, inserted into the great scale model of New York left over (and occasionally updated) from the 1964 World's Fair. They literally shine.
The largest section sticks to plans for Flushing Meadow, including a glass entrance for the Queens Museum itself. Wallace K. Harrison proposed to place the United Nations there, and SHoP architects thought up a sports complex as recently as 2013. Still, almost everything here amounts to pavilions for the fair, which would have vanished in a few months even had they come about. One unbuilt pavilion, by Eliot Noyes, becomes the show's centerpiece, recreated as a "bouncy-castle"—or, in plain English, an inflatable gray balloon. Why? For all the unbuilt city, the museum wants to be the star of the show.
Maybe Queens gets the last word for good reason: modern architecture had mixed feelings about urban density. Moses wanted to recreate New York as automobile country, with his expressways and housing projects utterly apart from the grid. And Frank Lloyd Wright wanted to make it over as the image of America. Queens never once mentions Wright's towers—or his Broadacre City. First presented in 1932, it would have spanned four square miles, with everything from farm units to a factory. Fortunately the new Wallach Art Gallery of Columbia University tackles "Frank Lloyd Wright, Harlem, and Modern Housing," through December 17.
After a model of Broadacre City, it follows Wright out of the city, to prefabs that communities resisted and often lacked the skills to build. It weaves these together with Harlem housing, which it sees as an alternative to Wright's failure to serve African Americans. Its fifty years of projects dispel all sorts of myths. If you think of Moses as the sole villain, they begin with "slum clearance" in the New Deal—and if you think of cookie-cutter projects for the poor, they eventually tried to learn from Jane Jacobs by adding shops and cultural centers, as well as integrating affordable and private housing. Yet the show's parts hang only loosely together, and the projects end up dismaying alike. As in Queens, be careful what you wish for.
Read more, now in a feature-length article on this site.