Last year was the fiftieth anniversary of Sgt. Pepper's Lonely Hearts Club Band, and along with the memories and the wonder came a question: how could they ever have done it?
How did the Beatles turn away from the increasing inwardness of Rubber Soul or Revolver only to become still more experimental and wondrous? How does an album filled with what John Lennon half dismissed as "Paul's granny music" top almost every list of the greatest of all time?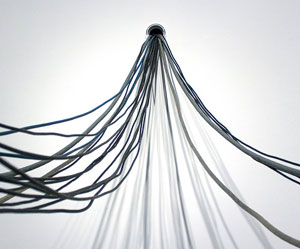 And how could they have achieved all this right down to that still-resonant final chord with only four tracks? What might they have done with a fifty-six track as a mixing board?
How about hang it from the ceiling, as a massive work of art? Daniel Neumann does, as the center of an "immanent concrete sound field," at Fridman through January 24. It also hangs between past and present, much like that very first concept album. Half filthy and interrupted by its flickering lights, it looks barely functional, even as it looms over a West Soho gallery emptied of almost everything but sound. So do its co-conspirators in sound art, the vintage speakers. It takes work to verify that they are the source of the music, as "Channels."
A couple of bulky shapes rest on pedestals, more like relics than like studio equipment or sculpture. Two contain their own music stands, like high-hats from an unresolved percussion section, and Neumann's favorite hangs on the wall, where one could mistake it for an old box radio. They might be struggling to produce the rising and falling deep hum, interrupted now and then by high and low bleeps. The results might be site specific, or they might hardly matter at all. Still, Neumann thinks of the mixing board, speakers, and music as equal partners in an installation. The gallery has shifted hours for the occasion to evenings, to bring out the sense of a concert.
The artist insists on its structure as fifty-six channels crossing the gallery. One may not believe him from the sound of it, but they do so visually. Dark cables from the back of the unit draw together as they vanish into the back wall, casting slim but heavy shadows. One may have to step around to see them, but they pack the greatest impact. That leaves the dilemma of how seriously to take anything else, as sound art or appropriation. Then again, The Times panned Sgt. Peppers.
Much the same dilemma haunts Julianne Swartz, along with her place between sculpture, installation, and sound art recently at Josée Bienvenu through January 13. If anything, it takes even more work than for Neumann to appreciate that she has a sound component. Irregular shafts of paper, magnets, and whatever else function as makeshift speakers, as Bone Scores, while wire embodies the aural patterns as Void Weaves. It matters almost as much that they offer a contrast between floor and hanging sculpture or between solid and void. They have more in common with the Minimalism of Ruth Asawa in wire or Richard Tuttle in thread than of Steve Reich or Philip Glass, although without their keen sense of form. They resist grand claims, in favor of the transience of sound. As with Tuttle or sound art by Christian Marclay, they make a point of their fragility—the fragility of loose weaves or bare bone.
So does their source in sound. Where she based a work in the 2004 Whitney Biennial on "Over the Rainbow," here she claims to incorporate breathing, dying, a beating heart, and (sure enough) the Beatles. Marjorie Welish at Artcritical sees an affinity to the Modernism of musique concrète, but also to the birds of Paul Klee and his Twittering Machine. As with Klee, Welish notes, Swartz points at once to the living and the mechanical. Klee's machine, though, is only watercolor and ink, and Swartz's sounds are barely a rustling in the wind. As with Neumann, they succeed most by crossing in time into the visual.
Read more, now in a feature-length article on this site.