Gladys Nilsson takes as her subject the battle of the sexes. It is not going well for the men.
Oh, sure, it is all in fun—maybe especially when the women manhandle them. They may even like it when a woman steals their beach towel. They can always take refuge with the throng of smaller figures between and around the playful warriors, in what I hesitate to call the foreground or background. At least those characters get to keep their clothes on.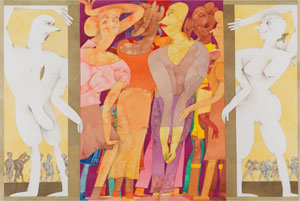 The sexes may meet as equals, like teams of construction workers at left and right of Léger Faire. A man and women, both naked and both in white, flank a central grouping in a more colorful shallow space. The twin attendants could be drawing apart the doors to reveal them, like angels parting the curtain for a Renaissance Madonna by Piero della Francesca. Then again, the two could be closing the doors on an overcrowded elevator, like subway packers in Japan. (To help you decide, Nilsson titles the scene Caught—with maybe an added gotcha at the viewer.) Still, for all the fun and fair game, no question but women get the better deal.
They get to smile, wave, and strut their stuff, in light or sheer clothing, even if one woman's rear end faces forward—unless, of course, her breasts have cloned themselves and migrated downward. Meanwhile the men have it more figuratively ass backward. They wear uniformly grim expressions, to go with their stiff, limp, or hairless bodies. They sport oversized penises with nowhere to go but up. Maybe they are just getting what they deserve. Maybe, too, they will learn any minute to take equal pleasure in the raucous play.
The large watercolors date from the mid-1980s, at Garth Greenan through February 18, but they could almost belong to an earlier and less anxious America. They show little of the politics of the AIDS crisis or "Pictures generation," give or take the sex. The strutting recalls Reginald Marsh, Paul Cadmus on Coney Island, and American Surrealism. The construction sites recall workers taking lunch on a beam of the future Rockefeller Center, in a photograph no longer attributed to Lewis Hine. The stacked and tilted tiers recall Cubism, much as the robust colliding figures recall Fernand Léger—but with pointy noses out of a New Yorker cartoon. Nilsson's titles run to gentle puns reminiscent of gentler times.
Then, too, they could just stem from a gentler art scene. Nilsson had a solo show at the Whitney in the 1970s, but her life and career belong to the Chicago area. Born in 1940, she attended the School of the University of Chicago and exhibited with the Hairy Who. She married Jim Nutt—who does to Picasso's women what Nilsson does to Léger. Her skill and lightness contrast with Nutt's bluntness and the agonized expressions of a third Chicago Imagist, Karl Wirsum. She long exhibited at Phyllis Kind but remains little known in New York.
Those gentler times could also start to look very much like the present, whether I like it or not—and I have added this to a report on drawings by another woman from Chicago, Elizabeth Murray, as a longer review and my latest upload. Caricature, graphic novels, their lack of subtlety, and their horror of the vacuum have entered the mainstream. Robert Crumb and Roz Chast have exhibited in Chelsea galleries. Nillson took up watercolors to avoid paint fumes during pregnancy, but she has made them her own. The large format gains from torn edges and the grain of the paper. Her fantasies may yet come true.
Read more, now in a feature-length article on this site.