Robert Lehman had a fondness for copycats. He made them the strength of his drawing collection, now in the Met—and I have added this to an earlier report on French drawing at the Morgan Library as a longer review and my latest upload.
In part, Lehman had little choice. What do you think was on the market when the banker sought out drawings from as early as the Renaissance, building on his father's collection, if not "workshop of" names you are more likely to know? Yet he also liked them for something only a student then could have—the sheer polish of work with an eye to others already finished. One thinks of sketches as an artist's first thoughts, but they are also a discipline.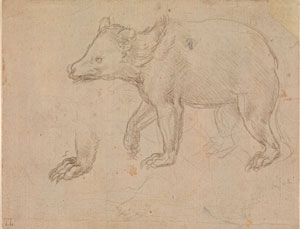 Pinpricks along the outlines could mark their transfer to a painting, or they could stem from dependency on another drawing, one that the master had made available as a model. Such demanding media as metalpoint could indicate an independent drawing for connoisseurs or just more of a test.
Even the unknown artists in a selection of sixty drawings had to be fast learners. They could pull off a sense of mass and motion after Lorenzo Monaco around 1420—or the detail in a head by Domenico Ghirlandaio after 1495 that might almost be someone you know. Lehman, though, preferred fast learners when he came to the big names, too, all the way (as the show's title has it, through January 7) from "Leonardo to Matisse." Rembrandt did not copy The Last Supper, which he never traveled to see, but he did copy a print after Leonardo. His red chalk unites the apostles in a rapid-fire line of gestures and emotions, with Jesus framed not by a window, but rather by a tapestry with folds that add to the action. When the spontaneous and incomplete finally turns up, with a mountain pass by Fra Bartolomeo around 1500, it comes as a shock.
Leonardo da Vinci was a famously fast learner—with a contribution to The Baptism of Christ, around 1475, so unified and alive that his teacher, Andrea del Verrocchio, was said to have given up painting after seeing it. Here he turns to nature for a bear walking. A light tracing behind the bear's rear legs suggests a stop-action motion study, while an additional paw with claws only accentuates the sketchy vitality of the rest. Albrecht Dürer was another prodigy, long before his many brilliant prints and sometimes stiff mature paintings. The raised hand in a self-portrait from 1493 presses thumb and two fingers together as not just virtuoso anatomy, but also the assertion that an artist's grip matters. A pillow in front of him boasts of his grasp of solid form and ephemeral shadows.
Dürer continues on the back with six more pillow studies. The Met speaks of the texture of everyday objects, but they look barely textured and anything but mundane. Think instead of a twenty-something punching the pillow again and again to alter its geometry, with a satisfying bam each time. Vincent van Gogh, in contrast, was a slow learner, but an early landscape looks self-assured. Others would have found fault with the wispy figures and the perspective that broadens unnaturally in the foreground. Yet the lone man sweeping leaves and the broadening create a sense of mystery along with a sense of home, and the trees and their shadows to either side measure it out with precision.
Lehman preferred an old-fashioned finish when one least expects it. Henri Matisse has not yet flattened the nude in 1923, and Camille Corot had not yet abandoned the crisp house fronts and still crisper light of his visit to Rome in 1825. Naturally the collector gravitates to Martin Schongauer, the accomplished late Renaissance printmaker, and naturally he takes Pierre-Auguste Renoir, with a robust and colorful young woman, as his sole Impressionist. Naturally, too, he likes a model posing for Georges Seurat, the warped Neoclassicism of young Spartans by Edgar Degas, and the three-chalk technique of Jean Antoine Watteau. Still, he found room for a study by Antonio Pollaiuolo for a preposterous equestrian monument, in which a petty dictator would have crushed the nude victim that supports him—and with a dreamer by Jean Honoré Fragonard casting not her reflection in a mirror but her shadow. He also allows J. A. D. Ingres last-minute corrections in white, as if the sitter had cut himself shaving.
Lehman's collecting got him on the Met's board by 1960 and a whole wing to himself in 1975. With luck, a museum will never again make that the terms of a gift, especially when the wing impedes on Central Park. Even now, drawings from no particular place or time can illuminate only so much, and luck is running out when it comes to museum expansions at the expense of budgets and the public. Shoveling Chairs, from the circle of Rogier van der Weyden in the Northern Renaissance, refers to a proverbial expression for a peasant revolution. Still, it forms a tidy arch, and the shovelers look ahead a century to the coarser types of Pieter Bruegel. Money talks, even if revolution is in the air.
Read more, now in a feature-length article on this site.