Lygia Pape was working away on modern art when something remarkable happened: she stumbled onto the 1960s. In the face of dictatorship, in fact, she helped to bring the decade alive.
Coming into the Met Breuer through July 23, you, too, can stumble onto a happening. A photo covers the entire wall across from the elevators, with dozens of heads popping out of a rippling white sheet.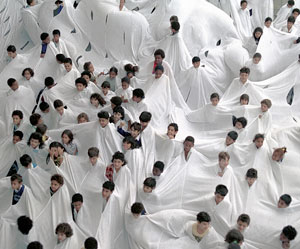 Who knows what it hides—and who knows how many more children of the favelas extend beyond the photo's edges? Like any happening, it brings people together in the name of chaos, protest, or play. Pape first staged it in 1968 and called it Divisor (or "divided") rather than assembly, but then the decade that inaugurated the culture wars was notoriously divided. Her retrospective ends with bursts of color, including a red table and chairs covered with parrot feathers, like her very own strawberry fields.
Pape was not at the center of a mod London, and she was too old for a baby boomer. She was bringing a changing century to the Americas. Modernism had arrived before, with Grete Stern and Horacio Coppola in their travels from the Bauhaus, and yet abstraction was still something of a novelty in Rio when Pape, born in 1927, joined with others in founding Grupo Frente in 1954. Frente means the front, as in the vanguard, but this avant-garde looked way back to Piet Mondrian in the Netherlands and what Theo van Doesburg back then called Art Concrete. It had a lot of catching up to do. Five years later she and others, including Hélio Oiticica and Lygia Clark, issued a Neo-Concrete manifesto.
Her work keeps moving back and forth between book art and, on film, performance. She traces parallel lines in ink and woodcuts, but with gaps that transform the image into overlapping triangles and circles. She cuts and peels paper so that it becomes an object in three dimensions or a frame for whatever lies before her. Even when she works in wood blocks or paint, she sticks to small dimensions, and she spoke of her most ambitious projects as books. They include the books of time, night and day, architecture, and creation—each suggesting art or a woman's life as a coming to be. The first, or Livro do Tempo, cuts into and layers onto small squares, one for each colorful day of the year.
Art itself, then, has become a happening. It has the desultory pace of the crowd that gathered into a circle, as Espaços imantados (or "magnetized spaces") in 1995. It has the intimations of violence of her woman with a stabbed tongue—like the woman shot in the eye in Sergei Einstein's Battleship Potemkin. Pape knew about violence at first hand, too, for she lived through a military coup in 1964, soon after the Neo-Concrete movement disbanded, and chose to remain in Brazil at the cost of imprisonment. She retains, though, the optimism of her tales of creation and change, with her Objects of Seduction from 1968 and Wheel of Pleasures from 1976. The first involves false eyelashes and make-up mirrors, the second white bowls of colored water.
The water makes use of food coloring and flavoring, including such native ingredients as banana, coffee, and coconut. And Pape keeps returning to her nation's poverty and indigenous people along with her Modernism and sophistication. Barely clothed men play tribal percussion in one video, and they hang out near a house on stilts by the water in another. Pape obtained her BA and MA only in her forties, and she taught architecture at a time when Roberto Burle Marx and Latin American architecture were thriving. Her layered paintings and books could pass for architectural models as well, much like those of Mateo López later in Colombia. Yet they keep looking for a culture present for her at the creation.
"A Multitude of Forms," curated by Iria Candela with the Projeto Lygia Pape, keeps up well with her shifting interests until her death in 2004. Yet a decade's tale of becoming is present all along. At first her vocabulary is right out of Mondrian, as is the matte white of her gouache on board—but the lines and squares land with the spontaneity of the I Ching. The parallel traces from 1956 cohere all at once into black stripes exactly like those of Frank Stella three years later. Years later, with Ttéia (or "web" with an extra T), much the same parallels become shimmering masses in metallic thread, like rising beams or falling water. A new concrete is finally happening.
Read more, now in a feature-length article on this site.