Maybe the Museum of Modern Art is finally getting the point. It has begun focusing on its collection, which got short shrift in its 2004 expansion.
It has done so with special exhibitions to illuminate movements in modern art. And now it headlines not a period in history, but women in abstract art. While the show pays only token attention to African Americans, take heart: as I noted in an earlier report, a Chelsea gallery has William T. Williams ripping through many of the same years. Together they belong now to a longer review and my latest upload.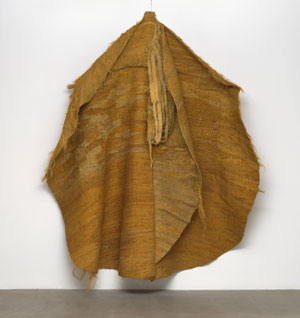 "Making Space" does not try to pick winners in the contemporary scene, through August 13—although women have done plenty to drive the resurgence of painting. MoMA has been picking winners for a long time, but that is starting to look more suspect in a hot market with a short memory. Rather, it tackles the glory years of postwar abstraction and Minimalism. With "Women of Abstract Expressionism" in Denver or Carmen Herrera at the Whitney, maybe other institutions are getting the point, too. The display of the collection quite generally will be changing as well—and the changes are rubbing off on men.
The show calls attention to past practices as well. When critics object to a paucity of women in museums, they almost always mean MoMA. Recently women have seemed to be everywhere, but here mostly as Marina Abramovic staring off into space. The good news is that more than third of this show consists of fairly recent acquisitions. The bad news is what that says about the last forty years, after paintings by Lee Krasner, Joan Mitchell, Helen Frankenthaler, and Agnes Martin shaped a generation's understanding of postwar art. With shows like this, they could shape a new generation's understanding now.
Not that MoMA was ever out of the picture. It says as much with the exhibition title, which recalls the standard history of abstraction as formalism, as well as the need to make room for women. It says so, too, in mentioning exhibitions going back to 1951. It cites "Abstraction in Photography" when it comes to Barbara Morgan and Gertrude Altschul, "The Responsive Eye" when it comes to Bridget Riley and Op Art, and "Wall Hangings" when it comes to Sheila Hicks and Anni Albers—who had served as acting director of the weaving workshop at the Bauhaus. It opens with big gestures in red, blue, and green by Grace Hartigan, whose work toured the country in "New American Painting" starting in 1956. She was the sole woman present.
Coming late to the game has its advantages at that. Like prior shows of "Dadaglobe" and "The Revolutionary Impulse," it allows the curators, Starr Figura and Sarah Hermanson Meister, to bring history up to date. They devote nearly a room to Latin American art, including Altschul, Lygia Clark, Lygia Pape, and Gego. They incorporate design with ceramics by Lucie Rie and again with tapestry in a room for "Fiber and Line," including a grand cape of rumpled sisal by Magdalena Abakanowicz. They can even distance themselves from formalism by calling the last room "Eccentric Abstraction"—for such figures as Lee Bontecou, Jay DeFeo, Louise Bourgeois, Lynda Benglis, and Eva Hesse. The very first room bows to globalism with Etel Adnan, born in Lebanon, and to African Americans, with Alma Thomas.
A revisionist history is bound to bring surprises, even with work acquired long ago. That first room counters the epic scale of Abstract Expressionism with collage by Anne Ryan and Janet Sobel, perhaps the first drip painter. The show leaves out Hesse's large work in favor of hanging paper-mâché and cord, created at an abandoned German textile factory. I already hear cries to move all this immediately to the regular galleries, displacing as many men as possible, to get a revisionist history going there, too. That would be a mistake. This is not a zero-sum game at the expense of men who changed the rules—and it is not another round of puffery and pop stars.
Does MoMA have a distinct vision of women in art? Maybe or maybe not, and either can be the point of giving them their due. One can argue that all along, as with Mitchell or Krasner's Gaea, they have rooted abstraction in both subjectivity and nature. One can again argue for riffs on craft, such as polyurethane Belly-Cushions by Alina Szapocznikow. One can also argue for women as outsiders, including Jews who escaped Europe—with Szapocznikow a Holocaust survivor. Male immigrants like Arshile Gorky would understand.
Read more, now in a feature-length article on this site.