Who knew that New York University's Center for Neural Science has an artist in residence? Nene Humphrey is just that, and she calls her latest show "Transmission," like a brain wave or a work of art.
Neural science is concerned with networks, almost like fabric, and so is she. She bases her art on embroidery and clinical studies of the brain. It gets dark and messy, and the mess can be an act of remembrance. It can also be a probe into the mind, in a wiry third dimension.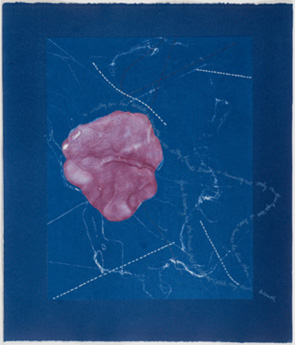 Humphrey shared a gallery in 2009 with Nancy Haynes, with the tactile, physical edge of abstraction as her subject. Her Mylar on paper held floating blots or blocks of color. From there, ink spun outward, like the self-generating networks of the brain. A show that same year of abstraction and its materials called itself "Cutters," and Humphrey is still cutting and weaving. It could stand for the messy business of fine art. It also invites the viewer into a record of its making.
Her new work opens with a construction in wire and mixed media, at Lesley Heller through February 18. It also extends to video, in an installation that draws them together as a vivid whole. Its images serve as both a model for creativity and a remembrance of death. For all their material nature, they come most alive when fragile and translucent. They come alive, too, in the viewer's unfolding experience. It could be her own or a scientist's experience as well.
The new work adds associations with human hair. It served as a Victorian keepsake, for further remembrance. She also adds more of Humphrey. One enters past wire spinning across facing walls, only to face the artist, projected onto strips hanging from the ceiling like a curtain onto the unknown. She could be feeling out her materials, weaving them together, or teasing them apart. She could almost be conducting brain surgery.
The results appear behind the curtain, in two more videos on facing walls. Both project above what could be her work tables, with the tools at hand. The show concludes with seeming frames from the videos, but in charcoal. They soften her textures and carry them into a greater but more illusory depth. Science may have become more a metaphor than a serious, independent practice. Yet the merger of process and product has become a shared experience.
I covered Humphrey briefly in context of Haynes, "Cutters," and Mary Heilmann. I encountered her still more briefly in a 2014 group show, "This Music Crept By Me upon the Waters," grappling with loss. There she recorded her husband's breathing before his death in 2006. Her central shapes, in violet against blue, and her white tracery swelled outward like jellyfish with the currents and the air. I have amplified the first review a bit with just some of the words here, as a longer review and my latest upload, while leaving the second intact. Artists in shades of black and white are still casting their spell upon the waters.
Read more, now in a feature-length article on this site.