Brace yourself. With Thanksgiving, New York can get pretty crowded with visitors. So how about a break for an excursion to what is at once one of the city's finest tourist attractions and an escape? I report on my last visit, just this past summer.
The Cloisters may be New York's least-touristed major attraction. Perched high on a hill in upper Manhattan, surrounded by a quiet park and views of the Palisades in New Jersey, this museum hold the Unicorn Tapestries—and the most important Renaissance painting in America. Tourists do move in by now on a summer Sunday like the one I chose, and yet it is largely unknown even to many New Yorkers.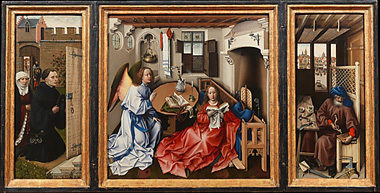 I had my first visit in nearly a decade some years ago, and I have kept returning ever since.
Like far too many tourist traps, it is a historical re-creation, but oh what a creation. The Metropolitan Museum reconstructed its several cloisters from genuine fragments, with gardens now in bloom and a fine Romanesque chapel. Many of the paintings will interest mostly specialists, but not Robert Campin's Annunciation. This triptych, painted in 1426 or so, reached the Metropolitan only within this past century, through the American dealer Rosenberg & Stiebel.
In a sense, Robert Campin is himself a historical re-creation, a hugely successful artist with no well-documented surviving work. Even now, art students learn the controversial origins of the Northern Renaissance, in manuscripts and half-documented panel painters. Yet art historians also came to attribute a number of paintings to a single artist, whom they called the Master of Flémalle. This painter's style has much in common with another great artist and Campin's almost certain pupil, Rogier van der Weyden. Put these paradoxes and parallels together, and one has a breakthrough.
Any innovation, however shattering, is incremental. I can even imagine Giotto reshuffling old elements to create the drama of consistent space in Italy. Some scholars, most forcefully Lorne Campbell in 1974, leave all but a handful of paintings to Campin's workshop. For them, the Annunciation is a lesser innovation among many. But in the Mérode Altarpiece, as it is known after a previous owner, I come face to face with one man creating a new art all at once, almost out of nothing.
Every so often, I use a post to return to something that I wrote some time ago, usually about art of the past and New York's best. It also gives me the opportunity to revise something in hindsight. This past summer allowed me my latest return to the Cloisters and just such an opportunity, so do take a look and maybe visit yourself before the park looks further and further away in the winter cold. I use it to discuss what went into that new art and what makes Mérode Altarpiece both meaningful and still strange. I also revisit a longstanding quarrel over just who painted it. As you will see in the longer review, the Met has demoted it to Campin's workshop or even the workshop of those who emerged from his workshop, and I disagree.
There it all is, a domestic interior overlooking a busy street in taut perspective. The new oil medium builds, detail by detail, these gleaming surfaces and multiply reflecting shadows. Now Joseph, as a dignified man intent on his craft, has a part to play in sacred history, other than as a joke and a cuckold. Not even an influential illuminated manuscript before Campin, by the Limbourg brothers, went so far. Soon after, one sees the carpenter at work alongside the Holy Family in a prominent Book of Hours.
Campin is exploring an age's new-found relationship between humanity and the supernatural, long before popular culture banked on art to salvage precisely that suspicious aura. That has something to do with the painting's confusing perspective—and the uncanny leap from the donors beside an open door at left to the closed rooms a floor above. When I was still in college studying physics, a blackboard sketch summed up pretty well a student's pitiful understanding. The joke showed each step of a proof, except for a long arrow near the end. "And then a miracle occurs." For Campin, a road through this world leads the pilgrim to another world, in front of temporal experience, but it takes a leap.
Read more, now in a feature-length article on this site.