Summer brings New Yorkers outdoors—and early summer in the galleries brings the outdoors in. Sometimes it seems that abstract art can encompass anything, but sometimes, too, it is rooted in landscape. Francisco Ugarte brings the outside in ingeniously, with a single brushstroke, at Cristin Tierney through July 7. It may be only the illusion of a brushstroke, but then it is only the illusion of a landscape as well. Ugarte restricts himself to the mark of a loaded brush, like a simpler David Reed, dragged across the center of an empty field—and then he recreates or reimagines the mark, painstakingly, on paper or canvas. The black acrylic gathers and scatters, while also drawing thin and leaving the fainter lines of individual bristles.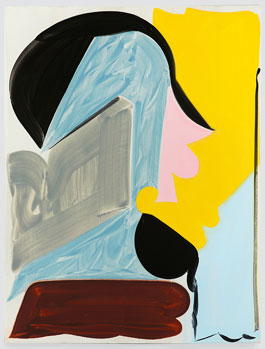 This art is determinedly abstract, but a video makes it hard to ignore the resemblance to a horizon line or the texture of rock and soil. It shows hills going nowhere fast, perhaps near his native Guadalajara, as the backdrop to a whiter and more inscrutable plain, while a car crosses much like his brush. Past work has used paint tubes and shadows to conjure up model cities and foil-wrapped furniture to bring the discomforts of an arid landscape indoors, but here things stay plainer. Ugarte subtitles each work Brushstroke. And then he calls the show "Three Lines, One Square" to insist that he is only painting lines. As for the square, I never found it, but (like the brushstroke) it may have broken up some time before.
Shara Hughes is more summery and a lot less summary, at Rachel Uffner through June 25. It takes a whole show to discover the abstraction in her abstract landscapes or studio interiors. Her all-over painting looks representational enough, like Pierre Bonnard on steroids. The sheer density of dabs puts vegetation at its center. Some images, though, become harder to make out, apart from exercises in mostly primary colors. Taken together, as in 2017 Whitney Biennial or an earlier show of "Post-Analog Painting," they become a compendium of approaches to making a painting.
Patricia Treib is cleaner, at Bureau through June 18, but the compendium is there all the same. She combines firm edges with looser strokes to deepen her warm colors. Although their flatness may recall Henri Matisse and his cutouts, they go well beyond primaries to include browns and purplish blues. She also gives her color fields plenty of room to breathe. Their curves may overlap, or they may nestle up against one another without touching. The show's very title calls attention to the "Interstices."
That leaves the emphasis on the shapes. They may seem abstracted away from a profile or the dowels of old furniture, and the domesticity lends them a greater calm. And then the wiggles keep things moving again. One might even interpret a shape here and there as a large Greek letter. Pattern and Decoration, Pop Art, folk art, color-field painting, expressionism—none of the labels seems quite right. That is much of what makes the paintings interesting.
All these artists belong to the revival of abstraction, but without the formulaic scale and brushwork of "zombie formalism." Treib especially messes things up. They also offer an alternative to the frequent invasion of the human figure into abstraction. They can still have even diehard fans of abstract painting like me wondering. As I have to keep asking myself, when anything goes, where is painting going? For now, it is happily preoccupied with itself.
Read more, now in a feature-length article on this site.