Are earthworks just overblown dump sites? One could head out to Michael Heizer at his ranch in Nevada to ask his neighbors, assuming that he has any. He has been hauling earth for his City for more than forty years. Not even the pyramids would have been good enough for this pharaoh of modern art.
Better yet, one could ask Mierle Laderman Ukeles. Closer to home, she has conceived of Freshkills, the huge landfill on Staten Island, as a public space since 1977. As Better Davis said, "what a dump."
Ukeles differs from Heizer in at least one regard: her work is collaborative. She has served for all that time as artist in residence for the department of sanitation. Over the course of a year, starting in 1979, she shook hands with every one of its employees. Is New York closing the landfill and converting it into a park?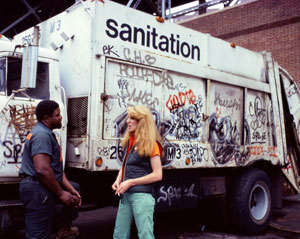 Fine with her, for that will bring her Inner City Outer Space to completion in 2018.
She stands apart from Heizer in another way as well: she has seen too much of art as the latest development. Ukeles styles herself a maintenance artist, just as "sanmen" are maintenance workers. Her performances began with everyday tasks and everyday things, such as raking leaves and scrubbing a sidewalk. She asked workers in lower Manhattan in 1976 to consider an hour of their work as art as well. When a review in the Village Voice joked that the sanitation department, too, should call its work performance art, she and the department reached out to one another, and she is still in it for the long haul.
Fittingly, her retrospective unfolds in a park, at the Queens Museum in Flushing Meadow through February 19. Fittingly, too, the museum houses a model of the city's watershed, in collaboration with Rebecca Solnit, the writer and activist. It also maintains and updates its model of the entire city, left over from the 1964 World's Fair—on which Ukeles traces the course of her Touch Sanitation Performance, or handshakes, in lights. Much of the exhibition traces her residency, including a ceremonial arch of sanitation equipment and gloves, first displayed at the World Financial Center in 1988. Even earlier, she began asking garbage trucks and scows to drive in circles, as Work Ballets, like comic echoes of a movie by Jacques Tati. Every weekend of the show, a mirrored truck drives up, as if eager to join in.
Besides earthworks and performance, Ukeles has more unexpected roots. She thinks of Jackson Pollock, Mark Rothko, and Marcel Duchamp as family. She connects maintenance art to tikkun olam, the Jewish obligation to "repair the world." Her partnership also has to do with a tradition of celebrating labor, as with WPA art during the New Deal, and the city's fiscal crisis of the 1970s, when funds were lacking and workers were in need of respect. The Voice review added that they should ask for money from the National Endowment for the Arts. Most of all, though, she was making a feminist statement, going back to a Manifesto for Maintenance Art in 1969.
"I do a hell of a lot of washing, cleaning, cooking, renewing, supporting, preserving, etc.," she wrote after becoming a mother. "Also, (up to now separately) I 'do' Art." She did not yet have the sanitation department in mind, but she might well have. Washing, cleaning, supporting? No sweat. Back at the landfill, microbes even do the cooking, breaking down garbage and emitting methane.
Minimalism arose alongside earthworks and feminism, even for a maximalist like Heizer—and Ukeles differs once again in going over the top, not always to her benefit. The ceremonial arch is unashamedly gaudy. She is also unashamedly a cheerleader, from a 1984 performance erasing slurs directed at sanitation workers to a mural representing their work shifts as black areas on the face of a clock. It provides colorful wallpaper for the exterior of the model city. If too much else gets lost in a mass of documentation, a circular Peace Table of blue glass anchors the exhibition beneath the museum's skylight, with wires rising up and sunlight tumbling from above. Not only a dump site can provide common ground and a moment of quiet beauty.
Read more, now in a feature-length article on this site.