I am not quite ready to post here from a draft review of "Trigger," contemporary art about gender and identity at the New Museum. Can I get you interested, though, by a look back to a related show just a couple of months ago and a few blocks further south?
Is there a specifically gay abstraction? For the Leslie-Lohman Museum of Gay and Lesbian Art, through September 10, the question may take some digging.
Much the same question keeps coming up for women and African Americans, as recently with "Making Space" at MoMA and William T. Williams in Chelsea. For each, it may affirm that they can compete with the big boys on their own terms—or probe how their experience has changed the rules of the game.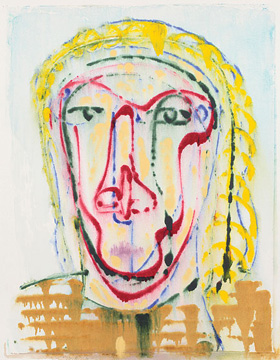 "Found: Queer Archaeology; Queer Abstraction" has another answer altogether: dig deeper. For the curator, Avram Finkelstein, "in a world that prefers we be hidden, we excavate." Perhaps, but they may be covering their traces as well.
The museum itself may take some digging. It has existed in one form or other for thirty years, but I overlooked it until a helpful review in The Times. It lies just down the street from the Drawing Center in Soho, but it has no more space than many a gallery, including Deitch Projects a few doors away. It may ask to play a modest role as well. Selections from the museum's collection lean heavily to portraiture as assertions of LGBT identity, despite a disfigured mask by Nicole Eisenman and a horse bound in white by Deborah Bright as Wild Secret Girl. But then its portraits range from early photography by Wilhelm von Gloeden and Wilhelm von Plüschow to Jimmy DeSana in performance, daubing white stuff in his crotch.
Portraiture appears in "Found" as well, only more layered. Rodrigo Moreira, Troy Michie, Gaye Chan, and Frederick Weston all use collage, overpainting, or folds to suggest a blurring of gender or ethnicity. Photocollage by Matt Lips compiles male role models in western culture. The passage from identity to multiplicity recurs in text art, when Eve Fowler quotes Gertrude Stein: This Is It with It As It Is. That by no means rules out it as it is not.
These artists pursue either of two strategies, often at once. They may be recovering a sense of identity from found fragments, much like archaeology. That may mean a child's toy for Robert Lucy, sculpted hair spray for Maia Cruz Palileo, or floral slippers for Boris Torres. Alternatively, they may be recovering an identity from its use by others. Karen Heagle takes her self-portrait as a male from Egon Schiele, L. J. Roberts sharpens a memorial to the Stonewall riots by George Segal, and Alyse Ronayne treats her studio to a messy "real allegory" after Gustave Courbet. Ken Gonzales documents a lynching, but with the victims taken out of the picture, leaving only the appalling crowd.
It gets hard to distinguish recovery from effacement. Which is at issue with slim red neon by Lucas Michael, set against the wall like a door without a passage or a picture frame without a portrait? What of sandbags in plaster by Anthony Goicolea, trapped between mirrors as Infinite Compression? What of Anne Frank's house after a visit by Justin Bieber, in an installation by Buzz Slutzky with room on the bed for The Autobiography of Alice B. Toklas and Eichmann in Jerusalem? Archaeology has become less a discipline than a metaphor. So, too, has abstraction.
It appears almost as an afterthought, despite the show's title. Yet it follows much the same strategies of effacement, reflection, and recovery. Michael also buries an image in black graphite, while Carrie Yamaoka treats vinyl and epoxy as a blackened mirror. Nancy Brooks Brody takes the gallery's or the viewer's measure with metal strips embedded in the walls. Alyse Ronayne creates abstract painting with spray tan, Brian Christopher Glaser with shampoo ads, and Sam Gordon with studio sweepings. Still more detritus serves Maika'i Tubbs as abstract sculpture or oceanic stones.
Any archaeological find carries the risk that one may have seen it all before. So too often does the entire show, now that appropriation and abstraction have started to blend together. One may miss true pioneers of gay abstraction, like Robert Rauschenberg and Jasper Johns—or one may prefer an installation by the museum's windows, by Rachael Farmer, for a more personal history. Pairs of white ceramic women navigate mountains of gray quilting. What look like characters from The Handmaid's Tale refer instead to Farmer's Mormon ancestors. They leave it up to the viewer to dig deeper.
Read more, now in a feature-length article on this site.