Is love still the message, and is the message still death? For his video and his message, Arthur Jafa cut between violence at the hands of the police and African Americans in moments of victory in politics, culture, or sports (and let me refer you to my 2016 review of Love Is the Message, the Message is Death for a fuller account). Their insistent rhythms bring home that black lives matter, and they matter just as much in moments of pride or humility, anger or despair.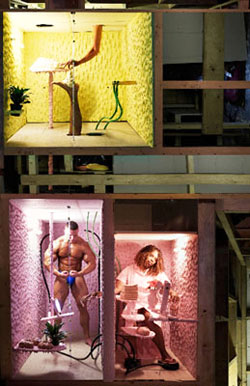 A year later, they return in "The Body Politic," at the Met Breuer through September 3. Its four videos, now in the Met's collection, leave open when the body becomes political—and when politics becomes a matter of bodily triumph or torment. The focused selection makes it easy to sit through them all in hope of finding out.
Only one runs more than eight minutes, and Steve McQueen even calls his Five Easy Pieces, from 1995. Its pieces do not run sequentially, no more than for Jafa, and cutting among them leaves bodies in that moment between stillness and motion. Are they African American bodies? A tightrope walker has no color beyond the white of his sneakers, and men with hula hoops divide into five pairs—with one in each pair dressed in white, the other as his silhouette or shadow. Blackness appears more explicitly with facial features, a woman in a glittery dress swaying, and a man taking stabs at jerking off. The frequent close-ups, like the view of the man in his underpants through a curtain of water, make them hypnotic but discomforting presences.
They, too, stop short of claiming victory, least of all for blackness. McQueen's takes his title from the movie about a white pianist in blue collar country—and maybe it is only my imagining, but I also thought of Bob Dylan:
They've got him in a trance.
One hand is tied to the tightrope walker.
The other is in his pants.
But then on Desolation Row "the riot squad, they're restless," and that was before Black Lives Matter.
Phat Free, by David Hammons and also from 1995, starts out in total blackness. Only after a couple of minutes does the elusive artist become visible, along with the source of the video's annoying sound. Hammons is kicking a bucket down the street, accompanied by equally jarring camera movements, grain, and glare. He could be punning on "kick the bucket" as the fate of an urban black male—or on "kicking a can down the street," as an expression for failure to take responsibility. Do not be too sure, though, not when Hammons relishes the joke. He may have nothing better to do, but he takes his time, kicks the bucket into his hands, and walks away.
Born in Argentina, Mika Rottenberg divides her body politic between New York and China. I might find the show more coherent if all four artists were African Americans, but oppression and the body know no bounds. She has made art from a black woman trapped in her own obesity, Third World workers, and Rottenberg herself barely able to punch her way out of a box. For NoNoseKnows in 2015, a plump blond drives past bleak housing, finds a parking spot, and walks through door after door, topped by oversize soap bubbles. She ends up in a still more confined space, with food piling up by her side and flowers on the shelves demanding attention. Real laborers impinge less directly.
The women workers are under the stifling pressures of a pearl factory, but a New Yorker can feel their pain. One Chinese worker endlessly turns a wheel that appears to spin ropes in front of the blond woman, and feet stick out of a bucket of pearls. Food keeps piling up, unappetizing and uneaten, and her nose keeps growing. Finally her nose shrinks, the soap bubbles burst, she wipes the soles of the feet, and she leaves—only to take that same ride past the projects in the video's closed loop. Jafa takes his reality entirely from the media, McQueen and Hammons are just performing, and Rottenberg makes even a factory a stage set. Which is more real, more pressing, more artificial, or more in a trance?
Read more, now in a feature-length article on this site.