Columbia University is marching on Harlem. It could be a display of raw power, a case study in gentrification, or a step toward a brighter future. One thing for sure, though: it has produced an impressive center for the arts and sciences—and a new home for the Wallach Art Gallery.
With "Uptown," through August 20, it opens with an acknowledgment at last of its place in the community—and it is the subject of a longer review in my latest upload. The show's twenty-five artists, all working north of 99th Street, can offer a warm welcome.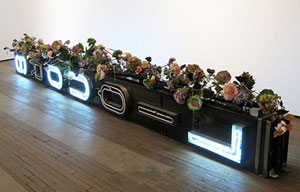 Morningside Heights has long felt like a privileged enclave, separated by Morningside Park and the physical chasm of 125th Street from the realities of Upper Manhattan. These days, though, the Upper West Side has reached up to it, all of the city is safer, and the Studio Museum in Harlem has brought sculpture to the parks. These days, too, Columbia is growing, much as New York University seems out to consume Greenwich Village and beyond. The Jerome L. Greene Science Center opened last fall on West 129th Street, on what Columbia calls its Manhattanville campus, while construction continues apace by Barnard College. Now the Lenfest Center for the Arts nestles behind the science center, west of Broadway. You may find yourself walking through one to locate the other.
Renzo Piano designed both. He has become a go-to architect for museums, and you can see why. For one thing, he is a team player. His buildings project less a signature style than the needs of an institution. They are big, bright, and anything but sleek, much as the new Whitney Museum in the Meatpacking District looks from the outside like a hospital or a prison. The Morgan Library wanted a decent café, an atrium, and a connection from its public areas to its conservation department and offices, with barely a nod to its galleries, and Piano delivered. Columbia, too, gets big lobbies and bulky exteriors.
For another thing, he cares about the movement of people and the display of art. His buildings are airy and well lit, outside and in. The new gallery has the sixth floor of the arts center, with big windows on three sides. They turn mostly away from the heavy traffic and near empty yards by the Hudson River—and toward their neighbors. Where MoMA's 2004 expansion gave it a diminished emphasis on the collection, the Wallach Gallery has grown. (You will just have to wait and see how MoMA does with further enhancements by Diller Scofidio + Renfro.) And where MoMA or the New Museum architecture by SANAA has its closed boxes, the Wallach Gallery welcomes natural light.
"Uptown" takes its time and tests the space, and my longer review tells you more about its contributors. Julie Mehretu and Jessica Rankin use the outside corridor for works on paper between fluid squiggles and landscape photography, while most others have just a work or two apiece, not all of it recent. Nari Ward plops a big assemblage down in the main area, while Marta Chilindron suspends translucent acrylic from above. Reza Farkhondeh uses the front of the entrance partition for floral painting, while Shani Peters places a rug and cushions around the back for a place to meditate or simply to sit. Virginia Inés Vergara and Balleté Ross Smith have new media alcoves, while Renee Cox and Elizabeth Colomba share an alcove for photography. They add up to a healthy variety of scales, media, ethnic and gender identities, and often political art—but also a compromise between business as usual and reaching out, from a gallery dying to enter the big leagues.
"Uptown" is not just an opening exhibition, you see, but a triennial. Consider it less a promise than a threat. Yet this installment works—because it is as focused and open as the architecture. The curator, Deborah Cullen, cultivates encounters, in the hanging but also in collaborations like that between Mehretu and Ranking (a couple in real life as well). Encounters extend as well to the roughly equal numbers of established artists and newcomers. They serve as a useful reminder that not all the first have abandoned the city, and not all the second live in Brooklyn.
Ward makes the most of the central space—to return to what Columbia might have wanted to leave behind. Out in Socrates Sculpture Park in Queens, he recreates the marquee of Harlem's Apollo Theater, lights and all. Here he settles for the burned-out sign on a liquor store. Lying on its side, it becomes a giant window box, but for artificial flowers and nowhere near a window. It might have suffered from vandalism, gentrification, or a hard night's drinking. Either way, the remaining lights spell out SOUL, and its comedy makes the Wallach's presence in the neighborhood that much more real.
Read more, now in a feature-length article on this site.