"We Wanted a Revolution." It sounds like an expression of failure or despair. It sounds, too, after John Lennon's "Revolution" (or on the centennial of the Russian revolution), like a declaration of what no one should have wanted at all.
Instead, the exhibition celebrates twenty years of black women artists in context of their radicalism. It opens in 1965, when revolution was in the air, and ends with political art as the mainstream. In between, it hints at uncertainty as to where art or politics begins or ends.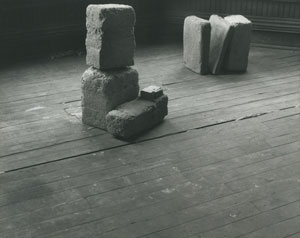 The Brooklyn Museum displays just forty artists, through September 17, few of them household names. Yet the show stretches in all directions from just outside The Dinner Party, by Judy Chicago, where a history of women seems all encompassing and all affirming, to the point of sentimental. It can because the names keep coming, including the names of collectives in art, in performance, and in protest. Spiral, AfriCOBRA, the Art Worker's Collective, the Black Art Movement—it gets hard to remember them all. The first began with black males, but Romare Bearden, Normal Lewis, and Charles Alston invited Emma Amos to join them, and women assumed a greater and greater role. Ana Mendieta curated "an exhibition of Third World women artists of the United States" at A.I.R. in 1980, including broken columns by Beverly Buchanan, and Linda Goode Bryant founded her gallery, Just Above Midtown (or JAM).
At the center of the room outside The Dinner Party, Elizabeth Catlett combines curves and hollows out of Constantin Brancusi, an arm raised in a salute to black power, and the cedar of folk art and craft. Modern art, it says, can get along just fine with politics and community. Betye Saar says much the same with an assemblage akin to a Joseph Cornell box but mirrored, as Black Girl's Window. So do Jae Jarrell's fashion designs, paintings by Faith Ringgold that recall quilting, and Ringgold's mural destined for the prison on Riker's Island. So more obliquely does the show's largest work—including a cloak of black bronze and wool by Barbara Chase-Riboud, black wire sheaves by Maren Hassinger, or (in a photo) hosiery sagging down from an open window as Rapunzel by Senga Nengudi. More often, though, artists seemed way too busy protesting to think of art.
They had a lot to protest, including the paucity of women in museums. Posters have the psychedelic colors of the 1960s and harsh edges closer to woodcuts. Jarrell's husband depicts Angela Davis in the style of an album cover by Jimi Hendrix. A torrent of documents appears throughout. Whatever is near monochrome by Howardena Pindell doing here at all, for all the density of color and cut paper like crushed eggshells? Well, she did lead a protest against "The Nigger Paintings" by a white male at Artists Space in 1979.
Like "WACK! Art and the Feminist Revolution" before it, the show works better as history than as art. It is also a narrow history. One might never know that a black male, Tony Whitfield, joined Pindell's protest—as did Lucy Lippard, the white critic, and Ingrid Sischy, entering her term as the white editor of Artforum. One might never know, too, that art addressed poverty, apart from etchings by Kay Brown, or that Mendieta was Latino. Still, it is a lively history of race and gender. Catlett's Target zeroes in on an African American male head, while a woman with her breasts swing open to reveal a red light, thanks to Alison Saar.
The curators, Catherine Morris and Rujeko Hockley, gain from the mix of media. Blondell Cummings treats the drudgery of housework as modern dance, before it induces a seizure. They also gain from the politics of the "Pictures generation"—although "Pictures," the 1977 exhibition at Artists Space, had no black women at all. Three years later, Lorraine O'Grady subverts standards of beauty as Mlle Bourgeoise Noire, while Coreen Simpson brings the glamour of fashion shoots to a Harlem church. Lorna Simpson and Carrie Mae Weems have their caustic encounters between photography and text. There is a lot to remember and, as Weems concludes, "Don't you forget it!!!"
Read more, now in a feature-length article on this site.