In December 1970, Hélio Oiticica moved to New York. Had he brought Brazil with him or left it behind? The Whitney shows him searching all his life for a sense of belonging and freedom, through October 1.
So what if now and then they got in each other's way? So what, too, if the creator of an installation called Eden never found paradise. With an earlier report on Lygia Pape, a fuller version of this review is the subject of my latest upload.
With Pape and Lygia Clark in Brazil, Oiticica launched a movement. The Neo-Concrete manifesto of 1954 asserted their place in Modernism and geometric abstraction, and it connected both ideals to personal freedom.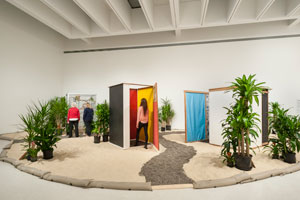 Oiticica liked it so much that he used the movement, Grupo Frente, as the title for his early art. Works on paper break from the grid, with elements in motion in debt to Kazimir Malevich, Paul Klee, and Piet Mondrian. A painting in shades of red has a luminosity and rigor that would have done Ad Reinhardt proud. Just in case you have not had enough of the group, it appeared recently enough in a Chelsea gallery's summer group show.
Not bad for an artist in his twenties, nearly fifty years before museums and markets embraced Latin American art. Yet he came to New York not as an apostle of modern art, globalization, or cultural identity. He came to belong and to create. He had already survived the dictatorship that took over Brazil in 1964. He had watched as friends suffered exile, jail, execution, or silence. As an artist and a gay male, he found new friends and new life in East Village art. From the wild and personal look of his work from the 1970s, he had left painting and politics alike all but behind.
Ten years later, he quit the city, under pressure from immigration agents and under suspicion for his sexuality. His proposed urban architecture had gone nowhere. Still in touch with Clark, he wrote that he felt "in prison on this infernal island." He returned to Rio, but not to the formal exuberance with which he began. He died from a stroke just months after his return home, at age forty-two. In his short life, every discovery came at the cost of the abandonment of another—and every step toward release became confining once again.
The search for belonging and freedom appears from the start, along with their tensions. Belonging is obvious, given a moment and a manifesto, but so are the free-floating elements of geometry. Malevich became a hero to Minimalism in America for his spare paintings. The curators, though, suggest that he meant something else again in Rio—much as Soviet art in its time stood for new beginnings. Still, Grupo Frente quickly felt confining, and Oiticica sought to free his work from canvas and the wall. He adapted his planes to sculpture for others to enter, and he placed a mirror on the floor beneath one piece, so that others could see themselves.
He called smaller works Bólides, or fireballs, beginning in 1963, so that the explosions could continue. He gave wood cabinets movable shelves and filled glass receptacles with pigment, crushed brick, organic substances, and earth. They hint at his identity as a sexual being in a native landscape. That landscape expands, too, to include others, but refuses the labels that others place on him. Tropicália from 1967 allows "participants" to follow its pebbled paths or to wander on their own in sand. Its plants, TV footage, and caged birds place the work in the tropics, but allow for a recreation anywhere. It offers a place for reading and contemplation, while contemplating stereotypes that Oiticica abhorred.
Two years later, he created Eden at the Whitechapel in London. Now the paths are gone, leaving open sand and cryptic enclosures. You may stumble onto a floor of leaves, hay, or running water, so watch your step even in paradise. Then comes the fall from Eden and New York. At his death, he had left the infernal island for a hotter climate and death. So where did he belong, and was he ever free?
Read more, now in a feature-length article on this site.