On that quiet last week of summer in the city, allow me to catch up a bit by posting reviews from the last season that somehow never made it to the blog. I shall have extra posts (Tuesday and Thursday) to help as well. Start with a slow dance.
Simon Starling calls his work At Twilight, which ran at the Japan Society Gallery through January 15, but its heart lies in darkness—the darkness of night giving way to morning, of a threat to one's very life, and above all of a darkened theater.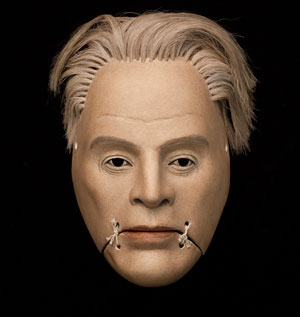 AIt unfolds on video as a dance but also a drama, and it recreates the dance at the climax of a drama by William Butler Yeats.
A man shrouded in refuge from age, poverty, the wind, and the cold stumbles forward and collapses to the floor. For Yeats, he was all that was left of Cuchulain, a legendary Irish hero searching in vain for a fountain of youth. nd then not water but music summons him to life. He throws off his shroud, rises in glory, and spreads once and for all his hawk's wings.
Starling conceives the work as part installation and part history lesson. It opens with the usual wall text and two hanging objects that could almost pass for headphones bearing further explanations and obligations. They are instead Japanese swords. The video plays out behind masks like those of Japanese Noh theater from the fourteenth or fifteenth century, set on the shapes of thin, bare, twisted trees. They also include a horse's head in fabric much like the aging hero's stark gray cloak. Past them all lies a brighter room with costumes for the drama, along with the horse's headless body.
A longer lesson comes after that, with further objects, this time the originals—as well as documents, period photographs by A. L. Coburn, and prints by Edmund Dulac. Starling explains more in person on a second video and also diagrams the connections as his "mind map," a collage. It gets complicated. Yeats wrote At the Hawk's Well for Dublin's Abbey Theater, which he had founded with Lady Gregory. He wrote in 1916, during World War I and amid Vorticism, the English version of Cubism indebted to Wyndam Lewis. Jacob Epstein built on the damage of war and the triumph of Modernism alike in sculpture, with his Rock Drill.
Starling describes the Hawk Dance as the Irish poet's Noh "reincarnation," but he is charting a torrent of influences and collaborations. Michio Ito choreographed and performed the dance, and the designs of Henri Gaudier-Brzeska, a follower of Epstein, lie behind more than one mask. Isamu Noguchi paid his own tributes to East and West, and Ezra Pound, as secretary to Yeats, turned him on to Noh theater. Nancy Cunard brought many of them together in London's fashionable Cavendish Square and served as their muse. That horse turns out to be Eeyore, because A. A. Milne found comfort and ideas in the same Irish woods as Yeats. Whew!
Starling, an English artist who appeared with "Ostalgie" in 2011 and the Wagner collection in 2016, adds influences and collaborations of his own. He credits still others for his music, his choreography, and even his masks and costumes. They include a mask of Yeats, jaws sewn shut and his features almost Asian. They also include a mask of Cunard after Constantin Brancusi, who abstracted away from her in bronze. They can evoke mythic terrors, terminal whimsy, or both at once—like the head from Winnie-the-Pooh. Trust me that Pound did not have them in mind when he later wrote off Noh as "all too damn soft."
You may find yourself quoting him anyway. Starling's theater can approach archeology, and his history can grow arbitrary. Still, it is hard to turn away. His sheer scope reflects the turmoil of Modernism and its greatest poet, and the central room recreates their power. One passes through the masks on their bare trees as if through a real forest, an eastern mystery, an Irish legend, or a metaphoric dark woods. One wants to sink to the ground with the dancer and to spread at last one's wings.
Read more, now in a feature-length article on this site.