Experimenting with Socialism
John Haber
in New York City
The Power of Pictures: Early Soviet Photography
Alfred Stieglitz: The Steerage
"The Power of Pictures" leaves two unforgettable images of early Soviet photography. It can hardly help it.
In one, art was the scene of dizzying, constant experiment, trusting no one and nothing—neither authority nor even itself. In the other, art served as relentless propaganda on behalf of socialism and the state. Both were in service of revolution, and yet they were also on a collision course, with artists among the first fatalities. So when did one give way to the other, and when did Modernism become a power play?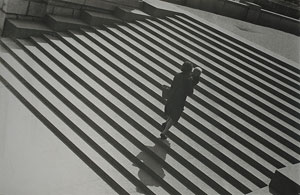 To answer, the Jewish Museum traces the course of early Soviet photography, but earlier still Alfred Stieglitz joined photojournalism and experiment. The Steerage, on view upstairs, created an indelible image of the American dream for an America that had turned the dreamers away.
First, though, the question has no easy answer, not when both experiment and social realism are still signature styles of modern art. "The Power of Pictures" begins with the first, in photograms and unsettling shadow—before Stalin came to power, insisted on realism, and suppressed dissent. It ends with the other, with athletes and soldiers, reducing individuals to collective discipline and to the cult of the male body. A postscript has film posters, in those familiar bold letters and stark colors, and films themselves run continuously in a back room. They include Battleship Potemkin by Sergei Eisenstein and Man with a Movie Camera by Dziga Vertov, in their entirety. Museum hours permitting, one could camp out there for the duration.
A revolution in shadow
Anyone will recognize the power of experiment and propaganda. It shines in photography, posters, and film, but experiment floated briefly in the space of painting as well, in Suprematism. Retrospectives have traced Kazimir Malevich and Alexander Rodchenko, with his Proun, or "Project for the Affirmation of the New." Rodchenko is here, too, along with El Lissitzky. Both insisted on experiment, as in the journal LEF ("The Left Front of the Arts")—Rodchenko designing a cover and Lissitzky placing its logo over one eyeglass lens in a chilling portrait of its leading critic, Osip Brik. And yet both also contributed covers to USSR in Construction.
There is no easy answer because their commitments to both versions of Modernism were so real. There is no easy answer, too, because the tensions between those two versions began early. They emerge right off between the photojournalists of the Russian Association of Proletarian Photographers (ROPF) and the greater daring of another group, October In photograms from the 1920s, those of Georgy Zimin shimmer, while wire for Lissitzky multiplies beyond the reach of realism or reason, and pliers have a threatening grip. For Arkady Shaikehet, the globe topping Moscow's central telegraph station stands for a brave new world. For Lissitzky, a photomontage of the same image becomes The Socialist Breakup.
Lissitzky had been to Switzerland to recover from tuberculosis, where he had surely seen the experiments of Dada and, in photograms, Man Ray. And a damaged subject of his dangerous experiments is himself. In self-portraits with his head bandaged, a compass approaches from below like pincers. Photos from Rodchenko combine formal beauty and proletarian labor. Pine trees look like a railroad yard spewing dust and smoke. A diver descends from overhead like a human cannonball.
If one cannot altogether tease the two versions of Soviet art apart, both have a frightening component in the all-seeing eye. It is the eye left over when a critic's right eye is reduced to a magazine logo. It is Cinema Eye, a film by Vertov with a maquette by Lissitzky. It is the eye of the hand-held camera—and indeed the Leica, invented in Germany in 1925, found its Soviet counterpart in the FED. In Rodchenko's Girl with a Leica, the dappling of light and shadow looks like a skyscraper seen from below. It is either eye in Georgy Petrusov's caricature of Rodchenko, layered over his bald head like a surgical scar.
The curators, Susan Tumarkin Goodman and Jens Hoffman, help locate the tensions with an arrangement by theme, while hoping to preserve the shifts in power over time. After photograms come "Constructing Socialism" and "Metropolis." They show a triumphant rush of dams, towers, gears, and factories, seen at dizzying angles. Try not to object that they involved a contract with Ford Motors. Peasants for Shaikehet hold "Lenin's light bulb," and an express train hurtles through clouds as an emblem of brute force. Boris Ignatovich turns pouring steel into a fireworks display and the dome of St. Isaac's Cathedral into a symbol of the twentieth century.
Next come "Soviets," including Stalin posing as a working-class Napoleon, hand in his coat. Yet they also include writers and artists on both sides of revolution, such as Boris Pasternak, Anna Akhmatova, Maxim Gorky, and Eisenstein rumpled and slouching. Their portraitist, Moisi Nappelbaum, like many loyal to Stalin's ruthlessness and anti-Semitism, was a Jew. Finally come sports, the military, and "Staging Happiness," with scenes of everyday employment, education, and health care—and here, too, there is no getting around the underside of the official picture. Petrusov captures sunbathers at the Black Sea as manufactured leisure. Shaikehet's soldier at the frontier, rifle at the ready, looks all the more alone for the tree beside him against a black sky.
Dark passage
So when did revolution become an oppressive institution? When Lenin said that a camera is a weapon in class struggle quite as much as a gun, did he mean to encourage experiment or propaganda? The question resonates because it is not solely about early Soviet photography. It echoes in the entire course of the Soviet Union, and as early as 1927 a stack of papers from Rodchenko proclaims Down with Bureaucracy. The question of power and institutions has dogged Modernism elsewhere as well. Several photos in fact have their counterparts not in Russia but in America—the telegraph globe in the Atlas of Rockefeller Center, Georgy Zelma's workers high above a blast furnace in construction workers at lunch for Lewis Hines, Rodchenko's portrait of Vladimir Mayakovsky in rural subjects for Walker Evans, or Olga Ignatovich's athletes on today's sports pages.
As it happens, the Jewish Museum has a second exhibition about modern photography and class politics—only this one from western Europe and the United States. Or rather, it is caught between the two. With The Steerage, Alfred Stieglitz left a lasting memory of crossing the Atlantic, and it has come to mean the fears of a surging humanity and America's promise to the world. What has been lost in time is full recognition that Stieglitz was documenting a broken promise.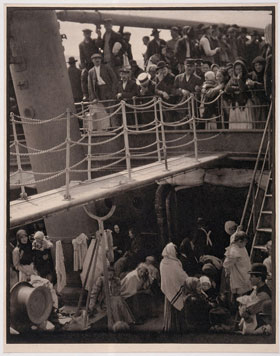 He was on a voyage from Hoboken, his hometown in New Jersey, to Europe in 1907, and his country had turned most of these people away. He and they alike are in transit, and neither can say what their future holds.
The display is part of "Masterpieces & Curiosities," a series focused on single works from the museum. And the curiosities lie not just in half-forgotten narratives, but also in supporting objects from the collection illuminating them. A scale model of the ocean liner, the Kaiser Wilhelm II, looks like an antique and expensive toy, and postcards publicize the ship's services. It began life as a German achievement, longer than the world's tallest cathedra—before the U.S. Navy seized it during World War I and renamed it the Agamemnon. A photo shows soldiers cheering on their return home after the Armistice, when America used it as a transport ship. Luckily, they did not face the fate of Agamemnon after the Trojan War, but the nine hundred passengers in steerage are another matter.
The moment came early for Stieglitz, when he was finding his own way between photojournalism and Modernism. He was also finding his way between religions, races, and classes. He agreed to the luxury cruise but hated every minute among the "nouveaux riches," he recalled. "I had to get away from that company." Instead, he found two levels, separated by a ladder, a gangplank, a steampipe, and a yawning gap between first and third class. Sunlight on the gangplank and a boater hat makes the distance all the greater.
Much of the show concerns how the meaning of the image has changed. The museum documents the photo's publication and its 1924 reprint in Vanity Fair. There it accompanied articles on "How to Be Frightfully Foreign" and on the quota system that had denied entry. Its meaning shifted in 1951, when Alfred Kazin, in A Walker in the City, used it to illustrate the dreams of his own family on arriving in New York. As the son of Jewish immigrants, Stieglitz would have understood but with a bitter edge. His feelings are not irrelevant to refugee crises today.
Any invitation to spend time with a single work is special, although the exhibition risks reducing the photograph and its subject alike to historical curiosities and artifacts. Care to see a version of The Steerage in chocolate syrup from Vic Muniz? Care to know how much a prayer shawl in an encyclopedia resembles the ones hanging above or shrouding the defeated masses? When Stieglitz, by now an accomplished photographer and dealer, stands next to Georgia O'Keeffe seated in somber profile, could she look defeated herself? Yet the invitation to linger and to look remains, along with two classes and two continents anxiously greeting change. Even now, the crossed diagonals barely contain the contradictions and the surge.

"The Power of Pictures: Early Soviet Photography, Early Soviet Film" ran at the Jewish Museum through February 7, 2016, "Alfred Stieglitz's 'The Steerage' " through February 14. A related review has more on Russian revolutionary art.