For an artist who all but disappeared from the art news, Rosemarie Castoro made at least one striking late appearance. One can see her in a photo, blurred by the long exposure, striding or maybe dancing past sculpture that could be striding or dancing itself. One might never know that the artist and dancer had entered her sixties with the millennium.
In the Arched Waves of welded steel, successive folds add up to two feet on the ground but arching into space. They might almost update Italian Futurism for Minimalism and its dreams of pure form. But then Umberto Boccioni did call his 1913 bronze Unique Forums of Continuity in Space.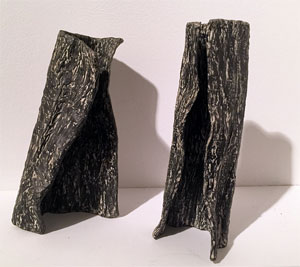 Not that Castoro ever quite disappeared, thanks to steady support from her long-time Tribeca dealer, Hal Bromm. She was intimate with Minimalism's first circle in the 1960s, and her work makes little sense apart from it. A large red painting dates from 1964, roughly the time of Frank Stella in black, aluminum, copper, and color. Bright red lines outline fields of a softer red, much as the gaps between Stella's stripes define his canvas. The repeated curves of her Trunk Tracks, close to tongue lickings, fill rectangles much like typewriter drawings by Carl Andre. Drawings based on parallel lines recall Sol LeWitt.
Still, she took her share of hits as a woman and her share of neglect, long before her death in 2015. A look back at her career, through July 29, came as news, in fact, to me. It also comes at a time of greater interest in recovering figures from that generation, including women like Phyllida Barlow and Sheila Hicks. Castoro appeared in an experimental film with Andre and Lee Lozano, who similarly fell off the radar in the 1970s. Still, surely part of her invisibility has to do with a refusal to play by the rules. Back when art was so often rule based, that had to be a big deal.
Castoro embraced irregularity. Diagonal bands in graphite from 1966 cross each other every which way. Paintings from the 1960s may build on a single element, such as the letter Y, like alphabets for Richard Tuttle. Yet the big red painting is more like a jigsaw puzzle. She favors optical activity over conceptual rigor in "pencil paintings" from 1968, where diagonals in several colors of pencil on acrylic create a single vibrant field of blue-gray. She also has an obvious eclecticism, across media and strategies. Even in graphite, she saw herself as working in, not to mention covered in, dust.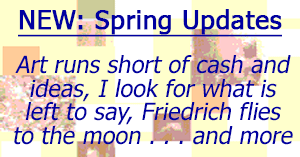 Just as much, she moved between two and three dimensions as if they were one. In Rotating Corners from 1971, graphite darkens panels some seven feet tall, like the triptych leaning against a facing wall. Only here the panels stand at right angles on the floor. While diehard supporters may prefer work from the 1960s, her move toward sculpture continues for some forty years. Torched stainless steel from 1985 already has its share of twists and turns, as well as a depth of dark color from the torching. A wire sculpture appears the next year, and soon enough gesso lends graphite on paper and board the firmness of papier-mâché. The shift brings out the illusionist in her as well, as in large, richly shaded drawings of even more twisted sculptural forms.
The shift also brings out a susceptibility to allusion, most often to something between spirituality and nature. Titles refer to Venus, Erda, and of course trunks and waves. It has to say something, too, that those are female gods. Still, Castoro has not gone altogether misty-eyed, not when arches also refer to architecture. Maybe her mind was on too many things to come up fully to her more famous peers. Still, the vigor of her eclecticism has lessons for the chaos of art today.