I like every summer to take advantage of the down time to offer a long look at just one work. See, for example, my immersion in Jan van Eyck (and maybe his brother Hubert) and Giovanni Bellini. This year, though, I got an early start. My post excerpts a talk that I prepared for Cheryl McGinnis gallery in May. You can read the full text in a longer review, as my latest upload.
I feel lucky to be able to talk about this artist and this painting. It is a very early but intriguing painting by a major painter, Adolph Gottlieb. When it comes to art, Abstract Expressionism was among my first true loves, and here one gets to ask how it came to be.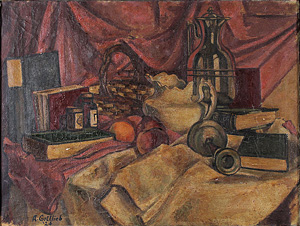 Abstract Expressionism is still the textbook standard for American art's entering the modern stage, and Gottlieb worked and exhibited with the best of them. He appears in that 1951 Life magazine photo by Nina Leen of the "Irascible Group of Advanced Artists." The movement is also called the New York School, and Gottlieb along with Barnett Newman and Lee Krasner were its native New Yorkers. Well, Krasner was actually from Brooklyn before it was hip, but we forgive her. Like her, Gottlieb was also Jewish. Like the immigrants in the group, they knew well what it meant to leave the turmoil of Europe behind.
You may know him from his signature work of the 1950s and after, until his death in 1974. Most Abstract Expressionists had signature motif, like drips for Jackson Pollock or "zips," meaning vertical bars, for Newman. Gottlieb's was a vertical pairing, much as Mark Rothko often paired his floating rectangles. On top, against a field of bright white, sometimes scarred or stained with black and color, he placed a plainly geometric form. It might be a soft-edged circle filled with color or one or more tilted red crosses.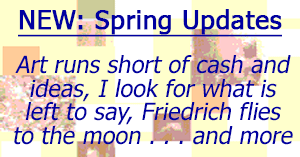 Below, he placed a circle with much rougher edges, from paint smeared out in all directions.
John Ruskin, the nineteenth-century critic, famously accused James McNeill Whistler of flinging a pot of paint at the public. You could imagine that bottom field as a single splash of paint, although of course that is only an illusion. The outward marks are individual brushstrokes. You could also imagine the top form as something more impersonal, a mere symbol. Yet it, too, emerged from the artist's head and hand. Together, they appear as an explosion on canvas.
You may also know Gottlieb from work in the preceding decade, for which he coined the label pictographs in 1941. They are transitional work, much as Pollock had to work his way through Surrealism. They consist of stick figures or totems arranged in columns on a field of darker color. People often associate them with "primitivism" or the supposed universals of Carl Jung. Maybe, although Gottlieb was making art for today. No question, though, but he was learning to look within.
Here we have an early work, from 1924. To give you an idea of just how early, Pollock was then twelve years old. Gottlieb, who was twenty or twenty-one, had taken classes at Parsons and the Art Students League.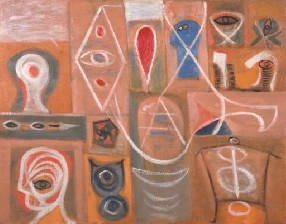 He grew up across from Tomkins Square, when it was still part of the rough and tumble Lower East Side. His father, who had a stationery business, did well for himself, and the family moved to the Bronx when Gottlieb was seventeen and the Grand Concourse was a Jewish Park Avenue—as I can fairly say since my father came from a much less endearing Bronx neighborhood. Still, Gottlieb had had enough, dropped out of high school, and worked his way across the Atlantic on a merchant ship.
This painting dates from soon after his return and his completion of school. Looking at it, we want to ask how it differs from his mature work and how it does not. We want to ask how it differs, because we want to find that moment when he and Abstract Expressionism became themselves—and why. And we want to look for continuities, because we want to know if we can find the roots of the movement within its artists. We want to know what made them special, maybe even all along. You can read the full talk, where I take those questions one at a time.
Read more, now in a feature-length article on this site.