Max Beckmann has finally made it to the Met. It only took him a lifetime.
Beckmann was sixty-six when he set off to cross Central Park exactly that many years ago, only to die of a heart attack along the way. He had lived here all of two years, even counting a summer away in Oakland, where he taught at Mills College. Even then, apparently, he could not support himself entirely through his art. Yet the museum considers it the end of the German artist's many years of exile. He had an apartment on the Upper West Side, another job at the Brooklyn Museum's art school, and a favorite haunt or two in lavish hotel bars.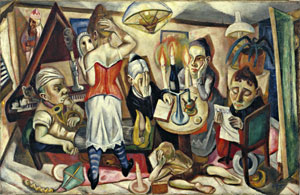 He had found, he wrote, his long lamented prewar Berlin "multiplied a hundredfold."
It takes chutzpah to imagine him at home anywhere, much less New York. The dozen paintings from those months rarely picture the city, and they have landed pretty much anywhere but here. Yet they and that dark December day in 1950 supply the excuse for "Max Beckmann in New York," through February 20—and it is the subject of a longer and fuller review, in my latest upload. Without them, it would amount to a small survey drawn from local collections, with their share of gaps and no other local connection. They do, though, show an artist always in society and yet always in exile. They show him, too, as a mythmaker and realist, with himself at the center of reality and the myth.
Sure enough, Beckmann was crossing town to see his very own image, in an exhibition of contemporary American art. If that subject and year make you think of other exiles in New York, such as Arshile Gorky and Willem de Kooning, just then breaking through to Abstract Expressionist New York, forget it. He commands the scene in a white tie, reddish orange shirt, and even more startling blue jacket. Its loose fit and the hand slipped casually into his right pants pocket only emphasize his ease and presence. As so often, a slashing black picks out the folds, and the acid colors extend to green, for a foreground table or chair. As so often, too, a more subdued and sparely painted background frames him but cannot trap him. Highlights bring out his roving eyes and high forehead.
The portrait faces the entrance wall, in a room of self-portraits. They surround visitors on every side, almost always with those cool skin tones, restless eyes, and a cigarette. The curator, Sabine Rewald, sees in them a vulnerable, even introspective character. She calls him fragile compared to the bulk of his blue jacket.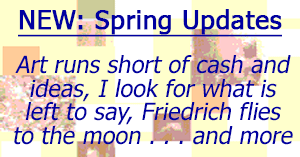 Do not believe it for a minute, not even when he holds an outsize horn to his ear like a hearing aid for a virtuoso. He is both taking you in and putting on a show.
He is Richard III for a modern-day drawing room. As a child in a 1949 triptych, Beginning, he even wears a paper crown. The crown transfers to a Viking at the center of another triptych and probably his most famous work, Departure from 1933, in the collection of the Museum of Modern Art. The Vikings are at sea, between scenes of unspeakable torture, while a drummer marches past to commemorate their fate. Are they in exile or relentless invaders, tormented or tormentors, in a mythic past or a frightening historical present? The question applies to everyone and everything he sees.
The show runs neither thematically nor chronologically—a far cry from the 2003 Beckmann retrospective at MoMA (the occasion for me of a deeper look at his work), for all its quality. Is everything just a carnival all along? Faced with the grim spectacle, I often wish that Beckmann could get over his exile. Stop exaggerating, I want to scream, and just calm down. Maybe, though, he already has. He can always put on a blue jacket, formal wear, or a sailor suit and invite you to his studio, so long as you do not expect a welcome.
Read more, now in a feature-length article on this site.