What do you do when someone insists on sharing her most intimate family secrets? If it is Sally Mann, you want to know more—and so, it turns out, does she. Her memoirs coincide with a return to the studio of a mentor and friend, Cy Twombly, at Gagosian uptown through October 29, as the locus of memories in tubes and rags of paint, a suitcase, a mandolin, streaks of paint along the floorboards, and beads of light from perpetually closed Venetian blinds ascending the wall.
Yet she has an intimate story of her own—and it is the subject of a longer review, as my latest upload.
Mann's photographs let on less than one may think, because she is first and foremost an artist, but they tempt one to see more by their very artistry. Her third collection, Immediate Family, enticed and shocked viewers with its portraits of her children. One could see them naked and clothed, in the ponds and woods of rural Virginia. One could see them as savage innocents or as sexually aware, and one could project that dual wildness onto the photographer or onto nature. The series earned her the cover of the Sunday Times Magazine, but also charges of pedophilia and serious threats, and she had to take them seriously. She is still responding to the outrage.
Hold Still promises the lives behind the pictures, and it delivers, only the lives go far beyond her own. So do the pictures, in what the subtitle calls A Memoir with Photographs. "We all have them," it opens, "those boxes in storage, detritus left to us by our forebears." Over the course of the book she burrows into the public and private record, to lay out not just her work, her motives, and their detritus, but those of her ancestors as well. She also returns often to the reliability of photography and memory. Hold still and hold tight.
Not everyone will want to know more, because not everyone wanted to know half that much in the first place. Maybe her critics saw her family pictures as pornography, or maybe they saw her family as white trash. The first charge still angers her, but she addresses the second, too, implicitly—starting with the artful language of her prologue. "In our attic," those boxes "kept an increasingly disapproving vigil . . . over the promiscuous sprawl of stuff that piled up around them." They included "snapshots, of course, by the thousands," but also letters, "snarly haired dolls," and ever so much more, as "the residue of my own unexamined past." And then she will proceed to examine it and to demand their approval.
The entirety runs along parallel tracks like these. It follows her over time, starting with that girl who loved horses and agreed to wear clothes only so that she could watch the family farm expand and hang out with the carpenters. Her work appears less as stages in her career than as the focus of her life. One has to know both to realize that her near abstract first collection, made for Washington and Lee University, centers on Rockbridge County, exactly like her opening chapter. There she remembers John Brown's thrill to its beauty at the very moment before his hanging.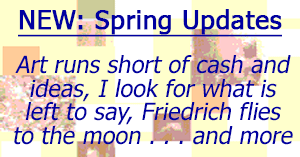 Already she manages to combine an appreciation of the scene before her with her politics, a taste for shocks, a leap in time, and an awareness of death.
A third and last track amounts to flashbacks, for those lives beyond her own. Her return from college with her husband, Larry, allows her to delve into his family. Their disapproval of her suitability for a son with five custom tuxedos masks their own southern gothic. It comes out only when they die, in a murder-suicide. Her next project after Immediate Family, landscapes suffused with darkness, leads her to her mother's family history—just as memories of Gee-Gee, the black woman who did much of the working of raising her, leads her to her photographs of African Americans and the price of slavery. The final chapter takes her deeper still, to her father and his obsession with death. And her last photographs here take her to the morgue.
For Mann, the treachery of memory co-exists with that precious moment of insight. A photograph robs us of our memories, in order to preserve "the humdrum and the miraculous, the inelegant and the ineffable." It brings "the rare, heart-pounding, break-squealing lurch to the verge after glimpsing a potential image." It helps her "project a different interpretation onto to conventional" and "make the commonplace singular." It allows her children to run naked, long after they are grown. It lets her retain her own sly and rebellious childhood, now touched by death.
Read more, now in a feature-length article on this site.