In 1777 Giovanni Battista Piranesi, just past his mid-fifties, stopped at the three ruined temples of Paestrum, near Salerno. Barely a year before his death, could he have attained at last a sense of release?
Raised in the Republic of Venice, he had made his name with monumental views of Rome that belong at once to the fabric of a modern city and the past. Now he sketched the sunlight of southern Italy, so hot that herdsmen sought relief in the Greco-Roman ruins of their early Doric pillars and triangular lintels. He lives most to this day with the Carceri d'Invenzione, or "Imaginary Prisons"—prints so fiendish and intricate that they soon came to stand for a confining dream. Now he turned to what the period knew only as holy ground, as a basilica and as temples to Neptune and Ceres.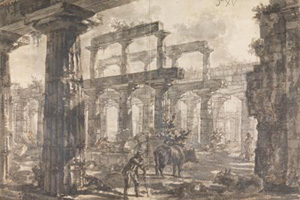 For Piranesi, though, there was no escaping the fantasy or the fever. Perhaps his prisons never did press in all that closely with their torments. They reach upward in level after dizzying level, anticipating the steel frames of the great railway stations still to come. Now he subordinates peasant life to his own unreason. He adopts baffling points of view, multiple perspectives, and sudden contrasts between light and shadow that bring out the crumbling incompletion of columns and triangular tympani, weeds flourishing at the top. One temple looms beyond another as less a relief or an alternative than a pale vision.
Who are these people anyway? The fifteen studies leave them ambiguously at work, at rest, or at play, at times quite out of scale to the architecture. One figure is absorbed in reading, and some might well be tourists. A man of the cloth appears outside, but he might be a figure out of commedia dell'arte or just plain slinking off. Few speak, and pigs and cattle loll contentedly, to judge by a discernible smile. Most look just as ghostly as the temples—and just as often drowned in the towering contrasts of light and shadow.
The artist still took his care. He worked extensively in black chalk before adding pen, ink, wash, and sometimes red chalk. He also meant the series as models for prints on the same scale, which his son, Francesco, completed after his death. If the etchings look clear by comparison, one can attribute the difference to the media or to a generation. In 1817 Sir John Soane acquired fifteen of the seventeen surviving drawings in 1817, at the Morgan Library through May 17 along with two etchings as "Piranesi and the Temples of Paestum," on loan from the architect's London museum. Downstairs through October 4 as "Exploring France," fourteen oil sketches from the Thaw collection, shared between the Morgan Library and the Met, fill out a view of landscape art just entering the nineteenth century—their diligent precision caught in time between Neoclassicism and the crisp light of Rome for Camille Corot.
Was it Romanticism yet? Arguably Piranesi reached that before anyone else, and one should not misremember his prisons as designs out of M. C. Escher, with the latter's more rational exuberance. It was Thomas De Quincey, in Confessions of an English Opium-Eater, who compared the Italian's art to "the delirium of a fever," after conversations with Samuel Taylor Coleridge. It may seem strange that Soane took to them as well, but the English architect, known for hi rationality and institutional restraint, had met Piranesi in Rome. Besides, in sorting out the corner and side views for the Différents Vues de Pesto, wall labels make clear each building's classicism and symmetry. Maybe you knew all along—and what one cannot quite see still helps account for a drawing's impact.
Italy had just stumbled on the ruins as well, south of Pompeii, in the process of attaining modernity. The rediscovery coincided with road building. If it misunderstood what were originally temples to Hera and Athena, ancient Rome had already renamed the site in toppling a greater Greece. Piranesi was always observing and always the antiquarian, even when he was making things up—not just architecture, but also the rot and struggle of everyday life. A shepherd leaning on a hoe could come right out of Jean-François Millet decades later in France. Choose your own prison.
Read more, now in a feature-length article on this site.