I just knew I had seen it all before. I had seen the layers clinging to a painting's surface, the kind that have an artist reaching for a straight edge and a trowel. I had seen the freehand curves and skewed squares, never quite conforming to geometry. I had seen the drips and shadows, some of them even real. I had seen the long trails as if squeezed right out of the tube—and maybe a toothpaste tube at that. I had seen the semicircle, like the keel of a boat sailing across a comic vision of abstraction and out to sea.
It just did not quite register where I had seen it all—and, to wrap up this week together with other posts about abstract art, it is the subject of a longer review and my latest upload. Trudy Benson could be running through a brief history of abstraction, at Horton through June 2, as fast as humanly possible. She claims inspiration, though, less in other artists than in Windows Paint and an old Mac SE. Sure enough, her elements have a way of turning up in more than one painting, as if recombined with a mouse click. For the off-kilter squares, typically neutral tones, she might have hit Ctrl-N. She plainly enjoys starting with the most primitive software possible, and (as the dealer notes) she never does find the Undo.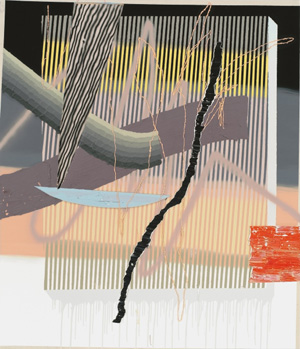 Quite a few artists these days are having trouble with that Undo command. A wave of abstraction is everywhere, less as tribute than as compendium—cutting across media, across imagery, and into quotation. A group show takes up the "Pour," mostly with real pours, and an older artist at Benson's gallery, James Hyde, has pushed painting more and more into the third dimension, sometimes under glass. Her playfulness makes the most of that dimension, too, with the familiar toolbar of filled circles and freehand curves the mostly thickly painted. She is like Mary Heilmann or Jonathan Lasker with a tablet.
Surely a proper toolbar for abstraction should include rectangles, and a proper fill should include black. For Don Voisine, at McKenzie through June 9, make that several shades of black. He represents, along with Gary Petersen, a kind of Bushwick Neo-Neo-Geo, where that extra Neo- brings a genuine return from the conceptual to the visual. He still frames a thick black X with colored borders that bring out the color buried within any black. More than ever before, he also allows the overlaps and indentations to create the illusion of mass. If Tony Smith, who began as a painter, had brought his late sculpture to canvas, it might have had this depth of black.
Others, too, are clicking on the recent past. Greg Goldberg at Stephan Stoyanov, through May 31, approaches stained canvas with thin layers of color, while Holton Rower at The Hole, through June 20, goes for actual pours, sometimes dried on a curved or vibrating surface. Where one artist turns to washes for elegance and economy, the other has in mind excess.
Indeed, the gallery calls its larger show "Xstraction," with the accent on extra. Its thirty-nine artists include such performers as Mark Flood and Cory Arcangel, and this is art for an age of market excess. The gallery's director played the same role before for Deitch Projects, and if Jeffrey Deitch turned his usual blind eye to abstraction, it would look like this.
Benson escapes the blindness, but for her, too, the fun comes with a combination of surfeit and familiarity. Her paintings run to maybe four feet on a side. Yet a single panel packs in acrylic, enamel, spray paint, and oil. She recalls another time when abstraction was chafing against its limits, in what Barbara Rose briefly heralded as "abstract illusionism." Rose was writing in 1967 about such formalists as Frank Stella and Jules Olitski, but the term caught on in the 1970s with James Harvard, Michael B. Gallagher, and others now mostly fallen by the wayside. Benson has their painted drips and shadows, 3D doodles, and the illusion of thick tubes created from parallel brushstrokes and alternating highlights. She may be reaching too hard for meaning with supposed references to venus pudica, the classical female figure, but she is hardly alone in wanting to squeeze art history into the computer age.
| | |
| --- | --- |
| | Read more, now in a feature-length article on this site. |