Marc Yankus calls his show "The Secret Lives of Buildings," but he could just as well say their most public face. If buildings did have inner lives (apart from interior design), one can only imagine them thinking: yes, this is how I want people to see me. They have never looked so self-assured, in all their volume and detail. They have never stood so fully apart from the street. By the same token, they have never looked so strange.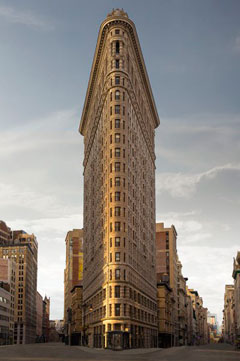 The photos stick to the public face of buildings in the trivial sense of their façades. They betray not the least sign of life behind their windows. Yankus does not care much for the International Style of glass and steel anyway, much less the ceiling to floor windows of luxury condos going up today. The Empire State Building does make the cut, but not, say, the Lever House or Seagram Building. Yet this is the public face of the city as well, with its wide avenues and most beloved architecture. New Yorkers will have the pleasure of recognition, one building at a time, and will want to name them all.
And that is where the strangeness kicks in, at ClampArt through November 26 (and apologies that I caught this show too late in its run to alert you in time). One can spot an old favorite in the Dorilton apartments, paired around a central arch. One can assign a native style to the many New York neighborhoods—from the Upper West Side's Beaux-Arts stone or the Federal charm of Greenwich Village to Soho's cast-iron intricacy or Bushwick's bleached brick and vacant lots in Brooklyn. But what about the jagged rhythms of a block with four staggered masses? And what about a slim building plainly from the Ladies Mile historic district, but with a street to either side? Where can one see that?
One cannot, because Yankus quadrupled one structure and isolated the other. One can tell with a little work, if only because the sidewalks to either side of the lone building are mirror images. A similar doubling produces looming towers out of a futuristic city. Photographs may also spin a seemingly normal point of view into a diorama, like a building seen head-on at street level but bending away above. Other manipulations account for the dearth of passer-bys, apart from a man at the base of the Flatiron Building. He becomes a privileged viewer, much like the camera.
The photographs do not break with the known so much as enhance it, with help from Photoshop's little secrets. New York already has its majestic islands at the intersection of two avenues, like the prow of the Flatiron Building.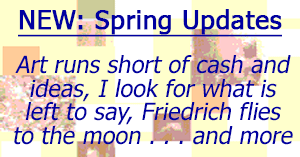 It has other buildings with iconic corner views as well, like the Ansonia, the former residential hotel. That classic appears, too, although without competition from Amsterdam Avenue and Broadway. Even the futurism belongs to an early twentieth-century city, while the Empire State Building has the painterly look of an old postcard. Nostalgia gets along just fine with invention and familiarity with strangeness.
In effect, the series looks at what lies right in front of one, but with fresh eyes—not a bad definition, at that, for art. One may picture the Flatiron Building as a dark hulk in a dark corner of the city or a glistening white following restoration in 2005. Yankus bathes it instead in a warm sunlight. Then again, maybe one should think of studio lighting. If buildings can stand apart and at their best, so do people in studio portraits, set apart from their ordinary surroundings and often retouched. They, too, put on their most public face.