Allow me to wrap up from last time, as part of a longer review of the art fairs and my latest upload. A dank weekend put the freeze in Frieze and gave new meaning to Fridge. Even in sunlight, can anyone feel at home at an art fair, much less Frieze?
It occupies an island in the East River—and a tent with two hundred exhibitors. Yet right off I spotted Blue Clock by Ugo Rondinone and two translucent planks by Anne Veronica Janssens, both at Esther Schipper of Berlin, playing off against slim neon by Keith Sonnier at Pace, as alternative visions of light and color.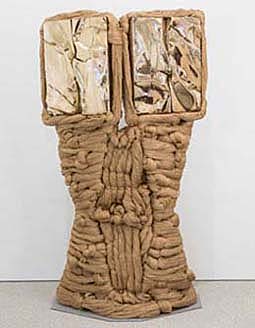 And then to the side I saw two favorite Lower East Side galleries within a stone's throw of such blue chips as Victoria Miro and Hauser & Wirth. You know, I thought, I might actually enjoy this.
Frieze does its level best to set one at ease. It leans contemporary and welcomes younger galleries without reducing their Focus booths to closets—or setting them apart from the mainstream. And here "younger" means less than twelve years of age, an eternity in the changing art scene. Rochelle Feinstein at On Stellar Rays has an ample wall for her text, rendered all the more enigmatic by a partial covering. Frame galleries, less than eight years old, get more of a ghetto, but facing each other like a Silicon Valley open office. As for the blue chips, their booths approach what another fair would call lounges.
In a display of wealth like this fair, size matters. Hauser & Wirth has blue ink flowing over screen prints from Ebony and Jet by Lorna Simpson, for African American culture as a force of nature. A boulder surrounded by pipes by Lee Ufan at Lisson looks anything but cramped—and it still leaves space for Anish Kapoor gearing up this summer for Brooklyn Bridge Park. David Zwirner has plentiful selections of Carol Bove and William Eggleston, tied to their appearance at the Venice Biennale. Another Biennale participant, Anri Sala, makes the open area part of the show, as a bare setting for robotic drumming at Marion Goodman. Sheet metal spilling its irregular sheen onto the floor by Naomi Wanjiku Gakunga, a Kenyan artist now based in Texas, is just one among other works at October.
Like October, a London gallery, the fair hits all the right notes with global artists and women. That is only to be expected. So are the occasional projects apart from booths, although they are the least of the show's concerns. The bows to political art rarely extend to the art or politics of the present. Does that, too, comport with lounges for BMW and Deutsche Bank Wealth Management? Still, Frieze reaches out now and then to nonprofits as well, including White Columns and SculptureCenter.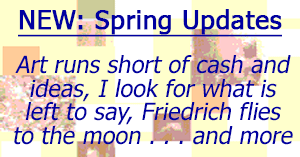 Solo acts, too, come with a theme and a boast. They look back to "twentieth-century pioneers" in need of rediscovery. It takes some doing to think of Kenny Scharf at Honor Fraser of LA as neglected, rather than a product line. Still, Spotlight booths include galleries devoted to rediscovery, like Garth Greenan, Mitchell Algus, and Michael Rosenfield—here with rope and polished steel by Barbara Chase-Riboud, the African American sculptor. It also allows a fresh look at Alfred Leslie and his photorealism, at Bruce Silverstein. Here Leslie isolates not individuals in crisp light but rather groups in near darkness, for the psychological and social tensions of a death in the family or the working-class America of Youngstown, Ohio.
Maybe I had to feel at home, in a fair with cafés given over to New York staples. Roberta's pizza beats a generic champagne bar any day. Maybe I just needed to feel at home, facing a long trip back in the storm. Maybe I was half afraid of home, after photographs of bus stops across America by Ursula Schulz-Dornburg at Gallery Luisotti of LA—as anonymous and ubiquitous as gas stations for Ed Ruscha. Or maybe this is home for all too much of the art world. Wealth, art, and politics make for perplexing but inescapable company.
Read more, now in a feature-length article on this site.