So many movements. So little time.
With "Zero: Countdown to Tomorrow," the Guggenheim demands attention for yet another, but others may lose count—and it is the subject of a longer review, in my latest upload. From its beginnings at the Düsseldorf Art Academy in 1957, Group Zero did not so much innovate as play well with others, including some of biggest names in European painting and sculpture. It was both more and, I am afraid, less than zero.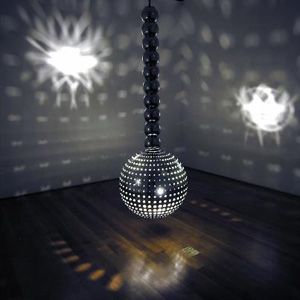 Maybe you grew tired of art movements long ago. Maybe you grew tired of sorting them out. Maybe you never heard of half of them, when art could still aim for the diversity and urgency of Modernism. From around 1960 alone, there were Arte Povera in Italy, Gutai in Japan, Nul in the Netherlands, Nouveau Réalisme in France, G58 and COBRA in Belgium, and Fluxus everywhere. Maybe you wish that people could forget the whole thing and just get on with making art. Start again at zero.
Only guess what: that, too, was a movement. Heinz Mack and Otto Piene met in art school and declared themselves Group Zero, after the countdown of space shots and the nuclear age. The third issue of their magazine, with a cover by Mack, displayed an actual blast-off. Günther Uecker fell in with them almost from the first and formally joined in 1961. They insisted on the priority of experiment in painting, print, and performance, with new materials, periodicals, "street action," and light shows.
If that sounds less like amazement in art and more like a day in the life of the 1960s, so is their retrospective, through January 7. With nearly two hundred objects, it becomes an exercise in obscurity and nostalgia, but also a handy look at goings-on in and out of Europe. It draws on artists from every one of those often forgettable movements and from Japan to Latin America. They all joined in rebellion against the painterly excess of Tachisme in Paris and Abstract Expressionist New York, much like America's Pop Art and Minimalism. While its big three supply about half the art, following a more modest summer show at the Neuberger Museum in Purchase, others provide the big names and the innovations. The curators, Valerie Hillings with Edouard Derom, speak not of a movement but a "network."
It feels caught up in the 1960s all the same. When Piene described Zero as a "zone of silence," I could think only of Maxwell Smart and his cone of silence. As reflective spheres rotate in the near darkness of a dance floor, I could almost name the dance. The Guggenheim deserves part of the blame for the tameness. Three floors of Mack at his gallery, at Sperone Westwater through December 13, shows more of his sparkle right up to today. He could fill an entire wall in paint, reflective tape, or aluminum. His light boxes could aspire to Surrealism, with otherworldly shapes towering over the sand.
Still, Zero must share the blame as well, especially in a show that obliges one to compare it to its collaborators. The early abstractions prefer dull colors and lumpy surfaces to Lucio Fontana's slash and Yves Klein's burn. The kinetic art never goes so far as to self-destruct like Jean Tinguely's Homage to New York. Compared to Walter de Maria or Robert Smithson, Mack in earthworks refuses to get his hands dirty. Well before the end, Zero comes off as a quaint and all too masculine echo of the summer of love without the free spirit. This happening refuses to happen.
| | |
| --- | --- |
| | Read more, now in a feature-length article on this site. |