Artists I have covered here recently have me thinking. When Rebecca Smith speaks of her sculpture as "Strata," could she be promising other layers still unearthed? And when Colin Keefe or Tony Ingrisano finds formal patterns in urban infrastructure, could another ask what lies still further beneath?
Christopher Astley does, even as he layers oil on gesso himself. He also calls his work "Conglomerations: Backfill Slag Scree," at Tracy Williams through May 1 (and I have added this to earlier reports on the other three artists, as a longer review and my latest upload).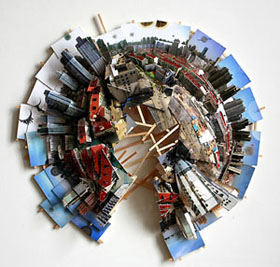 It might have surfaced of its own accord amid construction seemingly everywhere on the Lower East Side these days. The upheaval could give way at any moment to yet another gallery.
Astley has not exactly hit bedrock. His compositions have too much swirling and layering for that, right up to the edge of the canvas, like rockface in photography for Letha Wilson. The patches closest to white stone could just as well pass for sky, more colorful ones for sunlight. They seem more volatile than primeval, much like the planet in geologic models today. Nor does he suppress entirely the illusion of a third dimension on top of the layered depth. A long row of small panels adds another dimension of time and space.
The paintings have a sense of mass and structure along with process and gesture. If that sounds traditional enough, it is a thread running from Abstract Expressionism through Minimalism and earthworks, with shifting tensions along the way. The earth tones have perhaps their closest parallels in Jackson Pollock, without Pollock's black. Gesso, a medium of gypsum and plaster, is also an obvious extension of building and earth. As it happens, the artist has ditched canvas for panel, after using fabric in sculpture. There mass expands and settles of its own accord, with only partly predictable results.
Till now, Astley has used colored or striped fabric as molds for concrete—piled like trash bags, the contents of a homeless shelter, or leftovers from a painting by Philip Guston. It bulges as it will, sometimes bursting the bags. The he adds to the textures and colors by sewing them back up and spattering some with paint. The paintings, while lighter and more improvisatory, also have greater structure and sudden glints of color.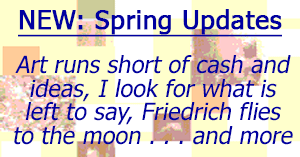 They truly could belong to a construction site. Their creamy layers, though, are not wasted.
Even a thread on abstraction should note a representation of actual infrastructure, in three dimensions. One by Isidro Blasco has (with apologies) already closed, at Black & White through April 10. Then again, it opened right after New York threatened to shut the nearest subway down. With dates already slipping, the Metropolitan Transit Authority asks to eliminate the L train between Manhattan and Brooklyn for years, to restore the East River tunnel. The cost of Hurricane Sandy keeps climbing. By the end, you may remember access to Bushwick from this one show.
Blasco works in collage and with the city from New York to Shanghai, as in the March 2016 edition of Art on Paper, the art fair. Often his photographs stick close to the wall and to a tourist's giddiness at back alleys, open spaces, and major attractions, although not without an awareness of chaos, incomplete adaptation, and urban displacement. Here, though, his model city rises upward and spreads outward while digging well beneath. A few successive subway stops take over the room, like a single station. His timing was coincidental, but the line has never looked this clean or as close to a maze. Leave a more measured infrastructure to abstraction.
Read more, now in a feature-length article on this site.