Rodney McMillian might be setting himself up for failure, which only makes sense. Failure has become something of an obsession, for an artist who seemed destined for success. So, too, has disturbing sleep.
McMillian portrays city streets as abandoned furniture, landscapes as used bedsheets, and battered vinyl as simply black. Blackness for him takes more shapes than a white artist might ever know. Should it matter that some of them come way too easily?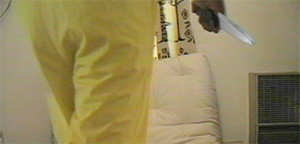 Supporters may not mind. His midcareer retrospective spans two cities, two boroughs, and three museums, as if art could no longer contain blackness. Perhaps it never could.
Barely ten years ago, Rodney McMillian was an emerging artist in "Frequency," at the Studio Museum in Harlem—and even then his latex spilled out onto the floor. More sagging black vinyl appeared in the 2008 Whitney Biennial and back at the Studio Museum in "The Bearden Project," in homage to Romare Bearden, where a full moon shined through. He seemed just as sleepless at the Brooklyn Museum, in its 2014 show of art and civil rights in the 1960s. His homage to Nat Turner took him on a walk in the woods for only six minutes, but long enough to take day into night. Maybe a failed slave rebellion had to mean more to a black man who left South Carolina for LA. Or maybe he just cannot give it a rest.
He defied a resting place again in Harlem in 2012, for all the twenty-five minutes it took him to reduce a futon to an empty shell for him to tie up and throw away. That video also left cotton scattered on the floor, as another harvest of African American history. Bits and pieces of all those themes and media appear in "Views of Main Street" at the Studio Museum through June 26, looking all the more ineffectual. This Main Street has its sofa, but cut in two by gray cement, and its chairs, but separated by a pile of books. Maybe the more he learns, the harder it is to sustain a conversation and a way out. Other books turn up on library shelves in a photograph, but his provocative choices.
A battered rug already hung on the wall in "Into Me / Out of Me," at MoMA PS1 in 2006. Carpeting appears again in red as well, like geometric abstraction fit not even for treading underfoot. It has an affinity with bloodied and shredded fur, feathers, and body prints from David Hammons, as yet another refusal of the comforts of home. McMillian has more of the older artist's anonymity now, too, with two videos not performances but puppet shows. Stephen Westfall speaks for him in a third, delivering LBJ's speech to unroll the Great Society with a youthful energy and a condescending smile. The spilling onto the floor also includes a large photograph of the Supreme Court breaking up into mountains, sea, or sky—like the Constitution's promise, both glorious and in doubt.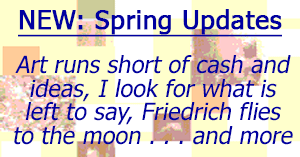 The spill extends a little longer to Queens, for a room of "Landscape Paintings," at MoMA PS1 through August 29. It takes the form of leftover paint on old bedsheets, governed by little more than gravity. Do they represent spilled blood, art that has long since run its course, or (as the museum suggests) "an abject history of turmoil"? Does the brief video of McMillian beneath a bare sheet gleaming in reflected light represent a ghost, a struggle, a modern dance, or a toga party? Does it add up to too many ghosts, too many threats, and too many directions? What about his vinyl in "The Black Show" (which I have not yet seen), at the Institute for Contemporary Art in Philadelphia through August 14?
The Studio Museum, too, includes black vinyl among its twenty works, mostly compressed into the dimensions of a hoodie or a mirror. This is painting without a composition or subject other than being beaten down and black. At the same time, it recovers agency for the artist. Something of that dynamic appears as well in another piece of furniture Harlem, an armchair impaled by a large black tube. It does not appear half as clearly in more flooring on the wall or a damaged fridge. With work so all over the map, the show risks making it hard for much of anything to appear at all.
Compared to that long struggle with a spare mattress, everything here comes too easily. Pinocchio and a suspiciously friendly lizard will have to do as puppets, one behind a podium and one on a porch rocker, both with Lee Atwater's racist words. Atwater is way too easy a villain, and Pinocchio has way too empty a smile. The fridge has too little value added, Westfall too obvious a smirk. Midcareer is a bad time for an artist this promising to be marking time. Maybe the retrospective will free him up to resume the struggle.