Maybe the arbiters of Pop Art never fully embraced Tom Wesselman, who has escaped a museum retrospective, but then Wesselman never fully embraced Pop Art. Oh, collectors snapped him up, then as now, and his women still look like advertising spreads. Yet he often shied away from the label, just as he shied away from the irony. Forget the brute force of received imagery for Andy Warhol or an automobile for James Rosenquist. He really meant it: he was painting The Great American Nude.
Unless, that is, he never was. Maybe the real great American nude was the artist. For David Hammons, a body print evoked white fears, unrecognized black needs, and his own carefully nurtured invisibility. For Yves Klein, it meant his just as carefully managed stage presence, along with a dig at the heroics of Abstract Expressionism. This once, unlike for Jackson Pollock, an artist did not have to lean too far over an unstretched canvas to take a fall. And now the body is back without the macho overtones, thanks to a younger man and a woman.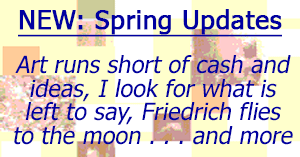 In truth, Keltie Ferris seems at her shyest in her body prints. She all but fades into the sheet of paper, abetted by bright red strokes marking the surface. Her works on paper also fade easily into the background next to a dozen large canvases, at Mitchell-Innes & Nash through October 17. There she uses jagged stacks of near squares, here and there amid airbrushing, to virtuoso effect. Again the entire image is elusive, but not for lack of showing off. To top it off, the same gallery will soon take up Wesselman.
Both pixels and an airbrush allude to impersonal media. Ferris could almost be presenting screen captures from burnt-out picture tubes, in fluorescent color. Coincidence or not, the Brooklyn artist completed the series in acrylic and oil while on a trip to la-la-land. Titles, too, combine the mythic proportions of postwar art with high-tech convention, often with characters from Greek myth in full caps joined by punctuation. Other titles, W(A(V)E)S and WoVeN, hint at a woman's traditional identification with passivity, the sea, and textiles, but she is painting all the same. Maybe abstraction is, after a break, too easy these days, but these earn their scale.
McArthur Binion lingers even more surreptitiously beneath his paintings, but also more insistently. He calls them his "personal DNA," redundancy duly noted, and he calls the show "Re:Mine," at Galerie Lelong also through October 17.
It, too, looks like a throwback to late Modernism, when painting meant something, but more to Minimalism, when it meant only itself. The grids consist of modest squares, each of parallel marks, the marks alternating between vertical and horizontal from square to square. They also have an insistent dark gray, as if to look as dreary as possible. More often than he might like, they succeed.
Still, they are well worth a second look. They incorporate fragmentary illegible handwriting, which adds the sole touch of color. Is this still another postwar mark of the artist, as confession? Not exactly, although they are his narrative and hearken back to an earlier point in time. A square's top border, in more impersonal lettering, repeats the state of Mississippi, where he was born a black male and an American nude, and these excerpt his birth certificate. Surface and gesture emerge from the cumulative impact of letters and a life.
Read more, now in a feature-length article on this site.