When it comes to Minimalism, Charles Gaines would like to show how it is done. With Walnut Tree Orchard, a series from 1975, each triptych begins with a photograph in black and white of a single tree. A drawing then manifests its shape and tonal range in the elements of a grid, where the number in each cell also stands for its location in the visual field. A second drawing transforms the first, based on previous drawings and predetermined rules, and voilà: the tree has become an orchard.
"Gridwork," at the Studio Museum in Harlem through October 26, includes this and nine other series from 1974 to 1989, to spell out his own transformation as an artist. It ends with an explosion of color, scale, and change.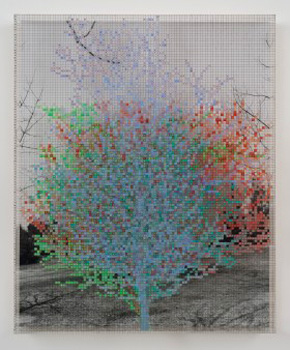 Sure, others before Gaines have spelled things out, like Sol LeWitt, who manifests the making of his wall drawings right in their titles. When a performer closes the lid of the piano for 4'33", by John Cage, you know what the next 4 minutes and 33 seconds will bring. Even Chuck Close in confronting his growing disability has had to interrupt the perfection of his photorealism, with visible brushwork in a more perceptible grid. Still, LeWitt begins with the directions and lets an image take shape as it will in the hands of others. With Close, skill defies explanation that much more. As for Cage, one could argue that nothing happens at all.
With Gaines, plenty is going on, because the results never set aside their dual origins in chance and nature. A photograph has its own unarticulated rules for picking out a tree, and the result is a landscape that testifies to its growth. Each work unfolds both in time and space—the space of a wall and the time of its making. The numbers in his grids recall the tables of Hanne Darboven, at once encyclopedic and incomplete. Darboven sometimes converted those numbers into sound—and Gaines, an accomplished drummer, took the opposite course in setting aside a career in jazz for art. He is still riffing.
Yet he lets on less than may appear. In Regression, an early series, the number of filled squares in one grid drives the cryptic geometries in the next, but how? Branching spikes arise not from LeWitt's simple rules, but from mathematical equations one will never see much less solve. Incomplete Text Set, from 1979, all but boasts of how hard it is to read. Successive sheets transfer letters from a Pacific Ocean whale watcher's log, based on the arbitrary assignment of color to the alphabet. Even the later transformations of nature have their enigmas.
Born in 1944, Gaines worked amid larger transformations in art as well—from analog to digital and from Minimalism to conceptualism. He taught at an epicenter of California conceptualism, Cal Arts, although he moved there only as the show ends. The curator, Naima Keith, also argues for a context in the Black Arts Movement of the 1960s, but that had its greatest impact on writers, and it ended barely as the show begins. Still, she raises a fair question: Gaines, who grew up in Newark, has appeared in a show of black LA art, and later work has become more overtly political, but is this really about blackness? Can there be black mathematics or a black Minimalism?
Gaines has refused labels, even when he based drawings on the African continent. He counts Adrian Piper as another influence (along with LeWitt, Cage, and Darboven), and he could have found an exemplar of duration in black performance art. Instead, he photographed Trisha Brown in motion, once every three seconds for one minute, in the years that she was also collaborating with Robert Rauschenberg. Maybe it matters that she was dancing Son of Gone Fishin'. His most obvious play with race comes with Faces, in 1978, based on what look like mug shots. Then he reverses black and white, as in a negative, before settling on bare outlines in color.
Somehow the subjects have become people of color, and that color is not black. And yet blackness always has its residue as difference, in an art about nurturing differences. These were also the years when Eva Hesse had gendered Minimalism, and a crucial turn for Gaines was from formulas to the physical—in faces, dance, whaling, plants, and trees. Also in 1978, he produced his greatest tribute to chance, with numbers that record fallen leaves.
The show ends with its largest and most dramatic layering, in three dimensions and in glorious color. Grids of trees, in acrylic on acrylic sheets, cast their speckled shadows on the photographs from which he begins, as if to deny once and for all how he does it.
| | |
| --- | --- |
| | Read more, now in a feature-length article on this site. |