Love for sale. If your first thought is online dating or a song by Cole Porter, you will understand two sculptures by Claude Michel, better known as Clodion. If your first thought is appalling and illicit sex traffic, you may not like that love here is decidedly underage and in a cage, but take heart. The artist was merely copying a relief from Pompeii.
That ancient city was the site of excavations only two years before he undertook the first version, in terra cotta in 1765. He was under thirty then and still in the market for love. Besides, the Cupid pouting in captivity is male, both buyers and sellers are young women, and as always Neoclassicism tempers its playfulness with a moral. Two other babes roam free, because no one can keep them in their place, and the women's future depends on properly managing the sale. All is forgiven—and along with an earlier review of another sculptor from the past, Jean-Baptiste Carpeaux (shown here), it is the subject of a longer review in my latest upload.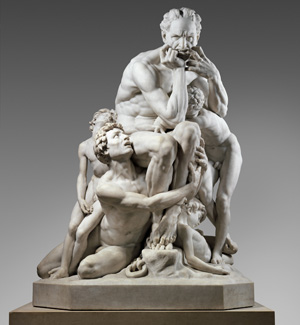 Not that the Enlightenment trusted to the triumph of reason, whatever you may have heard. Voltaire had made that clear in Candide less than ten years before. Unreason was bound to take its course, and Clodion lived through the Reign of Terror and another age of empire and war. For him, unreason will always have its place, preferably in marble. For his last work now on view at the Frick Collection, from 1799, he depicts Zephyrus, the god of the wind, and Flora, of vegetation, but caps their energetic spiral with a wreath. Like David d'Angers in the next century, he stands on the edge of Romanticism, but passions must still emerge from the whole.
Clodion shares the show, through April 5, with a slightly younger and even more stately contemporary, Jean-Antoine Houdon—with just half a dozen works each, half of them in terra cotta and half in marble, roughly half of them loans, and all fairly early work. (If you have never so much as noticed the Frick's portico, it runs along the Fifth Avenue lawn to the north, past Salisbury Cathedral by an artist soon after, John Constable.) When Clodion depicts caryatids, they emerge from a tight cluster with a shared head scarf, and when he unleashes gods and satyrs, on two bucolic vases, they take their ease. And sure enough, when Houdon lends a vestal the active stance of a hero, he keeps it beneath a cloak. He brings the same respect for strong feelings and for keeping them in check to portrait busts. A countess poses as a Bacchante, with leaves in her hair and a quarter turn toward madness, but with intelligence in her eyes and a tight reserve in her lips.
The Frick has always invested in sculpture. Not many willingly turn away from the paintings, but each room has its tabletop bronzes and marble—in the Boucher room, for characters right out of the painting on the wall. Many of the same artists (or their followers) have been in recent loans from the Hill collection, from Andrea Riccio and Giambologna in the late Renaissance to d'Angers and Joseph Chinard in the early nineteenth century. If the label "decorative arts" runs counter to the recovery of craft and design these days, and if it signals a fall-off from the early Renaissance, when Lorenzo Ghiberti or Donatello pointed the way to painting, it corresponds to real changes over the years in both function and style. Riccio's figures double as a candlestick holder, while Triton blowing his trumpet for Giambologna could pass for a snake eater.
The nineteenth century tempered and also humanized the decorative excess, but the process began with the Enlightenment. Clodion and Houdon also take a hesitant step toward naturalism. The first's Cupids have feathers after nature, while the second goes so far as a dead thrush hanging from a nail. It sounds preposterous to try to outdo trompe l'oeil in sculpture, where three dimensions are hardly an illusion. Still, the wings, the pointed beak, and the nail are duly threatening, and Houdon is working against the strictures of marble and in white. Besides, soon enough art for a growing middle class along with the aristocracy had its own serious excesses—as with another winner of the Prix de Rome, Carpeaux.
Most often, though, female portraiture serves as the expression of a human ideal, if also a refined one, most strikingly in the 1770s. A young woman plays the role of the innocent in Paris. A marquise takes in everything, while everything but her eyes are buttoned up. A tad more shockingly, the wife of a German banker lets her loose dress fall half off her shoulder, but not at the cost of her intellect. One cannot always keep passion in a cage, and the new aristocracy of finance demanded a buyer's market for love. Still, it was not yet ready to roam free.
Read more, now in a feature-length article on this site.