What is there to do when the war has no end? The question, once spoken, hangs in the air long after a video plays to its end. It hangs over the entirety of "But a Storm Is Blowing from Paradise," at the Guggenheim through October 5—and it is the subject of a fuller account, in my latest upload.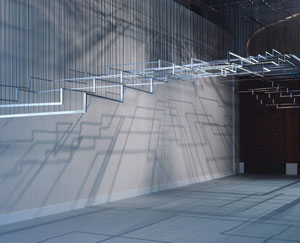 The show of art from the Middle East and North Africa is the latest in the UBS MAP Global Art Initiative, following art from Latin America two years before. (The corporate name translates into funding for purchase from among the work on display.) The curator, Sara Raza, makes good use of the tower galleries, tailoring work to entire walls or enclaves, although limited space means that two artists rotate in only in July, a little less than halfway through. The series boosts the museum's commitment to contemporary art as well as global art. And the commitment appears real. A year after the installment from Latin America, the same space had an unforgettable show of Doris Salcedo, from Colombia.
Mariam Ghani, who created that video, was born and lives in New York, of a Lebanese mother and Afghan father. She also typifies the show's strategies. She confronts past and present, Europe and the Mideast, colonialism and Islamic art. One channel shows a museum in central Germany built in 1779 that became a model experiment for Nazi Neoclassicism. The other shows a palace in Kabul, built in 1929 and fallen into decay. Together, they supply A Brief History of Collapses.
Who has collapsed, and who is responsible? A breathless narration rushes past, without emphases or affect, daring anyone to make the connections. It seems culled from far too many academic lectures and far too few particulars. The work has trouble looking for answers beyond museum interiors, and so does the entire show. Yet it lingers over places far away, claustrophobic but filled with light. Its questions do indeed hang in the air.
City planning returns often, from the Internet and from the air. Haerizadeh paints over YouTube, improving it no end, while Ahmed Mater flies over Saudi Arabia in an official helicopter that monitors the pilgrimage to Mecca. From above, the mosque becomes a science fiction fantasy. Ali Cherri borrows aerial maps of Beirut as a fault zone. The influence of Fluxus appears in Mohammed Kazem's sheet of white, scratched to produce a tight pattern of small bumps.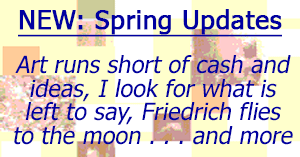 Hanging on the wall and rolling out onto the floor, it could be a monochrome painting, a player piano roll, or an ancient scroll.
Like Kazem, the show's best work makes the confluence of cultures explicit, while leaving open whether to see the diaspora as productive or a loss. Nadia Kaabi-Linke has by far the largest and most geometric sculpture. Flying Carpet draws on The Arabian Nights and memories of street vendors selling rungs, but as shifting volumes of steel, rubber verticals, and their shadows. And Ergin Cavusoglu spins out dust trails into colored lines, converting the museum floor into both personal histories and earthworks. One might hesitate to walk beneath the first or on the second. They carry that much lightness and weight.
It will take others to cross into Africa and the Middle East, as sites of conflict and lived experience. Others are doing so in photography, like Barry Frydlender and Shimon Attie, or conceptual art, like Walid Raad—but not here. For all the show's heavy talk of politics, philosophy, and logic, it comes most alive apart from any of them. Cavusoglu also has a video of people reciting Italo Calvino and Anton Chekov, as Crystal and Flame. They could be telling stories over a common meal, as part of what holds families and peoples together. For once, war seems far away.
Read more, now in a feature-length article on this site.