With his Repentant Magdalene, Guido Cagnacci may have created the last Mannerist painting—and the craziest. Just for starters, where is the repentant Magdalene?
Oh, you can find her easily enough, but nowhere near the painting's center. And yet you will have trouble turning away from just that, even in a painting wildly off-center. There an avenging angel strides forward, to the left, in an exaggerated contrapposto turn that might mark the ultimate triumph of the Renaissance or a bitter parody. A garment spins away as if carried by his twist.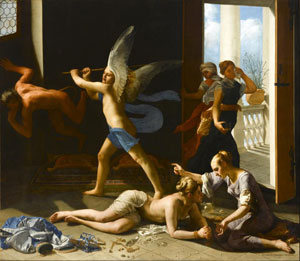 He is pummeling a devil that nonetheless levitates in front of him with its own splayed limbs and glossy flesh tones. Their axes of rotation, at right angles to one another, tear the painting that much further apart. What exactly are they doing, and is this even an angel? One wing rises so improbably that it could pass for a headdress. Light picks out their struggle between good and evil, but from a window barely up to the task of illumination. And then a whole other source of light tail off to the right, where two servants hasten to leave, with good reason. They also join in their own twist, like two sides of a single body, dark and light.
As for Mary Magdalene, the prostitute who encountered Jesus, she lies prostrate before them all. She also belongs to the Baroque after all, the period after the late Renaissance and Mannerism. Caravaggio helped create that era in the 1590s with his repentant Magdalene, lost in thought, her jewels fallen to the ground. A pool of light stands for a revelation, a greater naturalism, and a new inwardness—much as it would for Jan Vermeer. He also painted Mary finding her true nature, as her sister holds up a mirror. Cagnacci takes elements from both versions, without their newly personal and somber spirit.
His painting at the Frick, from shortly before his death in 1663, continues a series of fruitful exchanges with the Norton Simon in Pasadena. Here the loan of a single painting argues for Cagnacci's importance, through January 22. You may not have heard of him, but then even his contemporaries had their doubts. He had a reputation for half-length figures, like his Cleopatra slumped in death. A second version adds not legs but half a dozen other bare-breasted women, swarming about her corpse like her inner demons set free. Patrons demanded four full-length figures this time out, and they got six.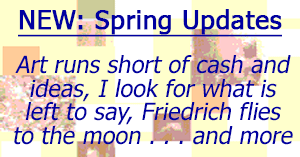 Born in 1601, Cagnacci has every claim on the new century. His soft edges and softer flesh take him beyond Mannerism, thanks to Guercino and Guido Reni. So does the blue sky at right, approaching Nicolas Poussin. His life parallels that of Caravaggio as well. He spent much of it on the run, including several love affairs, and died in Vienna. Still, his wildness and excess seem out of another age.
Mary and Martha, too, point in every direction. Martha gestures to the allegory at left, but Mary fixes her gaze on her sister. So many jewels lie about that she could hardly have worn them all, with one last gold bracelet clutched tightly in her hands. She has also cast off an elaborate dress and slippers—leaving her all but nude even in shame. Nor is Cagnacci altogether on the side of the angels. He creates so luxuriant an interior that you, too, may wish to repent. And then he signs the painting, in one last boast, beneath Martha's feet.
Read more, now in a feature-length article on this site.