In threatening to demolish the Museum of American Folk Art, I asked, has MOMA lost sight of great architecture? Maybe even worse, has it forgotten its own role as a museum? What does it say that it is now using that alley between buildings for perhaps the ultimate descent of a great museum into Disneyland. (I mean the spectacle of Rain Room in a temporary shelter—and the more than three-hour lines leading up to it—and I shall tell you more about it soon.) Is art even a priority, and is architecture? What does it say that MOMA's chairman, Jerry I. Speyer, is a real-estate developer?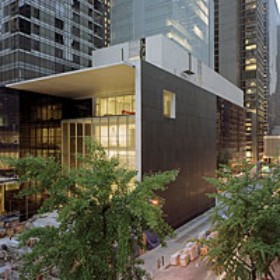 Remarkably, even he feels the heat, and (thankfully) a recent post of mine is already obsolete. Under critical and public pressure, including petitions, MOMA blinked. Speyer announced in early May that it is reconsidering. That is not to say that MOMA will back down, and yet it may. For now, he calls the fate of the architecture by Tod Williams and Billie Tsien an "open question," and at least the museum feels the burden of answering it. Diller Scofidio + Renfro, which has also overseen the conversion renovation of the High Line into a popular park, will now formulate a justification for the westward expansion.
Barry Schwabsky in The Nation compared the Modern's earlier rationales to trashing a Kandinsky that clashed with the office décor. Williams and Tsien pointed out that one floor in fact aligns perfectly across the two buildings. One could imagine a creative connection, just as Yale University has now connected its art galleries, with architecture from past centuries to the present. Nor need every museum expansion be an act of destruction. For Yale, the Drawing Center, or Maya Lin at the Museum of Chinese in America and SculptureCenter, architecture has proved modest to a fault. With ICA Boston by the waterfront, Diller Scofidio + Renfro have already made a brand new building an act of urban recovery.
It could serve as a model for midtown Manhattan as well. I am sorry to see good architects paid to find an answer that the museum board wants to hear. Still, one can expect a sophisticated response. They must know that the threatened building could be at the center of an exhibition of contemporary architecture—the kind that the Museum of Modern Art puts on every day. When its architecture department recently exhibited Henri Labrouste, who designed the great libraries of Paris, did it sense the irony? Did the museum's director, Glenn D. Lowry?
At The Times, Michael Kimmelman has formulated his own protest, and I could not have put it better: "a museum dedicated to contemporary art and design wanted to destroy a distinctive work of contemporary design." And, he lamented, it probably still wants to do so. New York's paper of record may have come late to the game, where once its critic led the ill-fated fight to preserve Penn Station. Yet has come, and now the pressure is on. "The stakes go beyond the Modern to civic health."
I have been rude to Kimmelman in the past, far too rude, but for him urban architecture has been about urban spaces all along, and now midtown is reconsidering two of its finest public spaces. As it happens, the pressure is also on Penn Station. At the time of its demolition and sorry reconstruction, it received only a limited permit to house Madison Square Garden above it. If that permit lapses, change is in the air. Now the City Planning Commission has recommended against an indefinite extension. I have no idea what will happen to Penn Station, and I have no fondness for the idea of moving its entrance a long block west to the post office—but public spaces are my spaces, too, and I want them back.
Kimmelman has also done the debate a favor by quoting a "forty-something friend"—who could easily be me: "I used to spend my days in the previous incarnation of MoMA after my father died. Back then MoMA was my chapel. I would make my way to my favorite Rothko, and the progression from the street to that gallery in the old building didn't feel like you were moving through a shopping mall or a W Hotel. It's just not a place for New Yorkers anymore." Maybe one day it will be again.
| | |
| --- | --- |
| | Read more, now in a feature-length article on this site. |