The painter known for a Sunday in the park spent much of his all too brief career out of the sun. "Seurat's Circus Sideshow" centers on a painting by Georges Seurat, at the Met through (last chance!) May 29. It finds him haunting the fairgrounds and music halls of working-class Paris at night—and haunted by the actors and their audience.
If you come humming Sunday in the Park with George, be prepared to change your tune. If you come expecting a romantic interest named Dot, you will find neither puns nor a romance to explain the painting away. If you seek people assembling together and airing their lives, you will find only people in shadow, talking among themselves.
If you seek the newly triumphant middle class letting its hair down at the beach, you will find instead an unsettling mix of classes unable to separate spectacle from the theater of modern life. If you seek Impressionist colors, you will find the eerie purples and greens of a fairground at night. If you come looking for Seurat, you may find a history only incidentally his at all.
It belongs after all to a changing Paris, and it is the subject of a longer review in my latest upload. What starts as the story of a painting becomes a story of the circus and its changing place in society at the turn of the century. What stood at first for a tawdry spectacle became a serious business, with a routine all its own. And what served Seurat as a place to hone his art became the site of an emerging avant-garde. In no time, the spectacle looks tawdrier than ever. Now, though, art's sympathy is with the artifice—and with life on the edge.
A sideshow sounds like a distraction from the main event, but the French, la parade, sounds more like a public display. For Georges Seurat, it could be both. Parade de Cirque depicts the Corvi circus, which ran each year at the Gingerbread Fair, before Easter. It had its clowns, tightrope walkers, strong men, fat ladies, and a wheel of fortune. Stereotypical black faces added to the entertainment and embarrassment. Just setting things up and knocking them down were quite a spectacle.
Seurat, though, centers his painting on a solitary trombone player, at one end of a line of musicians and rising above them. He relegates the ringmaster, Ferdinand Corvi, to the right—locked in rigid profile between the verticals of box-office windows, a poster, and his own old-fashioned coattails. Rows of artificial lights command the scene from above, the topmost spreading like flames. They have a counterpoint in the points of light and color in Seurat's Pointillism or Divisionism. Spectators, seen from the rear, appear in near silhouette across the bottom.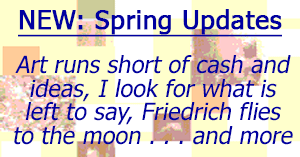 They become a kind of orchestra pit themselves, and the artist must have stood among them, even as the painting engages the actual musicians head on.
The painting appeared in the very first show at MoMA, and the Met acquired it as a bequest in 1960. Smaller exhibitions have focused similarly on a work from the collection, like recent shows of Jan van Eyck and a portrait of Benjamin Franklin. And this, too, starts as a look at a single work in context—of Seurat's few major paintings, the only one in a New York museum. Preliminary drawings stand across from circus posters and contemporary illustrations. The museum declines to borrow La Grande Jatte from Chicago. This is no walk in the park.
Still, the Met has no end of resources, including a circus orchestra's worth of period instruments. (Charles Sax himself designed the saxophone.) It also quickly broadens its focus. Seurat paints free entertainment set outside the circus tent, and his painting serves in its own way as a teaser. The exhibition fills the Robert Lehman wing (which projects into Central Park). It extends to more of his work on paper, contemporaries, followers, and more.
Read more, now in a feature-length article on this site.