Robert Irwin cannot remake Dia:Beacon, not even with sixty-four walls and twice that many fluorescent tubes. No more did he remake the Whitney in 1977 and again in 2013, with a single scrim and a single thick black line, each the length of an entire floor. He merely allows one to experience the space anew and as an ever-shifting whole.
Irwin calls his installations not site specific but rather "site conditioned," and the conditioning works both ways, and if you are looking for a holiday weekend trip, this is definitely the place. With Excursus: Homage to the Square3, at Dia through May 31, 2017 (and approaching summer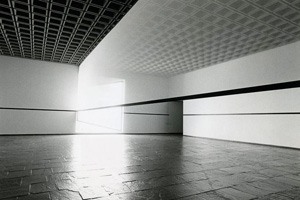 , you need a field trip), a regular design sets conditions for the work and the visitor. In turn, the work conditions the space.
In truth, it would take more than sixteen rooms to remake Dia:Beacon. What once took over Dia Center for the arts, then in Chelsea, now has to settle for less than a tenth of Dia's galleries upstate. And that counts just one floor, quite apart from a mezzanine of Torqued Ellipses by Richard Serra, a floor apiece for Louise Bourgeois and Bruce Nauman, and the west garden, with its bird calls by Louise Lawler mocking the collection's predominance of male artists. Irwin should know what it takes, too, and he has every right to try. He already remade the former Nabisco box printing factory, as designer and landscape architect. The passages in and out of his current installation serve as a welcome excuse to reacquaint oneself with the enormous space, the detailing of walls and windows, the collection, and his role in one's perception of all three.
People often remember Excursus from 1998 as a maze. If so, it is an easy one to navigate, even after nearly twenty years. Translucent scrims set out a simple four by four grid, with paired lights set vertically at the center of each wall and paired openings at the ends—right next to identical openings in adjacent walls. Feel free to march up one aisle and back down the next, to make sure that you have seen it all. Repeat the process, and you are done, unless you are prepared to turn back. And yet it is indeed a maze of light.
Plastic looped around the center of each light fixture adds color and subdues the fluorescent white. The colors change from room to room, and so does the natural light in spaces open to the skylight above. Look longer, allowing light to penetrate the scrims from rooms away, and the colors multiply as in a mirror. Look at the corners, with the openings angled away, and they take the very shape of mirrors or a maze. Irwin's subtitle pays homage both to the grid and to Josef Albers, who used it as a title for his seemingly endless series of nested squares. The superscript, as in cubed, then both serves as an intensifier and marks the passage into three dimensions.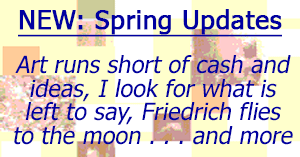 If I were a museum director, I might hesitate at this point to ask Irwin for an installation. It might come as a prophecy of doom. He designed for Dia:Chelsea, where Dia is gone and now the whole building is on its way to demolition, driving out the Independent and other art fairs. He designed for the Whitney on Madison Avenue, and now the Whitney is gone, too, to the Meatpacking District in architecture by Renzo Piano. His reinstallation at the Whitney was the museum's way of saying goodbye. Yet it also embodies the very notion of site-specific art as transient, as much of Irwin's smaller, independent works never could.
The artist faces down the trend toward overblown installations of found objects refusing the return to trash. He is open to reception and change as he conditions and is conditioned by space. He parallels Doris Salcedo, whose retrospective reconceives past work for the Guggenheim, much as her career keeps returning to much the same furnishings from everyday life. Irwin had already reconceived Excursus once while still in Chelsea, where it started as Prologue in eighteen rooms before adding lights. For Beacon, he has had to think it through again. And then it will be different after it is gone, but so will Dia, and so will you.
Read more, now in a feature-length article on this site.