Before there was a Glass House, there was the Maison de Verre. Pierre Chareau conceived it more than twenty years before Philip Johnson's landmark of modern architecture, in 1928. He set his steel frame and glass façade in Paris, where it stands to this day—and it is the subject of a longer and fuller review, with more than I can say here, in my latest upload.
Johnson plunked his steel shed down in Connecticut, exposed on all sides through glass panes. Richard Ingersoll, the critic and historian, has described it as the consummate bachelor's apartment, but be careful of inviting a guest over for the night.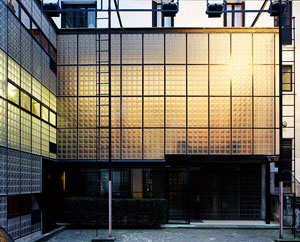 The Maison de Verre uses opaque windows to let in sunlight and air, but into a space that few will ever see. They reflect a dazzling light during the day. They glow from within in the evening. A cross-section through three floors, two for a doctor's office and one for living, looks like a single abstract painting.
So why is it nowhere near as famous? The Jewish Museum shows Chareau as equally an architect and interior designer, much like Johnson, but with even more care for detail. He appears first for his furniture and then for his collection of modern art. He appears, too, thanks to new media and virtual reality, in an innovative exhibition design by Diller Scofidio + Renfro, through March 26. Yet he reveals himself only slowly, much as the Maison de Verre lies behind a tight grid of translucent glass. He also appears as part of an avant-garde that could still welcome luxury and privilege, and he left far less than he wished behind.
It may take a moment to realize just how far ahead of his time he was. The Villa Savoye was still in progress, thanks to Le Corbusier, and the Bauhaus was still to come. Chareau was also a new urbanist long before environmentalists claimed that label, whereas the Glass House, like houses by Frank Lloyd Wright, nestles into suburbia and nature. Yet he was not out to transform the city. Maison de Verre, completed in 1932, slips into a courtyard, between confining walls and beneath a fourth floor that he could not touch. Working with Bernard Bijvoet, a Dutch architect, he was building a house for close friends—and a gathering place for artists and intellectuals.
He saw design the old-fashioned way, as a matter of fine craft and even finer materials. Not every exhibition regarding those years throws around words like exquisite, stylish, elegant, rare, and exotic, but the Jewish Museum does, with pleasure. Nor does every modern design collection run to a dressing table, a serving cart, a letter holder, and a smoking table with a satiny white stool. Chareau favored alabaster, mahogany, upholstery, and wrought iron—the last from the hands of Louis Dalbet. The Maison de Verre contained a grand salon, a piano, and tiered bookshelves. The old-world library of teddy bears in "The Keeper," at the New Museum, could practically fit right in.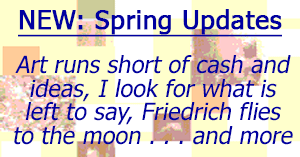 Still, for all his tastefulness, Chareau committed himself to the future. Born in 1883, he helped found L'Oeil Clair (or "the clear eye") in 1924, to purchase and share modern art—along with Jean Dalsace, the gynecologist who later commissioned the Maison de Verre. He collected Pablo Picasso, George Braque, Jacques Lipchitz, Amedeo Modigliani, Marc Chagall, and Piet Mondrian. The "boutique" for his designer furniture exhibited them as well. He published his portfolio in L'Art International d'Aujourd'hui ("the international art of today") in 1929, alongside Mondrian's design for a library. That same year, he helped the Union des Artistes Modernes split off from the Société des Artists Décorateurs, seen as just not modern enough.
Soon after he fled to America, commissions dried up—and so did the hopes of an exhibition at MoMA. His wife, Dolli, stayed two more years in Paris to dispose of whatever possessions she could, before the Nazis took them all. The couple had to sell still more in New York to survive. For his supporters in Robert Motherwell and Harold Rosenberg, the realm of politics is no more serious than "the act that sets free in contemporary experience forms which that experience has made possible." In other words, art for art's sake endures, but as testimony to the dangerously political present. Chareau's very life had become as fragile as a glass house, and he died in 1950.
Read more, now in a feature-length article on this site.