New York for Garry Winogrand had its moments of solitude and quiet—a sailor crossing an overpass at night, a man and a woman at a window long after the store had closed, a distant ferry in the mist. They came early, though, for no other photographer was so swept up in the theater and the terror of the 1960s.
They are Winogrand at his saddest, for nothing to him was harder to bear than being alone. The soldier carries his bag toward destinations unknown, guided only by the aura of streetlights spreading into the blackness overhead. The man and woman at a window are almost certainly not a couple, and their silhouettes are more lifeless than the shop's mannequins in the glare of artificial light. Not one person is visible on the ferry to Manhattan, and it has a long way to go.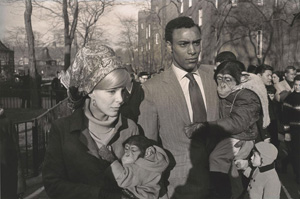 They are only the start of a retrospective as well, at the Met through September 21, for a man who declared himself a lifelong student of photography and of America (and I should have told you about it sooner, but this had first to appear in a slightly different form in New York Photo Review). Together with alternative visions of street photography more than a generation ago, by Mark Cohen and Barbara Crane, it is also the subject of a longer and more in-depth version in my latest upload.
They are not truly alone either, for the only solitude here is the loneliness of a crowd. Cars will speed past the sailor any moment now, and the city holds its millions. Winogrand and Diane Arbus share the comedy and anxiety of a freak show, but hers takes place between one or two people and the camera. Born in 1928 in the Bronx, he preferred the public spaces of Manhattan and Coney Island—starting in the 1950s with the tawdry spectacle of Minksy's Burlesque and El Morocco. When a friend photographed the two together, Arbus was talking on the phone. Winogrand gets his energy from others, and he is looking for more.
How, he must have wondered, could a freak show not take place in public, and how could a public spectacle not become a freak show? During frosh/soph rush at Columbia, a black ball descends on upraised hands like a visitor from outer space. In perhaps his most famous image, a grumpy driver and his passenger share their car with a chimp—and all three turn their back on Park Avenue traffic to face the camera. In a fair runner-up, a young black man and an equally handsome blond woman nestle monkeys in their arms at the zoo, just daring you to call it miscegenation. In another favorite, a wide-angle lens turns a bench at the 1964 World's Fair into a panorama of women in motion. So what if it records three separate conversations, and a man at the far end does his best to hide in his newspaper from them all?
Of the show's themes, first comes "Down from the Bronx," with New York from 1950 to 1971. Then comes "A Student of America," from those same years. That for him meant not the compendium of a nation as for Robert Frank or America by car as for Lee Friedlander, but sites of spectacle and isolation in California, Texas, and the Southwest. Finally, "Boom and Bust" takes him to his death, after he had largely abandoned commercial photography for teaching. One might better describe his arc as from quiet optimism to, first, a nation torn apart and then a loss of confidence in picking up the pieces. The last and least successful photographs run to small groups dancing and preening for the camera—or, in Los Angeles, for the Day of the Dead.
Winogrand worked for mainstream publications like Life and Sports Illustrated, but even his 1963 Guggenheim Fellowship application tweaks the reader: "our aspirations have become cheap and petty." He keeps returning anyway to the same places and the same obsessions. He never stops combining the comedy and the anxiety—or the isolation and the spectacle. The comedy enters just when the fears have become too much to bear. A mother out with her stroller seems to be taking her son to the trash, while a bride steps out of her limousine to puke.
In turn, terror enters just when one wants to count on human comfort or communication. People disembarking from a small plane could be leaving the scene of a disaster. Their story, like the sailor's, remain unfinished, but they are also decidedly lacking in finish. For Winogrand, who disdained crisp perfection, the blur of lights and the grain of a print are a secret weapon. Lack of finish also extends to the packed compositions and frequent tilt of the picture plane, which the photographer did nothing to crop away. He saw them as part of the comedy and the terror.
| | |
| --- | --- |
| | Read more, now in a feature-length article on this site. |