In "My Last Duchess," the duke unveils a portrait of the woman that he has had killed, as a fitting testimony to her beauty and his terrifying authority. Yet the poem, by Robert Browning, also boasts of an ideal that anyone will recognize—the power of art to reach beyond the grave. "There she stands as if alive."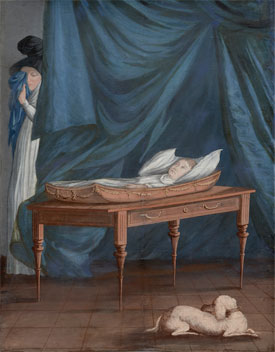 Those portraits by Rembrandt, Anthony van Dyck, or John Singer Sargent that seem to capture a sitter in the act? Their subjects died, too, long ago. And the illusion of life may itself pay tribute to the dead, as what the American Folk Art Museum through February 26 calls "Securing the Shadow."
For America in the first half of the nineteenth century, bridging life and death had a special urgency—and I have wrapped this in with a past report on American stories by George Caleb Bingham as a longer review and my latest upload. Cholera, dysentery, and other diseases were matters of everyday life, and roughly one in four children died in infancy. Art helped parents not just to remember the dead, for they could hardly help it, but to deal with the pain by restoring a kind of life. Specialists in child portraits like William Matthew Prior or John Brewster, Jr., served that need. So did specialists in gravestones, miniatures, and silhouettes as the shadow of a life, only they all had to work with a constraint that Rembrandt never knew. Their sitters were already gone.
This had its advantages. One never had to deal with a sitter as impatient as Benjamin Franklin in Paris. One never had to repeat, like Sally Mann in her memoir as a photographer, "Hold still." Yet it also meant working from death casts and measurements—and it meant working fast, before the coffin was sealed and its contents began to decay. It meant, too, giving the dead the color of life and inserting them, upright, in the company of family or a landscape. No wonder the introduction in 1839 of daguerreotypes dealt a blow to the genre in painting, quite apart from making things so much easier. Death could no longer shake its ghostly pallor.
The posthumous portraits have all the marks of folk art. They run to frontal poses, awkward expressions, heavy shadows, and shallow spaces. Except for Prior, the artists have mostly faded from memory themselves. This is not, though, outsider art, for all the chill it inspires akin to madness. People earned a living at this, including women like Michele Felice Cornè. Often they had known loss themselves, and as mainstream an artist as Charles Willson Peale painted his wife holding her child against bed linens as gray and cold as the daughter's flesh.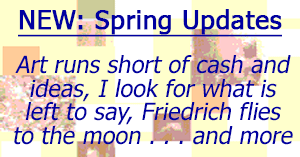 Joseph Whiting Stock knew the fragility of life in a different way, as a painter confined to a wheelchair.
The curator, Stacy C. Hollander, brings a context in competing media—plus the invitation to write your own epitaph on slate. (Most visitors cannot resist an irony foreign to the paintings.) One learns how painters found stock markers for mortality—in plucked flowers, cut thread, ships at sea (for the passage to the afterlife), a sunset, one sock off, or the blue associated with the Virgin Mary. When Ambrose Andrews paints children at shuttlecock, their very stiffness reeks of death, but their paddles also point to the heavens. One learns, too, how commissions paired children dead and alive, with no easy way to know which is which. People wanted them in their homes, Hollander notes, as "palpable presences."
They were surely eerie presences, often at life size, then as now. Scenes tend to efface distinctions between sitters, beyond a favorite doll or pet. They efface the circumstances of death as well—hardly what a family cared to remember, even if medicine then had had more of a clue. Yet they still speak to the stories that art tells or refuses to tell. Maybe English speakers no longer refer to still-life as nature morte, but Surrealism's postmodern heirs today favor a theater of life then called tableau vivant. By messing with the distinction between nature and culture, art is still a matter of life and death.
Read more, now in a feature-length article on this site.