There are visionaries, and then there are visions. Art museums are filled with the former, but Rachel Harrison had to high-tail it to New Jersey to find her visions.
Not that Harrison counts among the most storied visionaries at MoMA, through September 5, and it took a camera and some scavenging to make the visions hers. The artist has a fascination with the dregs of mass culture and icons to bad taste, so naturally she skipped down to Staten Island and across the water to Perth Amboy. And there other pilgrims flocked for the icon to end all icons, the appearance of the Virgin Mary.
Erwin Panofsky did not have tabloid headlines in mind when he wrote Studies in Iconology in 1939, to look afresh at Renaissance painting and to ask: what does art show, and what does it mean? Harrison is asking the same thing, only about kitsch. Her twenty-one photographs show the same plain clapboard house from only slightly different points of view. Palms clinging to its windows look ever so real, because they are, but they seem to have appeared from somewhere beyond. The paler reflections in glass might hold other faces, other visions, or nothing at all.
They also hold the show's brightest colors, almost like stained glass, just in case one is still looking for the Virgin or for art. It takes some effort, however, to see them. Perth Amboy is an installation, its center a maze of brown cardboard. Each step along the way could serve as a shipping container or a pedestal, but missing its baggage or its cardboard idols. Maybe, like people in New Jersey, you will come with your own. The cardboard sheets stand on end only half-folded anyway, unable to enclose more than museum-goers. They slow one's pace, like gardens for Virginia Overton and a tea ceremony from Tom Sachs, so that every so often one catches a photo on the wall and a vision.
Not that they stand much in the way of circulating freely. They do not connect up, and they are only cardboard. As mazes go, this is a throw-away, like multiple Donald Trumps recently at her Chelsea gallery, Greene Naftali through June 18. It does, though, hold a few additional surprises, and sure enough they mostly stand on pedestals. Harrison has been scavenging again in all the worst places, and she pulls her finds together as miniature works of art or installations. They also depict further visions.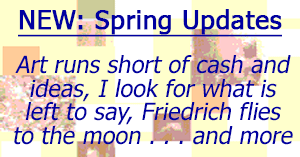 This is not a movie. Still, further description feels like spoilers. Suffice it to say that a ceramic Chinese scholar peers at a rocky crag, while a seated doll contemplates a wall of solid green—the tarp of a construction site as seen in a photograph, maybe just across the Hudson. An Indian chief sets eyes on a glowing landscape, sunglasses set aside as if to bathe that much more in the illumination. Two dalmatians take endless pleasure in an iceberg made of more cardboard surfaced in white.
More colorful debris might represent another pedestal, made of drinking straws crumbling in all directions, if without half the luminosity of plastic drinking cups for Tara Donovan. And one last idol could well be yours. The bust of a reddish blond baring her shoulders occupies an actual cardboard box. You may come away with the pleasure of a casual stroll through the Modern, a celebration of disposable America, or a skepticism about art and visionaries, with the only laying on of hands by ordinary human beings a few miles away. Or you may just write off the whole thing as Harrison's growing obsession with bad taste. Either way, you get to consider competing visions.
Read more, now in a feature-length article on this site.