As I write, on Black Friday, has every day in art become an overhyped sale? Or, as a student wrote me, do you believe that the increasingly money driven art world—which led to the rise of investors, administrators, and art dealers—deteriorates the true substance of art? Short answer: yes, absolutely.
Long answer: yes, but it sure is complicated, and you have to find your own answer. If you are an aspiring artist, dealer, or critic, you can even help create the answers in a messy, disturbing, but still pretty exciting art scene. My opening question came to me this month from someone still excited, and I wanted to encourage her and others to do just that, so let me tell you more about how I wrote back.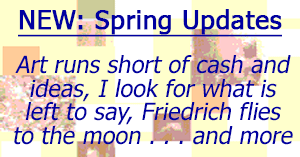 First, though, she had a second question: does this ever make you question the validity of art critiques? It can, and we all know how even decent arts writers get caught up in the game. If you think that you have seen a constant flow of puff pieces in respectable magazines and newspapers, you have. I am a big supporter of "theory" as a way of asking questions and opening people's eyes, mine included. I have encouraged people to complain not about artspeak, especially long after so many formidable critics and theorists from Jacques Derrida to Arthur C. Danto have passed away, but rather martspeak.
And yet the answer to the second question should be a firm no. I could even say that the upside of complaining about money is that it gives me something to write about. It could actually make talking about it and writing about it more important. I have returned often to the horrendous financial pressures from art fairs, art advisors, fall openings, real estate, private collectors, museum expansions, museum destruction, and more. I have singled out artists trying to navigate these pressures. I have engaged often with critics like Jerry Saltz, Peter Schjeldahl, Edward Winkleman, and Ben Davis out to do the same.
In other words, the real long answer is "don't get me started," and it really is complicated. Can one even speak of a "true substance" to art, so long after great modern and postmodern artists worked to dismantle just that? Besides, rather than offering my own pat answers, I wanted to pose my own questions, as a teacher. With luck, the student and others to come will be putting me out of business. Ready? Here is what else I wrote:
Many worry, as I have elsewhere, that astronomical auction prices, celebrity artists, the emphasis on blockbuster museum shows, and the like are ruining art. Is that valid, or is that mistaking the 1 percent for everyone else?
Many sincere artists who are not succeeding feel that all this attention stacks the deck against them. How many are just making excuses for tepid, derivative art?
There is a whole other side of money—not just big bucks for the few, but the amazing growth in numbers of artists, exhibitions, and dealers, plus a much greater audience for them all. People crowd museums and gallery openings, as would have been unthinkable not so very long ago. Is that good for art and a genuine democratization, or does it commercialize everything, too?
If it makes art too much like the movies, does that mean that there can never be great movies? Does it mean that there is something special about art? Just what? Would many excellent artists from Dada and Pop Art to the "Pictures generation" and today disagree?
Can even big money dealers contribute something, with exhibitions that no one else can afford to stage?
Is there an altogether more important downside, in the costs to ordinary art dealers—in rents, attendance at art fairs, competition for buyers, difficulty getting the publicity they deserve, you name it? Or when is competition a good thing?
Does all this mean that there is a new and stifling norm, or rather is the problem that now anything goes, so there never can be a truly innovative new direction?
I wonder, every day.