If there was a New York school, Lee Krasner was the consummate New Yorker. She was born here, outside the Manhattan elites, and went to school here. Yet she learned at least as much from the Museum of Modern Art, founded in 1929, just as she entered her twenties, as from the best teachers. For her, too, coming from an immigrant community to a growing circle of artists never meant leaving her roots behind.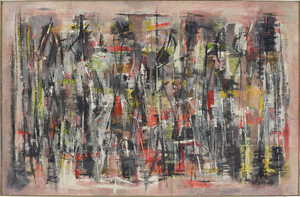 One could say the same about Norman Lewis, and the Jewish Museum makes the most of their pairing, through February 1. Think about it—the daughter of Russian Jews and the son of African Americans from Bermuda, one from Brooklyn and one from Harlem, born just one year apart. Together, they worked their way toward larger, more all-over compositions, in which line whips through paint and color, much as for Krasner's husband, Jackson Pollock.
How close, though, are the parallels, and how representative are the late 1940s, the show's focus, of their art? Did they even meet? Together in "From the Margins," they also raise serious questions about an art movement, its roots, and who its histories so often leave behind.
They could hardly be more different, in temperament as well as art, and they are the subject of a longer review in my latest upload (where I also wrap in an earlier review of Morris Louis and his Veils). The show opens with photographs and two self-portraits. Born in 1908, she stands at her easel in 1930, in a crowded landscape of flowers and trees. Born in 1909, he painted just his head ten years later, with those luminous color fields running every which way. She is her bright, stubborn self, asserting her calling. He is dapper and charming. She could have done well to forget a certain charismatic drunk and cheater to take up with him.
The show keeps looking for parallels, and it gets them, but more in their education than in their artistry. Already in her portrait, Krasner is determinedly high culture, but a European culture that Europe itself had pretty much left behind. She is still reworking Post-Impressionism as it made its way through its narrower spaces to Modernism. Lewis is blending high and low culture in both subject and style. The second room makes the case for their shared encounter with Henri Matisse and Cubism, and it did them both a world of good. The encounter took too long for all of American Modernism.
She adopts a style close to Stuart Davis, in work for the murals division of the Works Progress Administration. He adopts large rectangles in near monochrome, almost like Notre Dame for Matisse. Mostly, though, she is struggling, while he is jazzing it up. The musicians are more legible, and their field of color more compact, but otherwise he is on his way. And then in the third and largest room, they settle down. It covers just the years from 1946 to 1950, so crucial to both artists—and to postwar American art.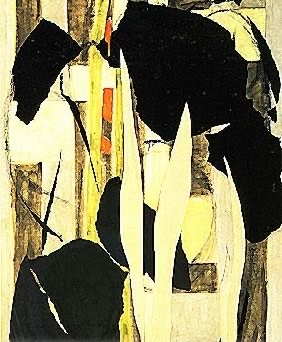 The last room leaps ahead to just a few works, as if to bid its actors goodbye. She has the largest, with only a few broad brushstrokes against a slightly lighter field, like calligraphic Chinese art, but in monochrome. He has the show's brightest work, in more ways than one, with something like lettering spewing out toward the right of a bright, bold red. It takes the shape of a megaphone, because it is a protest concerning civil rights. Still, it is also illegible, and that raises the question of identity. Is this really a show about a man and a women, a black and a Jew—and what are they even doing in the same rooms?
Both Krasner and Lewis deserve more, much more, for all the show's focus on the years from 1945 to 1952—and the curators, Norman L. Kleeblatt and Stephen Brown, have a long way to go to explain why Lewis is in the Jewish Museum in the first place. An explanation might begin with their shared line, so wiry as to become not just drawing but writing, whether in musical notation, in Hebrew, or in abstract art. It might also include a deconstruction of the politics of postwar American art.
For supporters, Abstract Expressionism necessarily means the triumph of American painting. For detractors, it is and was a tool of American propaganda, centered on a white male cowboy and drifter from the American west. Maybe, but Krasner and Lewis may have another message in their text, from the margins of New York.
Read more, now in a feature-length article on this site.