Like many an old-world parent in New York, Marc Chagall had a dream—to welcome into his family a nice Jewish boy. And so he did in his art, only Jesus Christ. Why did a Christian god mean so much to a Jew in love, war, and exile? (Yes, I wrote this one during the winter, but I could not help saving it for this weekend, when you may have at a couple of religions and some nice Jewish boys on your mind.)
The subject had haunted him even before he left for America with his wife and daughter in June 1941, but it came more and more to stand for the cataclysm that he had left behind. As self-conscious as ever, he even called one wartime painting with an upside-down cross Obsession. Something else happened, too: Jesus began to appear alongside the artist himself, at his easel, often as if he were in the act of painting the suffering man-god—or as if his painting were coming to life.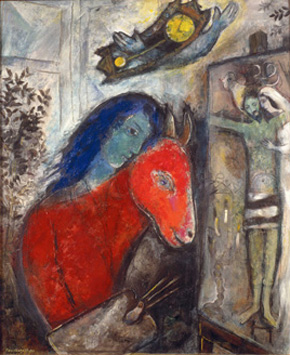 The image of the Crucifixion concentrated his memories, while also becoming a matter of self-identification.
In "Chagall: Love, War, and Exile," through February 2, one sees a man who spent much of his life coming to grips with exile. Along with a review of another Jew (at least by some accounts), Balthus, that appeared in this space it is the subject of a rather longer review, in my latest upload.
Chagall has long stood for a lost world of European Jews, including memories that many of his admirers, like me, could never have had. It has made him a much loved painter, not to mention a seriously cloying one. The Jewish Museum attempts a double feat. It undertakes a retrospective with relatively modest means, by using the artist's later years to revisit themes from throughout his career. Yet it also seeks to rescue him from his own reputation. It wants to recover a darker side of the art of memory. It cannot really pull off either aim, but only because Chagall earned that reputation the hard way, through his art.
Born in 1887, he showed his talents quickly, while never surrendering his roots in a fiercely premodern art. He came from Vitebsk, a largely Jewish town in present-day Belarus, but he traveled widely, first to art school in St. Petersburg. By 1910 he was in Paris at the very center of an unfolding modern art. These were the years of Cubism and inventing abstraction, and one can see them both in his first vision of Calvary (Golgotha), from 1912. One can also see his gift for color, in its fragmented planes and disks right out of Robert Delauney. Those were the years, too, of his better-known images not in the show—like the artist, the goat, and their village and, of course, the inspiration for a hit musical, Fiddler on the Roof.
Cubism obliged him to place those themes close to the picture plane, part of what makes them so strong. It also allowed details to unfold in a dizzying spectacle, as background spins into foreground. Calvary (Golgotha) includes another goat's face, a village elder, and a rower navigating among them all. Chagall is assembling the stock characters for his art, with a visual tightness and spatial experimentation that he will never achieve again. His late compositions look scattered, repetitious, and just plain cute by comparison. Still, by 1911 he already insists on his realism and his fantasies, a combination that anticipates Surrealism a decade later while looking back to the visionary Romanticism of William Blake.
His saga of love, war, and exile begins well before America, with representations of tradition and memory. Chagall illustrated Yiddish poems in 1931, with ink drawings of a pogrom, the Russian revolution, and their prisoners that show a gift for caricature akin not so very far from Francisco de Goya. He also recalls the interiors of synagogues he had seen, in striking detail. He starts to lay down his stock characters as well—the old men with their beards and their Talmud, the lovers in each other's arms, the cows playing the violin, the candle in the darkness, the grandfather's clock in the sky, the wild hair, the fallen angels, and the mother and child in the clouds. The angels are blood red, the women mostly naked, and the men asleep, shrouded, or weeping. Terrible fears are starting to compete with whimsy, and it is by no means clear which will win out.
Chagall wants to picture Jesus as an emblem of a "tragic humanity" and an "innocent child." Maybe that is also how he saw the Jewish people. Maybe he felt that he had found himself in a Christian culture, and it was his job to recover that culture for a Jew, just as he had brought his vision to Modernism. Maybe he felt neither Judaism nor assimilation as an option, because he could neither live in the past nor deny it. The Wikipedia entry on Chagall starts right in by quoting Robert Hughes, who called him "the quintessential Jewish artist of the twentieth century." One might better say the quintessential artist in exile.
| | |
| --- | --- |
| | Read more, now in a feature-length article on this site. |