To continue my report from last time, Spring Break is finally cleaning up its act. For such an upstart, the fair sure has an eye for real estate. Perhaps it is in the wrong business. Now it has moved from the confining grandeur of the Farley Post Office behind Penn Station to the Conde Nast building.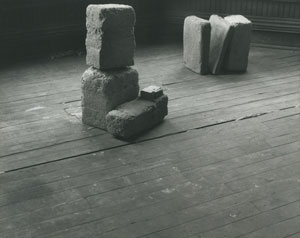 True, it settles for the anonymity of an office building and the tourist clutter of Times Square, with a long elevator ride at that. Yet the work gains from keeping up with its surroundings.
Right off the elevators, one can detect a new professionalism. One floor opens with dismembered buckyballs by Michael Zelehoski and a skeletal horse that Deborah Butterfield might have left out to die, by Wendy Klepper. The other opens with a constellation of scrap wood overhead and warnings of monsters and fuckers on the wall, by Gregg Haberny. Within, Spring Break plays to a warren of small offices and a conference center with floor cushions and playground colors. It has also dispensed with pile after pile of worn clothing, like a homeless shelter after the lights have gone off and the homeless have gone to die. For once, a Chelsea gallery joins the independent curators, and they appear to be curating.
It even has painting and sculpture. Actually, it has too much of everything, with a good one hundred exhibitors—and ever so many more artists. Labels are scarce, so excuse me if my reporting lets you and me both down. I do not know who left the massive table of flashing sound and light as Knotted Gate or the scarred remains of torched buildings as Broken Homes. I know a room with robots, the kind that change direction when they run into something, only as THEM. Still, with robots more often used for house cleaning than for potted plants, the fair is already cleaning up.
A sign for "Immersion Room" could well describe almost everything here, with real and sculpted people as couch potatoes and cooks. Jason Peters multiplies his twisted and tubular Japanese lantern with mirrors for a dark, disorienting, and powerful presence. Kenny Rivera continues his painting on the floor, with BravinLee, not unlike Sarah Cain. Even on canvas, Srigon Chowdhury brings together abstraction and illusion, with solitary souls that find their way through curtains out of Ken Currie. RHW Enterprises toils away at an alternative to the entirety of fair week.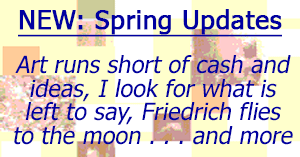 Its women in white suits seem to be crafting decorative art with a diligence that larger commercial ventures can only envy.
In no time the Independent has established itself as the cool kid with an upscale lifestyle, even more so since its move to Tribeca. This year should cement its reputation. A more domestic cast includes more downtown galleries along with others from Chelsea and Europe—plus one from Bushwick and Elizabeth Dee, its founder, now in Harlem. It also has the contents to match. What other fair dares one to find value in conceptual art, such as Travel Posters by Barbara Bloom, at David Lewis? Amid global collectors, her "English Spoken" takes on new meaning.
Painting tends toward big and beautiful, but without empty excess. That includes Ted Stamm at Karma, David Diao at Bureau, Sue Tompkins at the Modern Institute, Loïc Raguénès at Clearing, Katherine Bradford at Canada, Despina Stokou at Derek Eller, and Tatiana Trouvé at Galerie Perrotin. Others combine the formal and conceptual—like Anne Doran at Invisible-Exports, with crosses like those of Robert Mangold refashioned from advertising. Red telephones inserted into white sculpture recall not just the land lines and Minimalism that millennials have abandoned, by Zak Kitnick at Clearing, but World War II bunkers clinging to communication with the outside world.
African American women, too, have a place, with blurry screen captures of athletes by Howardena Pindell at Garth Greenan and shacks in scrap wood and oil pastels by Beverly Buchanan at Andrew Edlin. They supply a chastening reminder of what a week of white male preening leaves out, and I continue my report next time, with NADA, Moving Image, and Scope.
Read more, now in a feature-length article on this site.