Sculpture in the parks is one of New York's delights—and one more reason to look forward to summer. Just when many are leaving town, it invites one to explore the breadth of the city. Besides, you already wanted to leave midtown to tourists—where, if they look up, they even might catch a rendition of clouds on Fifth Avenue by the Plaza Hotel, by Olaf Breuning through August 24.
Only watch out: an outdoor group show can also become either a treasure hunt or a nuisance, sometimes both at once. Did you finally stumble on everything and identify everyone, and did a patch of urban greenery remain just for you?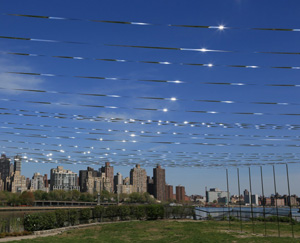 This summer Socrates Sculpture Park sticks to just four large works, through August 3, with plenty of room to climb right in or to lie in the sun. Take your pick. You can safely ignore, scorn, or marvel at the waterfront park's permanent residents—the dreary urban stereotypes of statues by Tim Rollins and K.O.S and, behind a fence, the abstract giants of Mark di Suvero, a park founder.
You will find instead art tailored to the site and holding out a welcome. It includes a reminder of the city's survival and a tribute to a dedicated New Yorker. It also includes ripples in the grass and sky. On Memorial Day weekend dandelion tufts blew past in the light.
One expects a welcome from the "Broadway billboard" above the entrance gate, and Meschac Gaba does his best, with colors that radiate out from a central point. One might mistake them for a park logo rather than a work of art, and in fact each narrow triangle elongates a nation's flag. The Beninese artist thinks of his painting as a vision of a more harmonious world. Citoyens du Monde refers to the internationalism of a group that, starting after World War II, proclaimed its members citizens of the world. It also introduces an unusually international summer group show. My first guess, though, was that it named the heady idealism of the French revolution, and I was worried for my head.
I might have worried, too, for the ark nearby, in vinyl siding that appears to have washed up far from the shore. Austin+Mergold call it SuralArk, as a cross between suburbia and Surrealism, but it seems reasonably urban and down to earth. Its two rows of upright two-by-fours converge at the top, where a horizontal stabilizer seems only good sense, give or take that the ship is upside-down. If thoughts of Hurricane Sandy spring to mind, the curved beams elevate the ark several feet above ground, . The Philadelphia architects have painted the bottom few feet black, a projection of rising sea levels or the next Biblical flood. The vinyl canopy also suggests a refuge, although it looks bare-bones from inside.
One expects Paweł Althamer to be at least as virtuous, less than challenging, and a lot sloppier, and the Polish artist delivers. The huge assemblage of spare parts and rags represents a crowned woman lying down, one droopy arm spread out at her side. Queen Mother of Reality honors Delois Blakely, a former nun who founded the New Future Foundation, to support a student exchange program with Africa and to promote multi-ethnic understanding. She holds the honorary title of community mayor of Harlem as well, and this is Astoria, but who expects Althamer to look beyond virtues to specifics? He also has the unfortunate result of making her look like an oversized bag lady sleeping in the park. One can enter the construction for more, including Chinese lanterns and airplane seats, but do not come looking for illumination or a wild ride.
Zilvinas Kempinas, who brought (ouch) a disco floor for Governor's Island in 2011, has the largest work, but also the most free to sunbathers and the imagination. Like the ark, Scarecrow banks on two rows, only of upright poles in stainless steel, and their curves lay out an arc in the grass rather than the sky. Mylar runs overhead between the rows, like more flags for citizens of Queens or the world.
Sunlight dances along the tape as it moves with the wind, all the more dazzling when the breeze dies down and the motion seems to belong to the light alone. The Lithuanian artist keeps the poles far enough apart that one can easily pass into the central meadow, where the rippling of thin shadow lines in the grass can grow downright disorienting. Still, one can look up to find a welcome—and a New York summer.
| | |
| --- | --- |
| | Read more, now in a feature-length article on this site. |