Not everything by Bruce Conner is explosive. So when his art does explode, one had better take notice. MoMA announces as much, with the image of a nuclear test on the wall outside his retrospective, through October 2—and it is the subject of a longer review, in my latest upload. Yet the real explosion took place in his head.
That image is, of course, already blown up—from military archives of that terrible July day in 1946. And the explosions continue in two of his short films. Both start slowly enough, one in off-kilter footage by Conner himself from his year in Mexico City, starting in late 1961.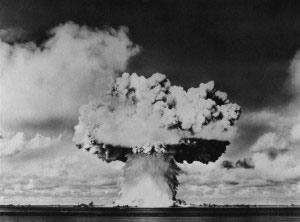 People meander past close-ups of magic mushrooms. Then the colors take to the sky, in fireworks. The other, from 1976, relies on the dozens of ships and planes off Bikini Atoll to capture the quiet before the cloud rises to encompass everything in black and white.
Is it coincidence that the first is Looking for Mushrooms and the second, Crossroads, of a mushroom cloud? Not one bit, although one is so personal and the other as impersonal as they come. Conner drew for the first on his friendship with Timothy Leary, but he sketched a mushroom cloud as early as 1963—and titled it after a street address in Kansas, where he grew up. Is it a coincidence that the second film's title recalls not just the military's Operation Crossroads, but also a song by by Robert Johnson, the blues musician, and then Cream? Probably, but I can imagine his relishing the coincidence. For Conner, the desire to expand experience lived alongside fears of what already lurked in his heart.
He moved all his life between the thrill of motion and hope of a quiet center within, but both carry the creeps. His very first film, A Movie from 1958, cuts rapidly among a succession of speedsters—horsemen, carriages, bicycles, racecars, and sure enough a mushroom cloud. At once comic and exhilarating, it begins with a zeppelin over New York City and ends with a train going off a cliff. Later films revel in a woman's dancing, with the jerky fashions of the 1960s, but also in the Zapruder footage of the Kennedy assassination replayed again and again. Dreams lead to madness, but then paranoia does sometimes follow a trip.
Not that he was a boomer, which may explain why postwar American came as such a shock. Born in 1933, he moved to San Francisco only after his studies, in 1957, but he fit right in. He had been working in collage close to abstraction, and soon enough accumulation becomes a sinister habit, much as for a friend, Jay DeFeo. Assemblage starts with Ratbastard in 1958—named for the Rat Bastard Protective Association, a Bay Area artist collective. It takes the form of a filthy handbag lined with newspaper, wire, and nails. It joins everyday possessions and a woman's sexuality, and it takes comfort in neither one.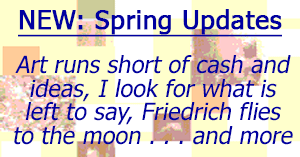 Mostly, though, the creeps keep piling up, only starting with assemblage around 1960. Women's nylons enclose dark shrines. They evoke both sex and spider's webs, like twin traps that the mind can never escape. They also bind a puppet child to a high chair, as if writing in pain—alluding, too, to a rapist's execution by electric chair. Sculpture in black wax descends that much further into night, including a couch for Sigmund Freud. A hand print stains paper with blood.
A retrospective called "It's All True" boasts of his ability to disappear before one's eyes. Curated by MoMA's Stuart Comer and Laura Hoptman with SFMOMA's Garry Garrels and Rudolf Frieling, it also makes the case for a major artist. It shows him as painter, sculptor, performance artist, and more. Yet the explosions come only between the mushroom clouds and the mushrooms, with all their majesty and terror, and so at last does release. Crossroads ends with a solitary ship, an empty sky, and a surreal calm. A wild career could almost have ended before it began.
Read more, now in a feature-length article on this site.