Angelika Schori calls her show "Light Touch," just recently at Pablo's Birthday through June 28, and for all that her work bears down of its own weight. Schori rings the changes on detaching painting from its stretcher, while still identifying it with its support. In each series, paint runs right to the edge, much as for Minimalism. With some, diagonals run casually every which way. With others, canvas laps into the room cut, crumpled, and damaged. Yet the more material they are, the lighter they get, and the more the light emerges from within.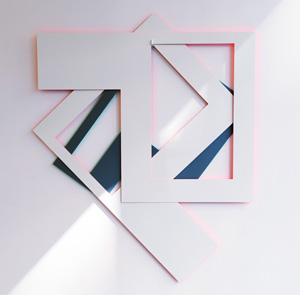 Lightness might be on the artist's mind just from dropping in on Orchard Street. Her gallery called an earlier show of Michael Rouillard "Lighter Still," as if he had somehow seen Schori's work and responded in advance. She has that light touch most obviously in mere canvas, holding itself up to the wall as best it can. In a second series, canvas peels away and hangs down from the center of a rectangle on stretcher, as if sticking out its tongue. The whole composition might represent a TV set from a clunkier age. The lightness of tone, though, matters less than the lightness or weight of materials.
Both series could have a point of reference in Arte Povera, with all its violence against the work of art, but with much less to prove. They are also about light in the sense of color—and of letting color speak for itself. Schori has painted the back of the canvas a different color, and the very damage allows one to see it. Again like artists of the 1960s, she has nothing to hide. Here what you see is very much what you get, twice over at that. Yet it matters, too, that one never sees all of it at once.
The third series is the most consciously shaped, but also the most luminous. Here she works on powder-coated steel, each piece a variation on the rectangle. Several pieces hang together from a pin, like steel for Erin Shirreff. Their contrasting diagonals also push away from the wall, like stripes for Frank Stella in the 1970s. Their pure white matches the white of the wall, but with a greater glow. It arises not only from the reflective powder and metal, but also from bright color on the edges and backs.
Variations on Minimalism keep coming, but without the self-conscious grandeur of geometry back in the day. Tondos from Pamela Jorden, at Klaus von Nichtssagend through June 7, have wisps of paint out of Robert and Sonia Delauney, sometimes sharing half the field with black. Adam Winner has even more in common with Schori. For "Scratchpad," at Josée Bienvenu through July 11, some paintings stay only white, as for Robert Ryman, their torn edges attesting to their making. Others have the concentric rectangles of still earlier Stella, in black or white, with the same care to leave space between them so that its brushwork stands apart. Here, too, though, the thick stripes take on color from the underpainting that they reveal.
Somehow painting has outlived the death of painting. Galleries feel the pressure to insist on it at that, by boosting older artists who may have missed their fair share of the action. In her "verb paintings," at Hauser & Wirth through July 31, Lee Lozano took as her titles active verbs—like Pitch, Slide, Lean, Swap, and Cram. Their shaped canvas fits together into rectangles that deny the shaping, while warm colors and soft modeling in turn disturb the picture plane with the illusions of a third dimension. They might represent nose cones flying dangerously close—and this was 1964 and 1965, with a missile crisis not so far behind. Contemporary eclecticism may never recovery that urgency. Is Yet it can still hope for a lighter touch.
Read more, now in a feature-length article on this site.