Jimi Hendrix hated the cover of Electric Ladyland. He had asked for something more innocent than electric—children climbing on Central Park's sculpture after Alice in Wonderland, much as I had as a child but in a photograph by Linda Eastman. Instead, he got a more adult kind of play.
The photo for the album's British release, by David Montgomery, shows nineteen naked women facing front and on the ground, against a black background that sets them at a dark remove however close they come. An American like me might not recognize that Ladyland, but Cecily Brown would, as a Young British Artist before her move to America. She makes it part of her very adult drawings as well, at the Drawing Center through December 18.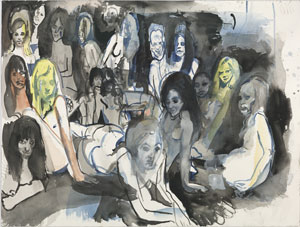 She calls the show "Rehearsal," a term that Hendrix would appreciate, but she refers, the Center insists, to an old French word, rehercier. It means "to go over something again with the aim of more fully understanding it." Are you experienced? Apparently, she is—not just with classic rock and postmodern arcana, but also with art history. She lets children back in the game, too, along with the themes of Bestiary and Ladyland. Together, they describe domestic life as a theater of cruelty.
Children cavort no end in a drawing room after William Hogarth. Adults barely removed from children or animals torment and seduce one another as well—in scenes of carnival and Lent after Pieter Bruegel, Saint Anthony after Hieronymus Bosch, and Adam and Eve in a crowded, lusty paradise. Even nudes after Edgar Degas fit with copies of the album cover. Brown may leave the center of the action incomplete, for a greater sense of motion. The white also suggests postmodernism's obsession with ambiguity, repetition, and erasure. This artist refuses to censor anyone but herself.
Brown approaches the past with skill and understanding, in ink as well as watercolor and pastel. Larger sheets allow more white space and more slashing attacks. They move most easily between abstraction and representation, much like her paintings. They may provide clues to how she got to her paintings, with their hints of Pablo Picasso and Willem de Kooning—or they may show her confident enough now to take her appropriations back in time. They also keep circling back to women. They are still what a title calls her Jeu de Dammes Cruelles.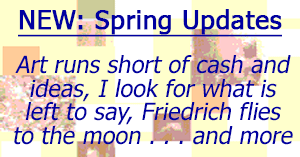 Olga Chernysheva made it to New York, too, but only for a month. The Drawing Center invited her all the way from Russia, in return for her take on the city in charcoal. New Yorkers take pleasure in hating tourists—and not only at home. Even when I travel, I want to know neighborhoods and museums like a native, and I want to keep walking, without crowding the sidewalk. Chernysheva hates to play tourist, too, but she is also never at home. As one title puts it, she is Disappearing into Nowhere.
She applies her polished renderings to fragments of the city on the move—a blow dryer in one of those rare New York restrooms, a fire hydrant with its protective bollard bent out of shape, the back of heads, legs with only their shadows, or her illegible reflection in a surveillance mirror. Shoes behind glass seem desperately to need a home. She often adds a title on a thin slip of paper, pasted as if it, too, barely belongs. Text describes the scenes as Before the Start, Empty and Full, Distant and Near. A man lurks at the edge of a busy playground, but Chernysheva is lurking, too, on this side of the fence.
Read more, now in a feature-length article on this site.