Thomas Scheibitz and Sadie Benning have been studying the languages of art. For Scheibitz, they are languages shared by both Cubism and his studio. For Benning, they look more postmodern and conventional, like adaptations of ASL or a military manual.
If the task seems quaint today, why do the results seem so lively? Maybe it helps that neither artist gets all that hung up over little things like grammar. They know that art today speaks languages in the plural. Wrapped in with an earlier review of "Itself Not So" on the theme of art and aphasia, it is also the subject of a longer review in my latest upload.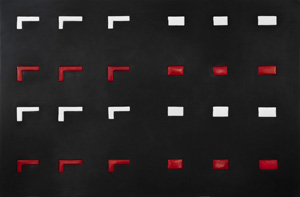 Scheibitz calls his show "Studio Imaginaire," at Tanya Bonakdar through December 20, a nod to both an ideal studio practice and André Malraux's "imaginary museum." As for the language, one work even starts with the letter A. Malraux, the French minister of culture after World War II and author of some very weighty novels, must have felt responsible for western civilization, and his three-volume "museum without walls" made it a public trust. Earlier, Walter Benjamin had spoken of the "work of art in the age of mechanical reproduction," with the aim of taking fine art down from its free-market pedestal. That Marxist stance seems newly relevant after Jeff Koons and art fairs, if also more futile. Malraux, in contrast, would have had respect for painting even in a digital age—enough to want everyone to have access it.
So does Scheibitz, who packs his paintings with easels, frames, and color charts. His interiors have the clear outlines and sprightly primaries of Stuart Davis or late Pablo Picasso. They suggest a stage set for the artist at work. They also border on abstraction. Malraux's original Musée Imaginaire was of sculpture, and upstairs Scheibitz assembles sculpture from much the same simple components. One can still pick up the pieces of early Modernism, he seems to say, and make them one's own—as both a place in the world and an act of the imagination.
Benning, too, works between painting and sculpture, recently at Callicoon through October 26. She paints on fabric or resin stretched over wood blocks, sanded, and reassembled. Her tilings vibrate in red, white, and black. They look almost like military formations, and titles allude to weaponry. If that sounds dangerous, she does not take art's beneficence for granted. Like Benjamin, she places it at the confluence of war and capitalism.
It looks vibrant all the same. With a title like Bathroom People, it is also thoroughly down to earth. Even when she debunks painting most, with a photograph of a similar grid in a street wall, she seems optimistic about art and real estate. She does not even have to ditch geometric abstraction for street art. Like Scheibitz's, her building blocks are available to all. Assembly required.
Late Modernism claimed a language intrinsic to abstraction, and Postmodernism claimed the need to interpret art in words. Nelson Goodman even called a philosophical justification for looking Languages of Art. Now that theory no longer runs the show, painters can stake out languages of their own. Whole shows, like "Abstraction and Its Discontents" at Storefront through November 23, have run through the possibilities, while Bettina Blohm, at Marc Straus through December 12, explores patterns as a process of self-discovery. Scheibitz and Benning differ from them all in not treating abstraction as their personal signature. They would rather get people talking.
| | |
| --- | --- |
| | Read more, now in a feature-length article on this site. |