It is easy enough to compartmentalize Louise Nevelson. She did it herself, in her art.
She was the woman, along with Jay DeFeo, among the men that MoMA anointed in 1959 with "Sixteen Americans"—the older woman, the Soviet Jew born in the previous century, the one in the scarf or a hat. She was dark, brooding, and totemic, much like her monumental art. She was the one clinging to eternal mysteries amid the presentness of Pop Art and formalism.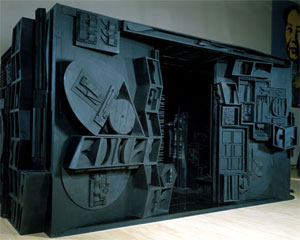 For others then, as for Frank Stella, "what you see is what you see," but for her what you see is what you fear to remember. And then she had her literal compartments, those wall units crammed with all manner of wooden objects in black or white. They came from everywhere, and sometimes they returned to city streets, too, as public sculpture.
Nevelson's collage threatens to burst out of those compartments, at Pace in Chelsea through February 28. Not that it abandons sculptural presence. The show has room for a large wall piece from the 1980s, in pitch black, and before that for dowels and other carved wood. Even before that, a large swatch of crumpled metal expands outward as if filled by a deep breath. The earliest and flattest, in paper and cardboard on panel from between 1956 and 1959, has acquired box frames and protective glass that she almost surely never intended, but it seems to belong. Better still, it dares one to see her work as collage from the first.
One can see her roots in Cubism from her earliest collage, but also how she differs. She was almost old enough to have been a Cubist herself, but also old enough to have broken out of its compartments. I could swear that two gray samples have the shape of Picasso's guitars. Sandpaper or a torn doily plays the texturing role of newsprint or the tassel from an armchair for Pablo Picasso. Her textures are kinkier, though, and her chair caning insists on its history as the back of a chair. Stain brings out the grain of the support, as with Georges Braque—only for real and not as a pattern printed on oil cloth.
She never quite fits into half a dozen other compartments as well. The scale of her major work, such as Mrs. N's Palace (shown here), relates to Abstract Expressionism, but off the wall. Her boxes parallel Donald Judd and Carl Andre—like early Stella, in black. For her, though, the furniture is real. Collage depends on found objects, and Nevelson was foraging the city for spare parts just when Robert Rauschenberg was assembling his combine painting. Her finds also anticipate the Post-Minimalism of Eva Hesse and the overflow of trashy installations today.
Her collage breaks out out of its compartments in space as well. A shovel shares a composition with tin ceiling tile. One might be staring upward while clearing the floor and clinging for dear life to the wall. In truth, her major work looms larger—maybe even too solemn and too large. Collage, though, brings out the humor and the chaos.
One could glimpse the alternatives in her 2007 retrospective at the Jewish Museum, and I have added this to my take back then as a longer review and my latest upload. Yet the path from off-white through messy furnishings to big black boxes helps to situate them all.
Collage shows Nevelson at work in that slippery space between domesticity and Surrealism. They appear in the coarseness of sandpaper or the black lace of a doily. They appear in the household furniture and its destruction. They speak again to her age, born well before Surrealism in 1899, and to her continued presence until her death in 1988. If there is a definitive feminist version of Nevelson, it is there as well. When she adds a broom and dustpan, she is just sweeping up.
Read more, now in a feature-length article on this site.