Can a movement devoted to speed have stumbled so slowly to an ending? One can see Futurism as a sudden and all too transient burst of speed. In just three years, starting in 1910, Italian art found its way from Post-Impressionism to a new style—a tribute to motion itself and modernity. And then it was gone, or at least its great work was over.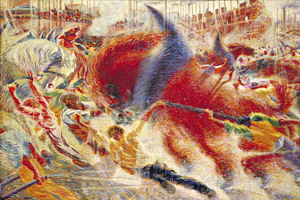 The title of a 1922 work by perhaps its finest painter, Giacomo Balla, tells of its fate: The Spell Is Broken, but even that may sound like a belated confession. Futurism had already lost much of what Umberto Boccioni called in another title its Muscular Dynamism, a victim of war and of a movement's growing cold. Boccioni himself died in World War I, and the group's nominal leader, Filippo Tommaso Marinetti, lay among the wounded. Their ideology and style alike had hardened as well, but then that happens to "isms." On the scale of the twentieth century, even Cubism passed in the blink of an eye.
The Guggenheim has other ideas, through September 1 (today)—and they are the subject of a longer review, in my latest upload. It follows a loose circle from 1909, the year of the first Futurist Manifesto, to 1944. At every step, it proclaims Futurism's staying power and influence. It argues for a second birth in the mid-1920s, with new artists, new subjects, and media well beyond painting and sculpture. In commercial design, the movement anticipates the elevation of craft and popular culture alongside painting and sculpture today. The lengthy survey may end up only reducing Futurism's stature, but it recovers quite a history.
With Pablo Picasso, Georges Braque, and Cubism, Modernism went beyond the visual, to evoke every one of five senses. With Marcel Duchamp, Dada, and Surrealism, it took art into the realm of ideas, found objects, and dark dreams. In inventing abstraction, it left representation behind altogether. For them all, anything was fair game—text or a musical score, the rhythms of color or of line, the texture of sand or the simulated texture of wallpaper. Futurism saw simply a representation of space and time more suited to modernity. Faced with ambiguity, it took Modernism literally.
Was it simple-minded—or simply truer to modern life? The Guggenheim's curator, Vivien Greene, sees an art of the machine, the industrial city, and speed, and she likes what she sees. She sees a movement aspiring to what Richard Wagner in German opera had called the total work of art. And she sees it as needing thirty-five years and a litany of unfamiliar names to achieve that totality. She also sees contradictions easily papered over in its early years, but contradictions that might almost save it from criticism as a tool of Fascism. And yet it grew further from invention and closer to collaboration with political oppression the longer it lived.
One can see the contradictions coming in a close look at that first manifesto. Marinetti, its author, called for "militarism" and "patriotism," but he first published the manifesto in Le Figaro in French. He rooted Futurism in a nation, but it aspired to the universal. It reached out in journals, poetry, theater, public readings, and manifesto after manifesto, often in translation. Balla and another artist, Fortunato Depero, even titled a 1915 manifesto, "Futurist Reconstruction of the Universe," as a boast of its breadth. With "Reconstructing the Universe" as its subtitle, the exhibition plainly agrees.
The show's most singular achievement may be to rescue Futurist home and theater design from oblivion or the footnotes. And, yes, the Guggenheim's other important discovery is women—with an aerial photograph by Olga Biglieri (who styled herself Barbara), Giannina Censi in a mannered "Eurythmic dance," Rùzena Zátková in a hideous portrait of Marinetti, and Benedetta Cappa. Known as Benedetta, she has the tower gallery beyond the ramps for five tall murals completed in 1934, as a playful but majestic "synthesis of communications" for a post office conference room in Palermo, Sicily.
At least Marinetti ended that first manifesto on a high note. Nous lançons encore une fois le défi insolent aux étoiles ("We launch once again an insolent, defiant challenge to the stars"), but one may remember more the defiance than the art or the stars.
| | |
| --- | --- |
| | Read more, now in a feature-length article on this site. |