Everyone is a photographer now, but when did photography become for everyone? Was it when an "art photographer" like Walker Evans started collecting postcards—or when he made a penny photographer's studio an image of America? Was it when cell phones and social media made it easy or when the Kodak Instamatic, like the Brownie half a century before it, made it affordable?
Or how about in 1863, when a mother of six received her first camera for Christmas? If the Met is right, Julia Margaret Cameron became "one of photography's early masters," but only by defying a common idea of what counted as halfway decent photography. "Not from the Life," as she wrote in her notebooks, "but to the Life." She was speaking of her wish to make photography more vivid than ever before—and her need to do it by mediating reality through fine art.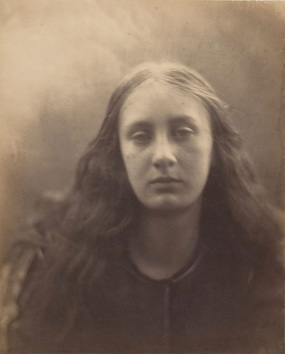 With a woman's face, enlarged on the wall by the exhibition's entrance, one might wonder if one has caught a glimpse of the photographer herself. It shows a young woman, that much more real and more ethereal thanks to her mute expression and the light that bathes her cheeks, picks out her eyelids, softens the wall behind her, and leaves the rest a shadowy blur. Actually, it is Cameron's niece posed as "the lovely lady Christabel," out of the poem by Samuel Taylor Coleridge. ("Is the night chilly and dark? The night is chilly, but not dark.") The photographer turned forty-eight the year of her Christmas present, and she was known as the plain sister in a family of beauties.
The temptation to see her there is telling all the same. It speaks to a still-new medium's promise to capture the present moment and to freeze its immediacy forever, as past. It also speaks to Cameron's wishes, in that unforgettable quote. The Met divides her work into three groups, with portraits of genius, women as subjects from literature and legend made "great through love," and staged scenes. In practice, the groups are not so easy to tell apart. Her subjects all belong to much the same world, the world of Victorian poetry and art.
She photographs the Tennyson family at home on the Isle of Wight, right down (the poet complained) to the bags under his eyes, and then illustrates an edition of Tennyson's Idylls of the King. She portrays John Herschel, the astronomer who coined the term photography, without literary "properties," but with the same deep highlights and loose hair as for her Christabel, Sappho, or Circe. She presents her husband, a jurist, as King Lear, while framing a seemingly frank female portrait in dark hair and a circular frame, like the Medusa. She turns two young women into an early Renaissance Annunciation, with Perugino's angel as a badly behaved child. When she photographs Alice Liddell at age twenty, she takes the woman that Lewis Carroll immortalized as a child and returns her to the course of time, but as a goddess. And the imagery, the upturned and downcast eyes, and the light all have their roots in a single movement in English painting, the Pre-Raphaelites.
So do David Wilkie Wynfield's photographs of William Holman Hunt and George Frederick Watts, the painters, and William Frederick Lake Price's posed image of Don Quixote in His Study, all also on view at the Met. With Price, a living man has become a character out of Cervantes who aspired to a myth—and, in turn, the character has become an artist. A dashing young couple as photographed by Oscar Gustav Rejlander would look quite at home half a century later, in the silent movies.
What Cameron adds is her own way of bringing living subjects alive and into high relief, through overexposures. She is mediating between the present and literary time by a further adaptation of oil on canvas, in a softer focus and a deeper light.
Cameron's accounts of technique's discovery conflict, as a lucky accident or a deliberate effect. Maybe she herself was conflicted about her amateur status and her artistry. She did not keep a portrait studio, in the sense of welcoming sitters, but she did have a studio in which to work, and she upgraded to a larger camera in just three years, in 1866. Her "out-of-focus . . . celebrities" won her sales, but also some nasty criticism. They marked her work as somehow both too artsy and just plain sloppy, but the trap was not hers alone. In bridging the conventions of painting and photography, Cameron found herself caught in raging battles over both.
The Met through January 5 restricts itself to some three dozen prints, all from its collection, and anyway Cameron worked for barely a decade. Born in Calcutta, she returned to Ceylon in 1879, when her husband had property—and the window in time is revealing. British painting was trapped between realism and Romantic longings, until Claude Monet and John Singer Sargent brought "the Impressionist line" to England. And meanwhile photography, thanks to Herschel and Henry Fox Talbot, could only recently boast of a deep focus even in exposures under ten minutes, in contrast to streets in earlier French daguerreotypes that appear empty, because moving traffic has vanished into the light.
At a time when reports from the battlefield in Civil War photography were shockingly new, Cameron's washed-out details must have seemed both a throwback and a deliberate affront. Long before Alfred Stieglitz or Edward Steichen in America insisted on the products of a black box as fine art, she must have reminded photographers of something they wished to forget—their debts to both.