The Bare Facts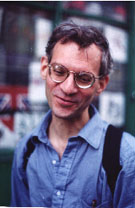 John Haber is an editor and writer living in New York, with a degree in physics but a strong interest in philosophy and the arts. He is a bookish sort, a museum saboteur, a gossip columnist, and perhaps even a fiction. His native language is rumored to be artspeak, if you can believe his own dictionary, and he still writes with an accent.
More seriously, please see MY RÉSUMÉ. I have elaborated separately on my work as a Web project manager and geoscience educator. You may also wish to see a statement of the history of this site and, I believe, the uses of art criticism.
On a more personal side, watch what happens when a New Yorker lands out of his element—in Vegas or Downtown Disney, off to the beach, in search of his father's home in the Bronx, or after a dear personal loss. Ready for the absolute worst? Here's my entire life, some thoughts on my Jewish heritage, my running the risk of blindness, and a eulogy I delivered for a close friend.