The Bare Facts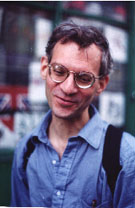 John Haber is an editor and writer living in New York. He grew up (so to speak) just three blocks from the Guggenheim and half a mile from the Met, but he never entered either voluntarily. His native language is rumored to be artspeak, if you can believe his own dictionary, and he still writes with an accent.
John may not be a Jew unless you call him Jewish, although he often thinks you should. He hates the design he created for his Web page, but he's only a critic, a bookish sort, a museum saboteur, gossip columnist, and perhaps even a fiction, but also at serious risk of blindness.
Less-daring souls should settle for MY RÉSUMÉ . . .my work as a Web project manager and geoscience educator . . . and my favorite arts resources.
Want to know more? Check out a blend of art and microbrews that gave me an excuse to cut gallery-going. Or watch what happens when a New Yorker lands truly out of his element—in Vegas or Downtown Disney, off to the beach or in search of his father's home, lost at home on the morning after, watching his personal health, or just lasting out another competitive week in the city. Ready for the absolute worst? Here's my entire life, or a eulogy I delivered for a close friend.