Malt Tease
John Haber
in New York City
Art at the Brooklyn Brewery
Brewing is a business, brewing is an art, and great brewing is back in New York. Weekends you can see it in action—and sample it for yourself—at the Brooklyn Brewery.
Craft beers are a natural for Brooklyn, with its sophisticated tastes and its long history of breweries, and beer lovers have long dreamed of a plant in the city. In fact, like New Amsterdam, the Brooklyn Brewery still contracts out most of its production and all bottling upstate, in Utica. However, starting in the fall of 1996, it began brewing all seasonal ales in Williamsburg, and it is only a matter of time before the whole operation moves to the city.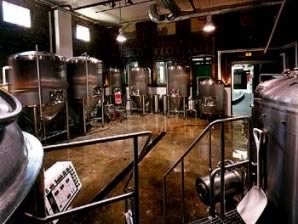 Getting there
Now is best the time to catch it, while it has an unspoiled commitment to its neighborhood and the casual air of a work in progress. Tours run every 20 minutes, Saturday afternoons from 2:00 until 5:00—or whenever the brewmaster puts up with it. Or go for additional tastings Friday evenings, during the brewery's "happy hour."
From Bedford Avenue on the L train, the last stop before entering Manhattan, it was still well after I visited only a few blocks north before a close-knit residential community dissolves into often-vacant industry. After another block one turned left, and down the street one could spot a surprisingly modern structure. The former ironworks last housed a matzoh factory, yet another reminder of Brooklyn's diversity—and of artists working in Brooklyn before gentrification forced so many out.
The owner started perfecting his beer while living overseas, where local Islamic law forbid its purchase. Working with the former brewmaster of the Manhattan Brewery, New York's first brewpub, he eventually funded this space by using it to distribute other craft beers as well as his own.
Inside sits the combination of an art gallery, a souvenir stand, and of course a factory. To the left you find a modest, high-ceilinged room with six picnic tables scattered about. It looks to be a better spot for a party than an "alternative" arts space or sculpture park, and indeed it can be rented any Friday evening, with food ordered in from Williamsburg's growing list of fine local restaurants.
Arts and science
As I arrived, local artists were finishing off some pizza as they organized and set up a cooperative exhibition in this ample space. Obviously the place offers more than one kind of art—and more than one kind of commitment to Brooklyn.
A friend and I were offered one of three beers free, all wheat beers for the season, while we waited for a tour to begin. The knowledgeable guide showed our group around a single factory room on the same floor, pointing out each step in the brewing process. We could see clearly what went into each vat and why.
I would return anytime, preferably on a sunny day when I could explore Williamsburg all the more. It would be exploring myself as a New Yorker—and my own past. But remember that it is a work in progress. I recommend, too, that the guide give time to just what makes Brooklyn Brewery products taste so special, as well as bone up on the history of beer making in New York.
Meantime, take in all the art, have a taste or two, and enjoy. Besides subway, cars offer easy access, from the Metropolitan Avenue exit on the BQE or up the waterfront from Brooklyn Heights.

When I visited, the Brooklyn Brewery was located at 79 N. 11th Street in the Williamsburg section of Brooklyn, New York. It has moved south to Red Hook, and tours are on hold pending renovation.