Open Season
John Haber
in New York City
Open House at the Brooklyn Museum
Remember the Brooklyn Museum—that dark, cavernous maze, with art mostly hidden upstairs at the back? No longer. Five years of remodeling have made it a marginally brighter, airier, cavernous maze, with art mostly hidden upstairs at the back.
Take heart: one can always enjoy the challenge of finding it. Sure, the new glass and steel entryway and "Open House," a show of artists working in Brooklyn, both try too hard. Both come off as way too shallow and way too big. Both, however, represent a vision of what a museum can do—for art and for the community. They also offer a reminder of what the good-natured 2004 Whitney Biennial leaves out.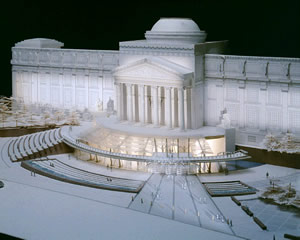 Open arms
"As chairwoman of the reception committee, I welcome you with open arms," Margaret Dumont proclaims to the new president of Huxley College. "Is that so? How late do you stay open?" In Brooklyn, on the first Saturday of each month, Groucho Marx could stay till eleven. On June 5, the evening includes "alternative country" music, appropriate for a borough that likes to think of itself as another country. Given weekend subway service from Manhattan, perhaps it is.
The museum, like the Brooklyn Academy of Music, has dared some things not ready for prime time, such as the Young British Artists in "Sensation." Now it wants to serve as a magnet for Brooklyn and for private collectors. The transformation of museums into community centers has a serious cost. It puts museum architecture in service of anything but art. The question is whether Brooklyn's curators will do the same—and whether they will indeed draw the community.
The attraction starts with those Saturday evenings. It includes a new paint job, in colors that sometimes clash with the art and darken the galleries all over again, but do often guide one more effectively. It includes a cautious rehanging, with some rooms arranged by theme. Albert Bierstadt's Storm in the Rocky Mountains has not lost its pride of place, for example, but his neighbors take the sublime beyond the Hudson River School. It includes that exhibition of two hundred Brooklyn artists and its welcoming title.
First, however, comes the entrance pavilion, which, thank goodness, only partly resembles the pristine, imposing scale model above. Polshek Partnerships wants a museum to shape the surrounding public space. After all, tourists spend more time on the Met's front steps than with European painting, as street performers know all too well. The Brooklyn Museum already dominates the residential expanse and automobile traffic of Eastern Parkway.
The shape, a bit like the crown of the Statue of Liberty brought to earth, beckons to the hungry masses. The glass lets in light and signifies transparency. Slapped ostentatiously in front of the McKim, White & Mead pillars, partly obscuring the Daniel Chester French statues, it intends to tone down an imposing façade. Its refusal to integrate with the Beaux-Arts entrance signals postmodernity in action. Ultimately, a fountain and new cherry trees will help integrate the museum with the neighboring entrance to the Botanic Gardens, another work in progress.
Give it an A for effort. Its refusal to play along with existing forms and functions does not so much deconstruct and transform them as ignore them, much as the interior largely ignores the art. I took some promising stairs, which claim to echo the original, nineteenth-century plans for a grand stairwell, only to find myself on a narrow mezzanine, with a bland view of the street and nowhere to go but back down. Besides, a new façade cannot address the museum's awkward interior. One still takes the long walk past nothing of interest to elevators in the rear, followed upstairs by a long walk back to most of the galleries. The treasure hunt is on.
Hallways and holding pens
Much the same applies to "Open House." It beckons to Brooklyn. With forty of its works scattered amidst the permanent collection, it presents either an enigma or another treasure hunt, depending on how one feels that day. Either way, it urges one to explore an entire museum. More important, the works themselves give a pretty fair picture of New York art now. If only the installation did as well.
The show actually tries to sound worse than it is. "Open house" suggests not just lowering increasingly preposterous museum entrance fees, but also lowering the bar. "Working in Brooklyn" suggests not working in the public eye. Its begs critical questions, too, about the art world—from the spread of galleries beyond Chelsea to decentralization as one more mirror in art of "the free market," from the rootlessness of oversized art fairs struggling to top the Armory Show or Pulse and Volta to the cold hard fact of the Brooklyn Museum as itself another powerful institution.
The display tends to confirm one's fears. One misses the surprises and sharp focus of the current Biennial's nested enclaves. Here, free-standing partitions, as in an art fair, add wall space to the long halls without structuring them. In this vast procession, the one or two works apiece gives no one a fair chance.
Although only a fraction of the total, the treasure hunt hardly helps. Some artists thrive in context, but all too few. Nancy Drew, who recasts classics of Abstract Expressionism in felt and glitter, gets at last to stand near and even look like the real thing. (She could be daring Devorah Sperber, not in this show, to do so, too.) So, albeit in a different way, does Michael Dominick's radiator. Amy Kae's white scroll gains in resonance from the low relief of Egyptian art.
Others just cluster awkwardly by the elevators, however, or look lost in the past. When it comes to his transformation of abstract painting into oversized household objects, James Hyde works better in a big, private gallery than in this holding pen. The Auguste Rodin sculpture court brings out the worst in such artists as Patricia Cronin. Her funerary memorial shows her and her partner united at last in kitsch.
It could be worse. This is not open-studio weekend in Dumbo or a Brooklyn Waterfront Artists Coalition auction down in Red Hook—or summer sculpture along the actual waterfront. Of course artists are working in Brooklyn, where they can afford space and where neighborhoods mix and blossom while Long Island City still gathers steam and emerging artists in Harlem only slowly attract crowds. Want a truly parochial show? How about thriving artists under thirty still in Manhattan?
A Biennial grows in Brooklyn
Plenty of the Brooklyn artists also made the 2004 Whitney Biennial. Amy Cutler, Amy Sillman, Emily Jacir, and Sue de Beer are just a few. Nayland Blake, Glenn Ligon, Lorna Simpson, Byron Kim, Roxy Paine, Louise Bourgeois, Vito Acconci, John Klima, Luis Gispert, Leonardo Drew, and on and on—all are recognizable from museums or prominent Chelsea exhibitions.
Many have looked edgier and more distinct elsewhere. They just do not have the space. Stuck in Polshek's glass house, they never get to throw big enough stones. (Dan Graham taught me the same lesson on the roof at Dia:Chelsea.) Collectively, however, they add up to an idea of contemporary art very different from the Biennial's pleasant escapism. They plead for art in touch with the world.
The Biennial's older artists, party installations, rural themes, and downplaying of ethnic stereotypes transport one to a happier time and place. Brooklyn, suitably enough, pays attention to the urban present. P.S. 1 called that "Greater New York" a few years ago, in a sprawling show of its own, and plans again for "Greater New York 2005" and "Greater New York 2010." The message is clear. Brooklyn is a diverse borough, and it, too, is America.
Those "name" artists already define the ethnic mix. Artists here accentuate cultural particulars. This includes questions of personal identity, as with Jenny Dubnau's harsh record of a woman's face or Kate Gilmore, with the imprints of her feet in cement. It includes group identity, as with Gispert's photographs of Latino dress-up games or Marcie Palmer's dolls. It includes politics, as with Chris Doyle's flag in watercolor, like the emblem of nations within a nation. Photography, which the Whitney still struggles to accommodate, here fits right in.
It includes contemporary life's unending reflection in popular culture. Artists recreate familiar, commercial artifacts that themselves recreate the personal as mass production—such as Ray Kapp's pretend soap dish and personal digital assistant, Ken Butler's CD sculpture, David Baskin's urethane clothing, or Lizzie Scott's fabric subway grate. They examine the boundaries between public and private, as with Anthony Goicolea's classroom. Diana Shpungin and Nicole Engelmann trap on video the casual or not so casual interactions of a movie-theater audience.
And of course they show Brooklyn and its surroundings. David Shapiro lets it off easy, with A Tree Grows in Brooklyn copied onto polyurethane piping that snakes down a stairwell. Dave McKenzie's Karaoke Dream Machine drives through it and dislocates it, to the tune of "A New York State of Mind." But its images and artists are everywhere, from empty lots to subways and shop windows. A show this big can never quite come to life, and one more show like an art fair and contemporary art may itself be dead. At least it wants to remind one of a life that the Manhattan art scene sometimes forgets.

The Brooklyn Museum unveiled its entrance pavilion April 17, 2004. "Open House: Working in Brooklyn" ran through August 15.