An Otherworldly Humanism
John Haber
in New York City
Piero della Francesca in America
Perhaps the most important artist of the early Renaissance passed his life in a small town. With "Piero della Francesca in America," the Frick does its best to reunite a colossal altarpiece and to offer a history of his coming to New York.
Piero received payment for that altarpiece in 1469, after as much as fifteen years of labor. It stood for only about a hundred years in the Church of Sant' Agostino back home, before a church renovation put it out of business. Still, the altar held four paintings now in the Frick Collection, including a standing Saint John the Evangelist. With a second standing saint from Lisbon and a small panel from Washington, one can try to imagine the whole.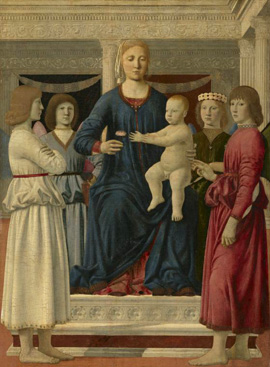 With an additional loan from the Sterling and Francine Clark Institute, one can ask how he brought an otherworldly calm to Renaissance humanism—and, ultimately, to modern art.
A small town and a colossal altar
Piero della Francesca lived within Tuscany but near its border, not far from Siena. That rival to Florence was already more famous for its late Gothic past. Not that he never saw the world. Among the first records of him is in Florence, possibly as a mere assistant to Domenico Veneziano in 1439, on church frescoes long since destroyed, although there may be documents of him as an apprentice in his home town before that. (The Frick joins an odd scholarly trend that pushes his birth back to 1411, putting him well past the age of apprenticeship.) He also worked in Urbino, Ferrara, and Rome—which only makes sense, for Borgo San Sepolcro was actually part of the papal states.
Artists from Florence left their city themselves, with so many competing states and commissions to be had. Piero, for that matter, had his great fresco cycle in Arezzo, a bit south of Florence and a pilgrimage for anyone who loves the fifteenth century today. It ranges from pitched battles to scenes of near mystic contemplation, but it is also a close portrait of life in Tuscany. It shows hills, towns, churches, and town squares, imbued with community and with ritual. Time passes slowly here, even in the heat of battle—just as the events of the New Testament play out in broad Italian sunlight. Piero had his own slow pace as well, with up to a full workday for a single face.
He needed the time for faces, anatomy, the declining height of hills at the horizon, or the weather. He needed it, too, for meanings that did not change as quickly. Jesus at his baptism brings hints of life to bare trees and a dry stream. He also stands by the sheen off puddles from yesterday's rain. In all these ways, Piero embodied the artistic and intellectual currents of his time. No one better understood the Renaissance ideals often associated with Leonbattista Alberti, who wrote about art's truth to nature, virtue, and humanity—in, of course, flawless perspective.
Still, Piero became a member of the town council in today's Sansepolcro and remained one until his death in 1492. Pretty much all his work dates from twenty-five years or so, through 1472, and he all but fell off the map of art history for a while. People used to call the entire century the Italian "primitives," and his stillness seemed downright unnatural. His people may look past each other, like Mary turning away from the Annunciation in dignity, strangeness, or fear. Three ancient philosophers in conversation hardly move their lips, and they seem oblivious to the flagellation of Jesus taking place in the background. The wide eyes of Piero's risen Christ have seen more even than death.
As for Sant' Agostino, only eight panels out of who knows how many survive, and the central panel does not. The curator, Nathaniel Silver, proposes a Gothic fantasy of four tiers, seven pinnacles, and more than two dozen paintings—all in desperate need of support from a row of pillars at its base. That kind of thing would long have made the artist seem even more minor and dated, although it is just a guess. Only Piero's earliest surviving work bears that kind of architecture, and he probably found it distasteful. No one will ever know. He was not, though, by any means a retrograde artist.
Saint John alone insists on it. About four feet tall, in a harsh white beard and majestic red cloak, the evangelist has towered over visitors from almost the Frick's origins. He is lost in perhaps his own book. One can see why the generation that elevated the stillness and complexity of Paul Cézanne and Jan Vermeer recovered Piero as well. One can see how he became the artist's artist from his century, much as Sandro Botticelli a generation younger became the public's. One has a rare chance, too, to see what that changing understanding means for today.
Timeless events in the present
The loan from the Clark in Williamstown, Massachusetts, makes a good place to start, and anyway people are drawn to it. Four standing angels form a half circle around an enthroned Mary. Portrayed as boys, they make her look that much larger than life. Jesus, seated erect on her left knee, reaches toward a pink carnation in her right hand (and not, by the way, what the Frick's scholars call a rose), a symbol of his embrace of his adult future. Each angel has a cloak and wings of a different color. Each treads lightly on the ground, but each poses and faces a different way.
Clearly something spooky is going on, but what? The play of symmetry and strangeness extends to the shallow architecture up against their backs, just two of its walls visible. It almost anticipates the gallery as white box today. A mysterious shadow falls across the step of Mary's throne, itself inlaid with marble and carved medallions. Step back and everything falls into depth, exactly as it should. One can almost overlook that one never does see any more of the throne, and the room presses in so closely that Mary would bump her head if she tried to rise.
By the same token, one can overlook Piero's humanity. Early critics of the Enthroned Virgin and Child would certainly have noticed the inconsistencies. They would have wanted Jesus to grab the flower like an infant at play, which is how other artists humanized the symbolism back then. Still, everything has its place, including the rich shadows filling out the robes. By all but hiding each angel's wings, the artist has treated them first and foremost as children. In his world, great and timeless events are still taking place, and one can only expect a few paradoxes and maybe even the creeps.
One has the same dynamics in the altarpiece, starting with a Crucifixion in the Frick, now slightly cut off at left and right. It was the central panel in the predella, or base of the altarpiece, and it is one busy scene. Horses are rearing, Mary is swooning, John the Baptist is rushing to the cross, and Roman flags are blowing in the wind. At the same time, everything has come to standstill, and nothing overtly connects. The figures all have their own purposes, and soldiers dicing at the base of the cross pay no attention to at all. Piero pictures at once his suffering god's majesty, the world's indifference, and a timelessness at the root of them both.
Three other panels are half-length saints, one of them Saint Augustine's mother. They are, if possible, even more austere—although some of that comes from their place in the whole. They are small panels, against an old-fashioned gold background, with just a prop each to identify the saints. The identity of one is still unsure, as is their position in the altarpiece. I cannot swear that Piero worked without assistants, and cracks in the wood make it even harder to say. The smaller saints have his dignity but not much more, and nothing prepares you for the standing ones.
John's red cloak looks as impossibly massive as ever, the wrinkles in his tanned skin as harsh. This John is not the most mystical of the four evangelists, in meditation on his island. He is a figure of age and authority, a man of the book. He cannot even be troubled to raise his eyes to meet the viewer. Still, the richness of his red and the marble floor (now partly worn away) attests to Piero's interest in materials and surfaces, while the firmness of his stance lifts them into something more palpable. All four standing saints, although each in his own panel, occupy a continuous space against a low wall and blue sky.
Piero's modernity
The block beside John's feet is a part of that space, for it must have belonged to a throne in the lost main panel. No one knows for sure what that scene held—but probably another Madonna. Take the block, if you like, as pure geometry, like an element of abstraction. That way, you can feel again Piero's modernity. The block is missing from Saint Augustine, because he stood further to the side, and the marble is all but gone now from beneath his feet. Otherwise, Augustine is the most richly textured of all.
His crosier, or ceremonial staff, has the translucency of real crystal, he wears white gloves and rings, and he, too, carries a leather book. He is another man of the book, but not the young sinner of his Confessions. The tradition of the crosier derives from a shepherd's cross, and he wears a humble black robe, adding one more to the array of surfaces. His topmost layer includes his bishop's miter, or hat, and an even more elaborate robe. It has gold threads loose on its fringes, blue velvet as its lining. It gains in volume by his holding it to the side with his book.
It also has scenes from the life of Jesus with their own startling realism. To top it off, they have the warped perspective of the curves and folds in the robe, which hide all but a face in one scene and the entirety of others. The miter has the resurrected Jesus in triumph, and a brooch at the saint's neck has more still. Piero is showing off, as no one else even attempted. Given his love of rigor and geometry, the trick also brings out his willingness to give. Realism mattered to him, especially in the cause of the unreal.
Unfortunately, there is only so much that he can give. The Frick draws largely on its collection, and it has every right to boast of its role in shaping modern tastes, just as with Vermeer or Rembrandt. The pieces from the Frick do not usually get to hang together, and it has borrowed something special with Saint Augustine. One can understand, too, why it was unable to obtain the two other standing saints from Europe. Museum donations often come with strings attached restricting travel, and shipping and insurance would cost a fortune for such a small show. Still, it has its limits.
It can go only so far toward reconstructing an altarpiece. Saint Michael has the painting's brightest colors, in a painter who made a few colors go a long way, and Saint Nicholas of Tolentino would add yet another contrast in black and, almost, a smile. Nor is this really Piero in America, given the loan from Lisbon of the original church's namesake. Besides, one other likely painting by Piero resides in America—Heracles in the Gardner in Boston. Then, too, the packed placement of panels on a facing wall risks lessening their impact. Placing the Clark's painting, smaller than the altar's original centerpiece and itself a visitor to New York less than a decade ago, between the standing saints risks diminishing them all.
Still, this is Piero for New York, at least for now. Saint John often hangs at the center of a small room at the end of the great hall, where it can dominate the vista from far away. Impressive as that is, it looks twice as large with support from a second saint—and maybe ten times as large as life. People seem to know that the enthroned Madonna should be apart, since they photograph it that way for Facebook, and one can still see it that way at the Frick. One can step way back or come close, and everything in Piero turns on that strange double perspective. One can see how a small-town boy become a calm, otherworldly presence, first in the Renaissance and again in modern art.

"Piero della Francesca in America" ran at The Frick Collection through May 19, 2013. As usual, the Frick's media to accompany the exhibition are exceptional. A related review looks at four loans of Piero to the Met in 2014.