By this time, with galleries in full swing for the fall, you might be asking: how are they doing? How, for that matter, about the rest of us? For a partial answer, allow me a reply to the gossip this summer.
The New York Times makes it official: galleries are closing. At the very least, they are under pressure from wary collectors, rising rents, perpetual art fairs, and ever increasing competition.
That should come as no surprise. Galleries are a business, a bigger and bigger business, and anyone can see the turnover. I have already reported on a 2016 panel discussion that opened with an ominous slide, listing just some that have called it a day—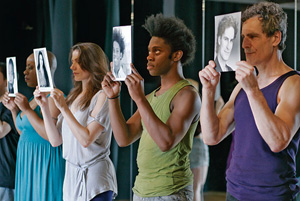 and I have added this as a postscript to that longer review, for my latest upload.
No, the surprise is not that galleries die, and others hurry to fill their spaces—in real estate, if not always in one's heart. The surprise is who. That panel included three of the most successful dealers over decades now, and now Andrea Rosen has shut its doors as well. Even The Times has to take notice. And the toll extends to more recent successes on the once gritty Lower East Side. As the June 25 headline put it, "Art Gallery Closures Grow for Small and Midsize Dealers."
Are there lessons? I think I got this right a year ago, but consider the points again. First, the closings really do come less from artist collectives and others on the margins, who serve a smaller community, or from the very largest dealers with money to burn. That leaves midlevel dealers with every sign of growth and every fear of a market shake-up. I never cared for the splashy displays at Mike Weiss, but they had started to get reviews, even as the gallery aggressively expanded its roster. Lisa Cooley, Laurel Gitlen, and now On Stellar Rays had all moved into bigger and more prominent spaces—in the case of On Stellar Rays, a space that a still more upscale dealer, Sue Post, had abandoned as well.
Second, they may grow sick of the struggle, but often as not they are not going away. The panelists touted a "hybrid model" of working behind the scenes, art fairs, and exhibitions in conjunction with surviving institutions. One of the three had cut back to handling an estate, and Rosen will do the same on behalf of Félix González-Torres, who died in 1996. The Times cites one dealer who will work with Paula Cooper, no spring chicken either. Lori Bookstein and Molly Krom are working the fairs. Others, like Hionas or Rooster, are taking stock, casing out other neighborhoods, and just plain wondering what comes next.
Third, the first two points are connected. Success breeds alternatives. That panel could afford to look ahead because it had the connections to do so—including clients, artists, estates, museums, and (yes) "brick and mortar galleries." Others soldier along because they have no choice. Without exhibitions and reviews, artists and collectors alike may quickly defect. I have already reported on a dealer who cried for days after losing first a lease and then a prominent pop-up.
Last, the closings come at a cost—and not just to the dealers. Their former artists may now have a healthy CV and a deserved reputation, but others to come will go unnoticed. Rosen's last exhibition introduced me to video, performance, and sculpture by Martha Friedman, but it will introduce me to living artists no more. Older dealers cannot serve the living forever anyway, not if they want to stay loyal to their artists, as they should. And that is why smaller midlevel dealers have an irreplaceable role, even in a ridiculously bloated art scene. Have they survived Hurricane Sandy only to become the victims of their success?
Read more, now in a feature-length article on this site.