With his mobiles, Alexander Calder created sculpture so lively that one can use it to introduce Modernism to kids. Still, the stubborn child in me has always had a question: when are they going to move? The answer at last is now.
With "Hypermobility," through October 23, the Whitney sets the mobiles in motion. One can see them as Calder intended—often for the first time since an initial display long ago.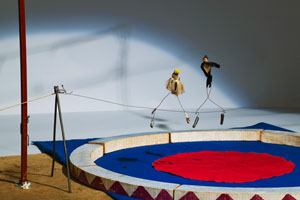 One can see, too, their central place in his art. Did his larger, static public sculpture introduce Modernism to corporate adults? When he hit on a back-formation, stabiles, to describe that work, he was reminding everyone what came first. So what if, by its very definition, it is already slipping away?
One really can use the mobiles to introduce sculpture to kids. They show that abstract art, too, gets to play around. The most familiar have the lightness of slim steel planes in black or fire-engine red, suspended by wire like a fancy chandelier on the verge of falling apart. Some incorporate imagery, such as fish, but all are teeming with life. One can take for granted that they do not even have to move, because of their potential for motion. It helps, though, to plan around the museum's schedule, for when they do.
They move in more ways than one. The very first, starting in 1931, incorporate a hidden motor, and restoration took some doing. The show's title suggests hyperactivity, but the changes are often barely perceptible, as a single ball rises while another just as slowly falls. Sculpture moves, but it demands that viewers slow down. Others respond to currents of ambient air, while still others require a museum staffer to give them a push, with a rod. Calder's ingenuity or his early training as an engineer allows them to hold together during their not so simple harmonic motion.
Calder can seem a bit of a lightweight, but he started out heavier. The show holds just three dozen works, most from the Calder Foundation, with a stabile or two outside on the museum's terraces. Double Cat from 1930, in carved wood, still lies face down on the floor, like a "primitive" totem that has come to ruin or taken a nap. The first mobiles make use of wood, too, along with motors and steel. One from 1941 looks like a boulder sprouting modern art. Only after World War II, with the artist approaching fifty, do they reach for the ceiling.
They also reflect his first encounters with abstraction. Their birth coincided with Calder's Paris years—the subject of a larger show at the Whitney in 2009. Background planes make some look almost like paintings, perhaps of constellations. The curators, Jay Sanders with Greta Hartenstein and Melinda Lang, throw in a few static bronze spirals as well, to point to their affinity with modern sculpture. He got to know Fernand Léger and Piet Mondrian, whom he urged to experiment with motion as well. He kept returning, though, to the perpetual motion machine of New York City.
Marcel Duchamp himself coined the term mobile, with a pun on the French for motive, which makes sense. They not only move, but also derive their impetus from within. They also encourage the motives of others, like the staffer with a pole. In concerts during the show's run, musicians and sound artists like Christian Marclay can use them as settings, themes, or instruments. They may still feel caught between clumsiness and lightness—like Calder's Circus, long a fixture at the Whitney on Madison Avenue. Yet they refuse to sit still.
Read more, now in a feature-length article on this site.