An ode to Southern California swimming pools began in the public toilets of London. For David Hockney, they were dark places indeed, but also the start of a career among the glitterati—and they are the subject of a longer and fuller review, in my latest upload.
It makes sense, even if you know him only for painting California sunlight, blue waters, and luxury homes with views to die for. From the start, he had a knack for effacing the borders between public and private spaces.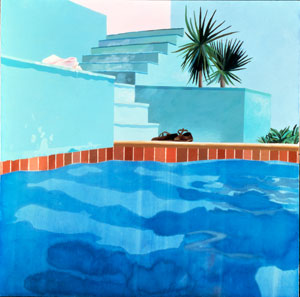 And he took them as the site of both licit and illicit pleasures. A retrospective at The Met follows him for nearly sixty years, as his work grows progressively brighter, more colorful, and more than a step above the underground, through February 25. It shows the knack for high style that has made him as popular as any artist alive. It also shows him navigating treacherously shallow waters, whether in backyard pools, toilets, or his art.
David Hockney made a splash right away, as a student at the Royal College of Art in 1960. He dressed well, painted quickly, and exhibited to acclaim. Yet he started with nothing like pristine waters and wide open spaces. His early paintings border on abstraction, but with text, stains, and broad hint of male bodies. Did he really cruise the toilets of the London underground? I leave that to his biographers, but he had to know men who did, at a time when sex acts could get them all in jail. Besides, even as an artist observing, he could have spotted CUM as a poem on the underground walls and heard whispers of Shame and My Brother Is Only Seventeen—both the titles of paintings.
He also demonstrated his conservative instincts, even on the cutting edge or the edge of the law. A man does the cha-cha against heavy, acrid colors that Americans like Arshile Gorky and Willem de Kooning were learning to leave behind. The first scrawls and splashes owe something to Jackson Pollock, but through the eyes of more cautious English painters in Pollock's wake. Yet they anticipate street art, too, from Jean-Michel Basquiat on, and Hockney has a Pop Art sensibility as well when he converts penises into tubes of Colgate. Like the men dancing or managing to suck one another's toothpaste, he is having fun. This may be dangerous territory, but never once painful or grim.
Hockney will be like that for decades to come, only more so. Born in Yorkshire in 1937, he could stand for the reticence and realism of much British art. He could also stand for the bright lights and shallow pleasures of LA art, starting with his first visit in 1963. He has complained about art's abandonment of tradition since Andy Warhol, much like Robert Hughes. Yet he has sketched Warhol's portrait, and he comes as close as humanly possible to the Andy Warhol of the Hollywood Hills. Not even Warhol's entourage could have matched the crowds at the Met's press preview.
He has been an overtly and courageously gay artist, almost as long as Robert Rauschenberg until his death in 2008. Yet Hockney hardly agonizes over it or anything else, and he is thoroughly at home among patrons straight and gay. His double portraits from around 1970 often become triple or quadruple portraits—like a young couple with a cat or collectors with their totem and Henry Moore. They sit tensely and stiffly apart, like figures out of Francis Bacon or Balthus, but they are living flamboyantly and well. The artist also places himself squarely among them. When Henry Geldzahler, already a fabled curator at the Met, uses his portrait to contemplate works by Jan Vermeer, Piero della Francesca, Vincent van Gogh, and (I think) Pierre Bonnard, Hockney is laying claim to their company as well.
He is a perpetual experimenter, but always within carefully chosen limits. He moves easily between his coastal studio in England and the la-la land of "movie studios and beautiful, semi-naked pictures." He never breaks the façade of either one and never once breaks a sweat. He quotes influences from William Hogarth to Paul Cézanne while hardly stopping to take them in. He projects the comforting pleasures of both participant and voyeur. Yet his late work brings Henri Matisse more fully and deliriously into the twenty-first century.
Read more, now in a feature-length article on this site.