The Governors Island Art Fair celebrates ten festive years with an act of forgetting. True, Castle Williams has reverted to a display of the island's history. Yet that leaves the fair to the former officer's housing of Colonels Row, starting Labor Day weekend and continuing a month of Saturdays and Sundays through October 1.
Art as an encounter with the abandoned Navy and then Coast Guard base at the mouth of the Hudson has given way to the fair's main concern all along—solo rooms for roughly a hundred participants. Does that make it just another art fair? No doubt, but one never knows what may have washed ashore.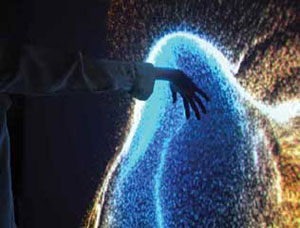 Like any artist collective, the fair is an unholy mess, and it embraces artists who make a mess as well. It has the forgiving spirit of alternative art fairs like Scope and Fridge, with the emphasis more on funk than form. Peeling paint and decaying fixtures may identify the former bedrooms or kitchens, but the work aims for the site specific only in packing as forcibly as it can into what remains. Andrew Harrison transplants a tree indoors, accompanied by postcards overlaid with the tracing of imagined earthworks. elin o'Hara slavick uses cyanotype to conjure up architecture after Hiroshima, while Weiheng Qian uses sand and a video for a beach more sublime than the island will ever see. A projection through bell jars and model towers, by Alice Pixley Young, evokes a rural America far from the sea.
Getting in touch with the past takes patience, and Richard Sigmund calls his art a temple for daily practice. Peter Stankeiwicz uses welded steel in modernist tradition, closer to the Sculptor's Guild in its quarters elsewhere on the island, in Nolan Park. More often, though, even abstraction runs to pleasure in excess. Acrylic circles by Gregg Emery have more in common with tree rings or optical disks than target paintings from Kenneth Noland, and Anna Frants may have a basis in Sol LeWitt, but her black lattice also holds monitors, robotics, and curios. Sculpture spills out further on the lawn outside, like spiraling wood slats by James Payne, an assembly of shotgun shells by Margaret Roleke, and a Visual Playground by Marek Jacisin. Thea Lanzisero starts with pyramids of shipping palettes, only to top each one with burlap and moss.
Art like this runs amok because the artists want it to come alive. Outdoors, that includes white spoors by Sui Park and a rearing cow by Will Kurtz. Indoors, it runs more often to the human. Painting sticks almost exclusively to it, in varying degrees of expressionism and primitivism. Ken Goshen straddles the human and the inhuman, with paintings of challah bread as In His Own Image. Others, too, stick to those they know, including immigrants for Zhiyuan Yang or nudes with flowers and, literally, egg on their face for Aleksandra Stone.
Where there are people, there is politics. And Stone does reserve egg on their face for men. The politics becomes explicit when Joshua Starcher and Melissa Estro cut away the outlines of people, leaving only text to attest to housing foreclosures. Eliot Greenwald renders "visitors" to America as stark photo IDs, and Richard Fleming combines text and borrowed imagery to document a Latino's disappointed American dreams. Mostly, though, the fair has little patience for big ideas. It is having too much fun.
It comes closest to complexity across the lawn, in Liggett Hall. There it also departs from praiseworthy rooms for single artists, in favor of more creative encounters. Some allow only a peek behind closed doors, like David Nelson with pixilated family, close to color portraits by Chuck Close that refuse to cohere. A single room brings together wind chimes by Joseph Morris, dark paper lanterns by Jisook Kim, a nude out of Edward Hopper or George Segal by Lauren Carly Shaw, a ship wrecked in ice after Caspar David Friedrich by David Grainger, the animated Death of a Sun by Simona Prives, and a video Evolution of Rhythm by Biwei Niu. The brick hall separates the island's historic north from its newly landscaped south. Maybe next year it will find its place between the past and future.
Read more, now in a feature-length article on this site.