When the founding members of Magnum Photos raised a toast in 1947, they knew that they were making history. They had founded a photo agency as a collective, giving the photographers agency in every sense of the word.
They even divided the world among them, with three to pursue their vision in Asia, Africa and the Middle East, and Europe and the Americas while the fourth could roam at will. Seventy years later, Magnum still invites new members, with a screening process that takes years.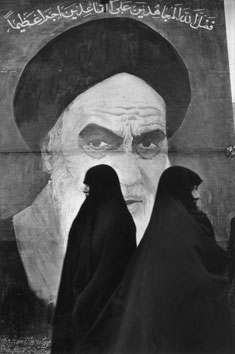 And its archives continue to grow, feeding a database of more than half a million items.
They thought that they were creating a global history as photographers as well. Three had followed troops into combat in World War II, and the fourth had photographed prisoners of war. Now, over (naturally) a magnum of champagne, they saw themselves as harbingers of a lasting peace. With "Magnum Manifesto," through September 3, the International Center of Photography takes stock of both histories—that of Magnum Photos and that of the world, and it is the subject of a longer and fuller review in my latest upload. It finds members (ninety-two at last count) still in pursuit of political change, but with a faith in themselves as global citizens or at the center of photography largely gone. My longer review also wraps in an earlier report on August Sander before them, who looked for archetypes but found individuals as well.
A packed opening wall demonstrates just how vital and perilous that faith was. It holds some of the last century's most memorable images—a dogged troop of refugees like an inexorable human wave, an Indian mother and child pleading for relief from famine, an assertion of international law under the American flag at Buchenwald, a lone Vietnam war protestor on the Washington Mall, and a black power salute at the Olympics in Mexico City. They play out against text from the Universal Declaration of Human Rights, adopted in 1948 in Paris, but with none of its certainty that justice will apply to all. Rather, they already attest to the turmoil of the 1960s. They also see that turmoil in human terms. That war protestor holds a flower just inches away from the massed bayonets of the National Guard.
They present Magnum as greater than the sum of its parts. Labels appear only around the corner, making it by no means easy to assign credit. (For the record, I have mentioned photographs by Robert Capa, Werner Bischof, Chim, Marc Riboud, and Raymond Depardon.) Beyond them lie extended projects by a single photographer—such as migrant workers for Eve Arnold and family portraits by Elliott Erwitt. Each of the show's main sections has the same mix of opening overview, with text, and individual concentrations. Together, they describe Magnum Photos as both collective and agency.
Capa had come up with the idea, and George Rodger, Henri Cartier-Bresson, and Chim joined him in the cafeteria at MoMA for a toast. (David Seymour took his nickname from Szymin, his family name back in Poland.) In returning to that moment, ICP is recovering its own history as well. Cornell Capa, another Magnum photographer and Robert's brother, founded it in 1974 with much the same dream of socially concerned photography. That concern guided the first two shows at ICP's new home on the Bowery, but "Public, Private, Secret" and "Perpetual Revolution" were heavy on new media, as if photography could no longer keep up with the times. Now it gets back to basics.
Still, the entire show comes as a succession of photo collages, on video and physically on the museum walls. Even the concentrations on a single artist have their collage element—clippings from the publications in which they first appeared. Photographs of prisoners in Texas by Danny Lyon ran under the headline "Our Prisons Are Criminal." Like the wall text opening each of the show's segments, they describe photography as a series of "Magnum manifestos." They are also changing manifestos, as iconic images give way to more intimate encounters in a vastly diverse and troubled world. Then again, Cartier-Bresson hated the label photojournalist all along.
In each case, the photographers see events through individuals. That can mean marginalized individuals, like "hermits and mystics" for Alec Soth, strippers for Susan Meiselas, addicts and hookers for Jim Goldberg, occult practices in Spain for Cristina García Rodero, or a masquerade for Inge Morath—but not necessarily. When Paul Fusco follows Robert F. Kennedy's funeral train and Peter Marlow the last SST, they turn their camera on those watching from the sidelines. When Richard Kalvar follows a campaign for Senate, he takes it one handshake at a time. Gypsy children raise their painfully gaunt biceps for Joseph Koudelka. They are not mere stage performers or anthropological specimens, like disaster areas for photo spreads in today's New York Times, but they could almost be raising a toast.
Read more, now in a feature-length article on this site.