Hercules Segers may have died by falling down stairs. No one can say for sure, but Samuel van Hoogstraten reported it, and it makes sense. Segers had a habit of narrowing his vision to what lay right before his eyes—and then ignoring it in his fixation on the inscrutable, the imagined, and the detail.
He bought some serious property along a canal in Amsterdam to observe the housetops just outside his window. And then he added what he pleased to his prints, for no amount of detail or atmosphere would suffice. At times you could mistake the etched, scratched, and acid-ridden plate for the print itself.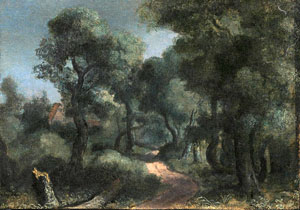 To be sure, Hoogstraten is no authority. Born around 1589, Segers died, with or without stairs, while the writer was still a child, and most today place his death at the far extreme of Hoogstraten's guesses, in the late 1630s. Then again, the younger man had every reason to know what he was talking about. As a theorist and historian, he helped record the golden age of Dutch painting—and, as also a painter, he worked in the circle of Rembrandt, who valued Segers enough to own several of his prints and one of his even rarer paintings. Now the Met displays "The Mysterious Landscapes of Hercules Segers," with generous assistance from the Rijksmuseum, through May 21. It may not make him a household name, but it hints at a missing link between Dutch artists and the preceding century or even this one.
Whenever he died, he had a career of less than thirty years, starting in Harlem around 1610 and ending in the Hague. He had already all but fallen out of sight. Hoogstraten reports that people used his work to wrap food, since they had no clue what to make of it either. (Segers may have purchased that house in Amsterdam with his wife's money.) He was among the first to turn to still life, including a pile of white books and an even plainer skull—much like an intimation of mortality by Pieter Claesz from around the same time, but without the shivers. Segers showed little interest in light or morals.
He also had a less than full eye on nature. He did study moss and branches hanging from trees. Almost anything, though, can look like lost in a weave akin to coral or the nightmares of Max Ernst in the twentieth century, even the side of a rearing horse or the trunk of a tree. Line alone matters, the denser and more capricious the better—line alone, that is, except for texture and color. Segers often printed on colored cotton, before adding colored washes. He then altered the plate, the fabric, the dye, or the washes again before printing once, twice, or half a dozen times more.
Maybe you caught "Unfinished" at the opening of the Met Breuer or "The Unfinished Print" at the Frick some years before, but you do not know the half of it. No one knows how many Segers finished of at most two hundred surviving prints. Even his adding color is no sure sign of satisfaction. Nor can one know what he saw. He helped usher in views of mountains and waterfalls after the Alps and ruins after the castles of Rome. Yet he set his most exotic features against a backdrop of home.
Dating is difficult, too. The driest and most detailed surfaces come early, and travel may indeed have opened his eyes. Increasingly, he begins with outlines before adding more. Increasingly, too, versions grow more independent. Instead of merely a change from pink or yellow to blue and gray washes, they can become as distinct as night and day. Reversals, cropping, staining a plate with sugar and acid, and counterproofs, meaning prints taken from cloth or paper and not the plate, all come into play.
They also help explain his appeal to Rembrandt. The curator, Nadine M. Orenstein, looks for his influence in prints of Biblical subjects, but Segers also etched a solid oak and a row of trees, before the more famous artist's Three Trees. His scratchy technique approaches drypoint, a medium that Rembrandt liked, too. He anticipates Rembrandt's habit of altering a plate before cutting into it again as well. Just as interesting, Segers borrows from Pieter Bruegel and an earlier German printmaker, Hans Baldung Grien. Could that explain how art got from Mannerism to the age of Rembrandt?
It helps in revisiting the show's premise as well. The Met sees a fantasist while others were "toiling away at realism," but were they—and was that all Segers had going, too? Dutch landscape painters like Jacob van Ruisdael and Aelbert Cuyp seek a grandeur beyond the moment, while Jan Vermeer makes every interior a vision. Earlier Mannerists were even more unmoored from reality, and museums have since applied "The Visionary Landscape" to the sublimity of the Hudson River School in nineteenth-century America as well. Segers takes not vision but line and color as his subject, in some of the first art beyond realism and myth alike. At his most adventurous, Surrealism might not be too strong a word.
Read more, now in a feature-length article on this site.