Let me wrap up a busy week of reviews that somehow never found space. It means looking back a bit, but give it a try.
John Singer Sargent delighted in attention, and he got it. Mrs. Carl Meyer and Her Children earned praise in all the right places, including a review from Henry James. Together with an earlier report on portraiture in the cause of revolution, it is also the subject of a longer review and my latest upload.
It drew scorn for "these over-civilised European Orientals," meaning Jews, and caricatures by Max Beerbohm of both Carl Meyer and Sargent. Of the two, the artist appears more boastful and more stylish.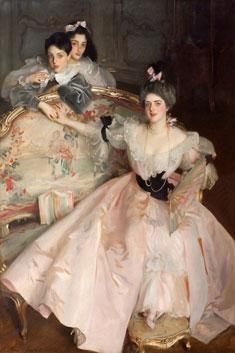 It provoked outright parodies, playing on the children with no evident place to stand and their mother, Adèle, perched so precariously as to have already fallen off the sofa. It cemented a bond between the painter and the family, strong enough that he returned to the girl in charcoal eight years later as a beautiful and intelligent woman.
One might expect the display of a single painting as part of the museum's "Masterpieces and Curiosities" from its collection, like The Steerage by Alfred Stieglitz last winter. Actually, that series now focuses instead on a Hanukkah lamp by Peter Shire, of Italy's Memphis design school. Like Adèle Meyer at home in London, Memphis has its roots everywhere. It includes Shire, an American, with tilted planes in bright colors like the Bauhaus brought to LA. A candle would look in danger of tumbling off, much like Meyer as seen from below. Meanwhile Sargent's 1896 portrait is on loan from Tate Britain and once again a center of attention.
Its display at the Jewish Museum, through this past February 5, is all about its reception. One might go expecting related paintings and studies, and the room does include portraits of Carl Meyer and his son, by others, in a manner more suited to a nineteenth-century library than to a modern museum. It has a photograph of the couple, but a quarter century after the painting. Mostly, though, it shows Meyer as a man of means, a German Jew who had become a British citizen, an aristocrat, and a representative of the London House of Rothschild—with the badge of a baronet and a silver cigarette case. And it attests to the artist as a man of his time and place as well. That only starts with the quote from James high on the wall.
It makes sense that James admired Sargent. As Americans abroad, both navigated realism and high society. Both, too, made their art a tour de force. Just listen to James. Writing in Harper's Weekly, he praised the painter's "knock-down insolence of talent and truth of characterization, a wonderful rendering of life, of manners, of aspects, of types, of textures, of everything." The line moves from a touch of slang to a hint of the complex syntax in his own late novels.
Sargent can seem at once terribly old-fashioned and precociously modern. He pays tribute to a woman's fashion while upending fashion. He wanted a portrait that could match Francisco de Goya, who did well by children, or Thomas Gainsborough—who saw his art as a "dialogue with nature." Yet Sargent also wanted to push painting toward self-reflection. The settee's upholstery shows a rural boy and girl after Rococo painting. They appear directly below the actual children, and who is to say who is commenting on whom?
The painting's reception suggests art's new place in the public eye. An artist still needs a patron, a role that Adèle embraced to the fullest, but his critics range from The Times of London to a woman's magazine. James also tells more than he intends by his extravagant praise. He attests not just to the artist's strengths, but also to their shared standards. Sargent is no longer after Renaissance idealization or Baroque movement, and he is not yet after art for art's sake. He is in the game for characterization, manners, texture, and excess—and so is much of the public today.
No wonder New York never seems to lack for an exhibition of John Singer Sargent. He gets at psychology through the reaching of hands between mother and daughter, connected and apart while encompassing the shyer son. As for manners, the shimmer of the mother's dress echoes even in the pages of a book, reducing its letters to a clash of pink and green. The perspective that destabilizes them all may have the last word. It brings the mother closer and the children further from the viewer, in paired triangles right up against the painting's borders. It contributes at once to psychology, to manners, and to art.
Read more, now in a feature-length article on this site.