How often can painting come back from the dead? As often as you like, only then you have to live with it.
That may not sound like much of a burden, especially if the painting is your own, but consider. One nice thing about seeing, last week, some of the rising stars of not so long ago is seeing how much they have in common.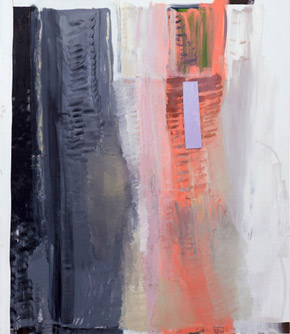 Taken together, their work looks bigger, brasher, more allusive, and more concerned for squeezing as much as they can into the picture plane. The human presence, especially a woman's presence, is never far off stage. What, though, does that leave for newer discoveries? Thankfully, abstract art can still make the dead newly alive—and I pull this together with my look at their immediate precursors from last time as a longer review and my latest upload.
So what does that leave for others now? Do they, too, hang together, or are they already back to old choices of gesture, geometry, and slapdash representation? If they look familiar enough, is that boring, and if anything goes, who gets to decide what gets left out? If I face this dilemma every, say, six months, is that just my usual complacency when it comes to abstract painting? Probably, but a few more artists suggest the possibilities, all on the Lower East Side. Naturally enough, they are all in their way looking back.
Anna Leonhardt looks back most obviously to the choice between Minimalism and expressionism, recently at Marc Straus through February 9. Her lightness of touch has something of early Philip Guston—which, be it duly noted, already bordered on complacency, enough that Guston abandoned all-over painting soon enough for the cartoon angst that one remembers today. Yet she also has a tactile quality closer to Hans Hoffman, with a gob of paint sticking to each canvas. She might have deposited it as a signature or an afterthought, but the contrast of shimmer and extrusion defines a style. It also defies expectations, for Leonhardt may apply both fields with a palette knife as well as a brush. They become a record of process and signs of painting itself.
Alejandro Ospina looks back further still, to the origins of abstraction, at Johannes Vogt through March 24. Small areas of color and mere squiggles scoot across as in the late harder edges of Wassily Kandinsky. They look back to when painting was very much in the air. Yet they, too, have associations closer to the present—and to the choice between pop culture and purity. Ospina claims to have adapted architectural drawings and titles many of the works Supergirl. He calls the show "Cryptomnesia," meaning memories that one mistakes for original thoughts, but then how could he name his sources? The results are trendy, fun, knowing, and sure enough familiar.
R. J. Messineo trades on familiarity, too—all the more so by making the familiar difficult to acknowledge. She looks to a choice as well, between representation and abstraction, at Canada through April 8. (This is, after all, the gallery that first presented Katherine Bernhardt and Carrie Moyer.) Her scenes may look like abandoned studio interiors, cabins in the woods, or New York buildings at night from across the street. They are difficult to penetrate, with the most recognizable objects in the background. Collage elements like dismembered stretchers or frames take them that much further into depth, while the brightest marks tend to lie in the picture plane, often as small strokes that make the larger ones beneath them appear to have broken up as the brush dragged them across.
Nathlie Provosty does even more to bridge past and present, at Nathalie Karg through April 15. Her tall abstractions move among shades of black, white, or a single color. Their slowly unfolding monochrome recalls Ad Reinhardt or Minimalism, but contrasting areas of matte and high sheen are at home in mixed media today. Those curved areas may look back to Henri Matisse as well, pressed against a painting's edge like the leg and torso of a grand nude—even as that very edge takes on a touch of bare canvas that seems to change its dimensions and to divide a painting into two slightly misaligned panels. Add in the show's punning but near meaningless title, "My Pupil Is an Anvil," and a press release is begging to be written. For all their gamesmanship, though, there is no getting around their outsize ambition and allure.
These, then, are the choices, for now. They could serve as proof that the decisive moment of artists last time is already past, but then what could be more trendy than to claim a trend that lasted only five or fifteen years? They may not be uniformly super, not even Supergirl, but then could painting's love affair with cartoons and anime have faded already as well? Not likely, but one can always hope. Enjoy painting while you can. Before you know it, it will have died once more and returned from the dead.
Read more, now in a feature-length article on this site.