Maya Lin may seem less an architect than a conservator. Is it any wonder, then, that she is tracking the ebb and flow of the planet in her art?
Water and weather were on everyone's mind at Lin's opening in Chelsea, for a show in fact called "Ebb and Flow." It fell between two devastating tropical storms, with first record rain and then devastating winds. It coincided with an installation by Tom Burckhardt that recalls Tropical Storm Sandy on the Lower East Side. The onset of fall in the galleries that night was only figuratively torrential. Lin is also at work on what she has declared her final memorial at age fifty-seven, to be called What Is Missing? She intends it to raise awareness of habitat loss and loss of biodiversity.
Yet she alludes to climate only circumspectly, at Pace through October 7. Her new work maps the course of rivers, but it leaves unstated how their course has changed and what that change will mean. Titles identify the sites as the Arctic and Antarctic, where the borders are shifting fast, but also the Nile and Victoria Falls.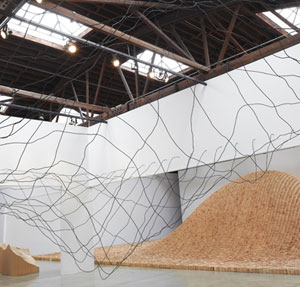 They show no obvious evidence of drought or melting ice. They seem more like an abundance.
Maya Lin has always made an art of gratitude as well as loss, part of what makes it effective. When her Vietnam War Memorial opened in 1982, critics underestimated the combination's power. They wanted a testimony to heroism and not also to loss, just as conservatives deny global warming today. The combination also makes her a conservator as an architect. SculptureCenter retains its crumbling basement infrastructure as an effective site for objects and installations. The combination also makes sense for the Museum of Chinese in America, where history is not always pretty.
If anything, she is conserving more and imposing less than ever. Lin was a student at Yale when she designed the memorial in Washington, and she is returning to its roots in Minimalism and earthworks. Now, though, she is no longer moving earth but rather mapping it. A show in 2009 (reproduced here) stuck to topography as well, but at least waist high, and one's perspective shifted as one walked through it. Here the rivers form narrow streams along the walls and floor. The tallest runs in a circle at the level of one's ankles, like a wading pool that has lost its water.
They can still make a big impression. A single work includes more streams than any one river could reasonably hold, and they cascade across walls and up to the ceiling. They also make use of marble, marbles, pins, and no longer molten silver. The materials have had their own ebb and flow. Her idea of earthworks has less in common with Walter de Maria and his dirty masses than with plantings for Agnes Denes or "maintenance art" for Mierle Laderman Ukeles. It exploits the tension between things as they are and the cutting edge.
That tension can work against her quiet artistry. One may not know that she, like Renzo Piano, can take credit for more than one New York museum—in his case, the Morgan, the Whitney, and Columbia University's Wallach Gallery. She said little when SculptureCenter later moved its entrance, added a stairwell, and cut into its pebbled garden while hardly adding exhibition space. This time, too, circumspection comes at the expense of glory, wonder, sorrow, or anger, and the materials can look a little too pretty. For the designer of a war memorial and a Women's Table at Yale, Lin seems almost reluctant to speak out. Maybe she is daring the planet's survivors to go with the flow.
Read more, now in a feature-length article on this site.