It seems only yesterday that abstraction was back, big time, in the hands of a new generation of painters. Thanks to them, it looked different, too, this time out.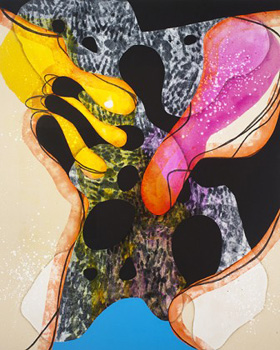 Critics could complain of "zombie formalism," but at its best it has little space for either zombies or formalism alone. Rather, it has thrived on the collision between the two. Elements of comic strips, photography, collage, and mass reproduction could all enter freely and deceptively—for artists were also putting the burden on you to figure out when they were miming them all in paint. Where Postmodernism had privileged appropriation, as a means of debunking art and culture, it had become just one more element in the mix as well.
Success being what it is, you can now look for them in classier galleries. Indeed, you may have little choice. You could have looked for Cecily Brown in Chelsea, at Paula Cooper through December 2, her feverish gestures and quotes from art history given the breadth of a frieze or mural high on the wall. Now you can head barely a block away for Carrie Moyer, at D. C. Moore, through March 22. There, too, colors have brightened and contrasts heightened, with large curved or irregular fields framing or layered over splashes, scrapings, and gradations. They suggest a deep or entirely mental space at night. They make it hard to know, in contrast, whether to identify the foreground reds with dreaming or day.
You could head for midtown, for more of Moyer, at Mary Boone through April 21, and recently to Anton Kern through February 24, where Nicole Eisenman was reporting on somewhere at least as trendy and pricy, the Hamptons. Eisenman has typically alternated between mask-like faces and domestic comedy, including a family Seder at the Jewish Museum. That can breed mystery or complacency, and her new drawings and a couple of paintings might have to count as time off from other challenges, but then it was just a brief "Valentine's Day Show." On the Upper East Side, at Gladstone through March 3, Amy Sillman, too, stuck to "Mostly Drawing," but instead as a fresh challenge. Elements of silkscreen only confuse the layering of paint and print or of gesture and grid that much further. Further uptown, at Skarstedt through April 21, Sue Williams finds a still more luxuriant setting for works from 1988 and 1989.
Does that mean that painting has never looked better—or rather that, once again, painting is dead? Has it moved all too quickly from the Lower East Side to art's equivalent of a funeral home, zombies and corpses intact? Not necessarily. Painters often complain that just a few galleries represent the contemporary artists in museum retrospectives, and they see the power and influence in the hands of big money. It might be better to see money as still playing catch-up ball, snatching artists and estates safe enough to have already found a home in the museum. And the same tendency for artists to move up the food chain means that, inevitably, they take the bait from the higher end of midlevel galleries as well.
That could simply confirm the importance of the wide range of galleries between collectives and big money. Dealers who lose artists can play a continued role by adding anew to their depleted roster, even if they deserve to cash in. In turn, a slightly posher realm can give artists more space, more attention, and maybe even more freedom. They can also put the changes in perspective, and the new shows are also learning opportunities. Williams still sneaks flowers, animals, and body parts into abstract swirls, but she seems halfway prurient after all. She marks something of a transition, just as artists were learning how to bridge styles and media as new ways to get "in your face."
The breaking of boundaries can be another dead end, if anything goes means only that the market rules. Yet it has also meant the needed tools to get over the very dichotomies that had threatened painting, like geometry versus gesture. Collage, popular culture, or the mere appearance of both in paint has played a similar role for excluded voices, such as African Americans after Romare Bearden, and it is no coincidence that every painter that I have mentioned thus far is a woman. There are still plenty of retreads of Abstract Expressionism and Minimalism, some of them interesting. There are still, too, plenty of reasons for fear or despair. For a moment, though, consolidation has not looked all that bad.
Read more, now in a feature-length article on this site.