Picking up on the theme of climate change from yesterday on Maya Lin, permit me an extra post this week as part of a busy fall in the galleries.
Art is a tough business, but some artists can still get lucky. They might, say, get hit by a hurricane.
At least Tom Burckhardt seems to count that as luck. He invites one into his flooded studio transplanted to the Lower East Side. What it lacks in sensitivity it makes up in its recreation of an artist's working space. As it turns out, the most precarious space of all lies not in a house of cardboard, but in painting.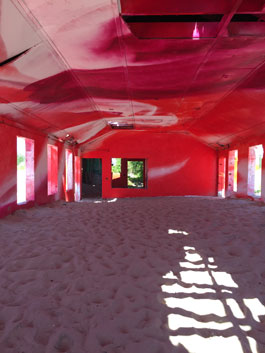 Studio Flood looks precarious enough before one enters. Nothing disguises its coarse honeycombed edges, and nothing covers its tan face beyond black paint. One may not need to take off one's shoes or to duck much to enter, but it presents a healthy reminder that artists take to whatever space they can. It may even determine the scale of their work, much as the gallery determines the scale of the installation, at Pierogi through October 8. It may also be disorienting, even before one realizes that something has turned it upside-down—and that something extends beyond the weather. Posters, their text inverted, put in a word for both the Clinton and Trump campaigns, in an election year that still feels like a natural disaster.
Burckhardt knows the feeling, for he sees a hurricane as a reminder that few artists are ever in control of their fate. That lesson hits home inside, where one cannot always tell the back of canvases from their black or blank surfaces, like Allan McCollum without the cynicism. It hits home again when one emerges on the far side, in the gallery's back room. There he displays more cardboard substitutes for paintings, along with framed views of many more lined up against a wall. Who knows what was lost to the storm and what the artist never managed to begin? Maybe he is the master of his fate after all, and maybe that hits him as the harshest lesson of all.
Then again, maybe not. The sheer number of blank canvases attests to a control freak with a well-stocked studio, and so do the carefully organized brushes, paints, and tools. After Jasper Johns, it makes perfect sense that some brushes rest in a Savarin can. Even the puddles outside the studio, sketched overhead, look more like creative roofing. In a fall opening show, from the gallery that once inaugurated an art scene in Williamsburg, whose crisis is this anyway? Indeed, which hurricane?
Burckhardt began with thoughts of Tropical Storm Sandy, although the campaign posters made news more recently. Back in 2012 the shuttered storefronts had lessons of their own about the precarious state of the midlevel galleries that contribute so much. The costs linger at that, including repairs to the Canarsie subway tunnel starting in 2019—a shutdown sure to place Brooklyn art at risk. So far, though, galleries have recovered just fine from the weather. With spray paint on a house in Far Rockaway (the photo here), by Katharina Grosse last summer, Sandy may even have offered an opportunity. One may have to remind oneself that the abandoned house was slated for demolition, and so is Burckhardt's cardboard studio.
Artists do get lucky, but climate change is frightening and real. The show may seem to have impressive timing, coming the week between Hurricane Harvey in Texas and Irma in Florida—with Jose on its way. Any one of these would have passed for a "once in five hundred years" event not so long ago. Does the timing also trivialize the damage, including lost homes and lost lives, as if all that matters is painting? No doubt, but credit Burckhardt with a bittersweet sense of humor and a broader sense of loss. For art, the greater threats have come from pricy real estate, crowded art fairs, unscrupulous art advisers, competitive markets, and less than compelling art.
Read more, now in a feature-length article on this site.