Some artists have a color wheel. Regina Bogat in the 1990s had her color line. Slim wood strips rest on canvas, divided by paint into repeated sequences of colored rectangles or squares.
They may appear singly, as if to take the measure of the more freely painted canvas or to serve as its palette. They may appear multiply, in clusters above and below a central field, as if to rein it in. Their staggered squares add a sense of rapid horizontal movement, in contrast to the fixity of all-over painting. They may fan out as well, imparting a cloud-like motion to the underlying paint.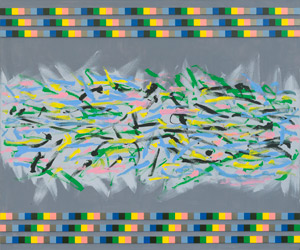 They may match the clashing colors on canvas or add color to slashing black brushstrokes on a neutral ground. If you have just discovered Cordy Ryman at Tower 49 in the heart of midtown, his reliance on wood strips to shape a painting has a neglected precedent.
Geometry was long a part of Bogat's painting, and she makes it hard to know which layer came first. Born in 1928, she devoted much of the 1960s to hard-edge colors, in busy patterns with a predominant vertical, horizontal, or radial design. Their density and often broken symmetry may call to mind tantric imagery or the Op Art of Brigit Riley, but without mysticism or illusion. They may suggest game boards, but Bogat was not playing around. People then were calling for "pure painting," and she had been in the mainstream of abstraction for years without the purity. People were also breaking away from painting, seemingly once and for all, but her mature work was just getting underway.
Wood was part of that breakthrough, too. Her work of the 1970s enters the third dimension with small wood rods or stubs, often in white or metallic paint. They can serve as tiling in place of canvas, like bottle caps for El Anatsui or impasto for Jack Whitten. They can pulse in and out of piled blocks, like clumsy pedestals or robots. The optical activity has lessened, to the point of stiffness, but the physical presence has not. The blocks might be the discomforting boxes of Eva Hesse turned inside out.
Other nontraditional media include Sculptmetal, also a tool for Hesse or Jasper Johns, and fabric, as seen just recently in "Delirium" at the Met Breuer. Threads hang in clusters like hair, but also like colors worked into one another with a palette knife. They bring Bogat's Post-Minimalism closer to a woman's presence and a woman's presence closer to the core of abstraction. With her return to painting in the 1990s, she is still working paint into the painted surface, at Zürcher through March 2. Her daughter, Anna Bogat Jensen, points in a catalog essay to the influence of Max Ernst with his frottage and grattage, or rubbings and scrapings. The wood strips cannot fully draw the line.
Not long into the decade she has already discarded them. She has not, though, given up playing surface against object. Her gallery has taken several shows now to track her changes and continuities, roughly one per decade, but she is still hard to pin down. That is not a formula for success in the art world, of course, and she has not often had due recognition. She tends to stand just apart from her contemporaries as well. She was making wild patterns in a time of clarity and painting in a time of detachment, and she is taking its measure at a time when anything goes.
It can hardly have helped that she is a woman. Fortunately, this is also a time of recovering older artists and messy histories. The show is a useful record of growth and fissures. Her very Homage to Max Ernst takes place on paper, with shapes cut and peeled back to leave matching gaps and fields of color. A woman in her sixties is still seeking new beginnings and still rethinking old continuities. The cuts look suggestively like petals or tears.
Read more, now in a feature-length article on this site.