Kara Walker is out to try your patience, through October 14. Her very title sounds like the words of a carnival huckster, and one hardly knows where the boasting stops and the irony begins.
An absence of lowercase letters turns up the volume that much more, but allow me to supply them to stay halfway sane: "Sikkema Jenkins and Co. is Compelled to present The most Astounding and Important Painting show of the fall Art Show viewing season!" So there. The funny thing is that it may well be true.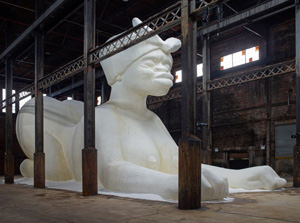 It is hard to say, too, where the long title leaves off and the press release begins. "The Final President of the United States will visibly wince," she concludes. "Empires will fall, although which ones, only time will tell." Plainly she, too, is losing patience, like so many others in the age of Trump. Sketching in ink, often on mammoth sheets of paper, she seems barely to keep up with events or her outrage. Her loosely assembled figures become collectively a game of "Where's Donald," as in "Where's Waldo" for a child president.
Walker is just as impatient with her audience. "Students of Color will eye her work suspiciously and exercise their free right to Culturally Annihilate her on social media." She speaks as the artist whose plantation stereotypes in silhouette made her career, but seemed to critics a passive acceptance of what she hated. She has defended Dana Schutz, a white artist who tackled the death of Emmett Till in the 2017 Whitney Biennial—and Till's corpse, wrapped like a mummy, may pass through this show as if rescued from a burning building. Walker spoke as a defender of artistic freedom, but she was speaking from experience. And experience is a harsh master, because the lynchings and other violence in her drawings seem all too contemporary and all too real.
Her critics have always missed the point. Not every African American has to offer role models in her art. Portraits by Titus Kaphar or Kehinde Wiley are cheerful enough, but racism is not pretty—no more than Till's mutilated face in an open casket. Neither, for that matter, is anger. Walker has a respect for history, but also the fierce energy of now. She has not lost her sense of humor, but she is feeling the pain.
How much has she changed since her plantation days? She is glad you asked. "Art Historians will wonder whether the work represents a Departure or a Continuum." The silhouettes reappear in one work, but on white linen whose ripples shine. A few drawings appear on linen, with oil stick. Dredging the Quagmire puns on Trump's promises to drain the swamp, but its opaque background makes a woman's struggle to escape the quagmire seem that much more desperate. They make a point of their hasty or unruly assemblage, with hardly a trace of color but with plenty of heat.
They also make a point of their knowledge of art history, including white art history. Titles allude to Edward Kienholz and Albert Pinkham Ryder, in a spirit of tribute as well as mockery. The Pool Party of Sardanapalus combines the tawdry affairs of suburbia for Eric Fischl and an Assyrian king's harem for Eugène Delacroix. Christ's Entry into Journalism has a predecessor in Christ's Entry into Brussels, by James Ensor in 1889. Walker's carnival of death looks almost restrained by comparison, but barely. Just try to spot Martin Luther King, Jr., and Frederick Douglass with a black power salute—and try to decide who has the last word.
Work like this has to bear a lot of weight, and Walker has mixed feelings about that, too. After the boasting comes an "artist's statement," in which she sounds "tired, tired of standing up, being counted, tired of 'having a voice' or worse 'being a role model.' " If her compositions fail to cohere, she may have meant it that way. A prominent critic's demand that the work go on permanent display opposite Washington Crossing the Delaware, in the Met's American wing, sounds downright laughable. After a sphinx-like sculpture in sugar, as A Subtlety in 2014, she may be happy to dispense with permanence. With the factory that housed it lost to gentrification and the powdered sugar lost to the winds, who knows how long the authority of art or this administration will remain?
Read more, now in a feature-length article on this site.