New Yorkers have every right to say that they will go anywhere for art, including a healthy schlepp from the nearest subway. Fort Tilden, past Rockaway Beach? I made it last summer for a house built on sand, drenched in paint by Katharina Grosse—and even more for the walk and the view.
Ridgewood past the edge of Bushwick, Red Hook by the Brooklyn waterfront, Wave Hill in the Bronx, or the Queens Museum in Flushing Meadow Park? Well, every so often, and the last of those has a scale model of the rest of the city to make me feel at home. But far west 42nd Street?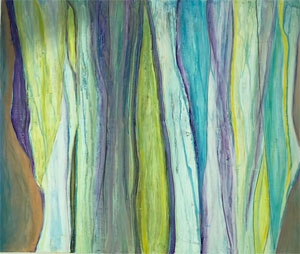 It is only Manhattan, not quite within view of Times Square or the High Line, but not exactly beyond reach of the guide books. It takes longer to reach the piers for the Armory Show or the May art fairs. The walk has me wishing for the station dropped from the subway extension to the Javits convention center and Hudson Yards, but then that whole project serves mostly the wealthy. I made my way last summer for a sculpture by Yayoi Kusama, on a tour of "privately owned public spaces." Now, though, she has neighbors to either side. Sky Art to one side joins a city-wide celebration of John Giorno, through December 31, while the Atelier to the west gives over its lobby to Ayn Choi, extended through January 20.
Is this the next new neighborhood for ambitious art? It still has more to do with real estate. Sky Art has temporary space in a luxury high rise ("just blocks from world-class theater"), Kusama's not so great bronze pumpkin anchors a private driveway, and that lobby belongs condo apartments as well. Still, the confluence of art and money extends dangerously to galleries and museums as well. Here at least the grand spaces had me remembering the up side of patronage. Besides, the concentration had me thinking about models for art.
Kusama is always a crowd pleaser masquerading as profundity, while "I ♥ John Giorno" (after the inescapable "I ♥ New York" by Milton Glazer) sounds more like a marketing campaign than a retrospective but recalls a riskier avant-garde. You may know Giorno for sleeping through a film by Andy Warhol. You may know him as a poet, a reader of poetry, the center of a social scene, the partner of Ugo Rondinone, or not at all. Rondinone organized the show, spread among Artists Space, Hunter College, and other nonprofits. Sky Art wraps the walls from floor to ceiling with Giorno's posters, for an overwhelming spectacle of color. They lose interest close enough to read them, except perhaps to his large and jealous circle, but enjoy.
Choi may have one questioning the art scene from quite another angle. She has a fancy lobby, after all. Yet she is hardly an insider, not even with the rebirth of painting, and she is just doing her best to make it happen. Abstraction today has critics talking, to my mind often as not unfairly, of "zombie formalism." It can have anyone thinking, I saw that one before—and not in the postmodern sense of defying originality. Choi herself can seem all over the map, while enjoying every corner.
The largest work adopts all-over painting, with big splashes of red, yellow, and black framed by a black border that lifts the unstretched canvas off the wall. Others titled Bruised have the fluid stains of color-field painting, in curves running down the canvas amid more slender verticals. Still others resemble what is becoming a dominant style, as with Amy Sillman or Patricia Treib, of irregular shapes in a single color set against softer fields (here in rubbed charcoal) and plenty of white. In my favorite, the top splotches are simply red, yellow, and blue. They refuse premeditation or geometry, share a love of poured paint and layering, and stick resolutely to abstraction. Time will tell if she has left her signature.
Read more, now in a feature-length article on this site.