For the New Museum, gender is not just a fluid concept: it is dissolving into a mist. Along with a related report on "Queer Archaeology" it also gets a distinctly longer review in my latest upload.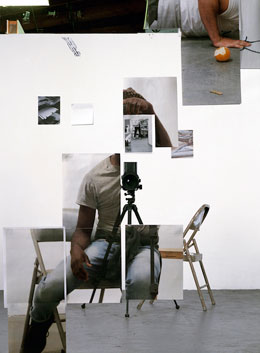 At "Trigger," the first thing one sees may be a smoke machine. Thanks to Candice Lin and Patrick Staff, it emits an almost invisible spray—of fog fluid touched only lightly by an herbal tincture. The show's subtitle speaks of "Gender as a Tool and a Weapon," through January 21. Could this, too, be a tool or a weapon, only turned back on gender itself? One could ask much the same about the entire show. It aims high, and it rewards looking, but it cannot quite pull the trigger.
It brings together forty artists and nearly as many approaches to gender. Some positively shout at the viewer, literally or figuratively. Seemingly endless text on the facing wall, from the House of Ladosha, uses block caps on an acid green to rub in its point. Others do their best to vanish, like Carolyn Lazard, who does no more than pipe white noise into the elevators. Many are among the most interesting artists out there. Yet the chaotic presentation may leave visitors and gender alike lost in a fog.
If so, it is the fog of the culture wars. To speak of gender as a fluid concept is already to take a stand. (The museum will not insist that one use the rest room for one's gender at birth, and neither will I.) And the New Museum has been taking a stand since its birth. It was among the first to place "the concerns of the homosexual community" at the heart of contemporary art with "Extended Sensibilities" in 1982. It angered practically everyone with "Bad Girls" in 1994.
With so few artists and collectives over all three floors for major exhibitions, plus the lobby, it sounds well-paced and conducive to thought, like the 2017 Whitney Biennial. Yet it takes serious work. The curators, Johanna Burton with Sara O'Keeffe and Natalie Bell, arrange matters by neither subject, theme, nor anything else that I can determine. Wall text begins with each artist's past work, leaving one unsure just what it is describing. Much of it appears in low light, daring one to read it. I am still frantically turning the pages in a list alphabetical by artist, trying to recover my notes.
"Trigger" opens with relatively quiet pleasures. One could mistake the smoke machine for a press photographer's equipment or an item in the gift shop a foot or two away. Now and then, one might encounter Nayland Blake in the lobby as well. One is unlikely to recognize him or his gender in a bear suit. Upstairs, things get louder fast but no less elusive. Blake's bear suit more often hangs upstairs, too, like the victim of illegal hunting.
Some artists refuse to shout, not even about gender. Diamond Stingily hangs a thick black cord by the elevators, as if it had woven through every floor. One might never know that it owes its blackness to human hair. Yet it allows "Trigger" to offer new perspectives on both gender and the show's contributors, and my longer review has many more examples. Connie Samaras photographs a queer retirement community at night. In a show just short of coherence, it could be the one place to call home.
Read more, now in a feature-length article on this site.