Many on the right, in Europe and America, wish that refugees would just go away. Many would like to make their suffering invisible to human eyes as well.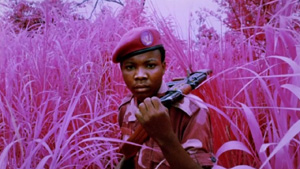 No matter, for Richard Mosse has found a way to see what the naked eye cannot, at Jack Shainman through March 11. His last exhibition turned outdated infrared film into high-definition video that gave civil war in Africa a surreal color and supernatural beauty. Now he turns instead to the latest thing, in both his medium and world events. He adopts military technology to photographs of refugee camps.
They have none of the temptations of a seemingly untouched nature, in Africa's waterfalls and trees. Here even the seas bordering on camps have the choppy grays of paving tar or hard stone. They have few, too, of the close encounters that gave civil warriors a brutal humanity. Mosse sees the camps from the air, in panoramas that seem constrained horizontally only by gallery walls. This film can capture detail at over thirty kilometers, or nearly twenty miles. By comparison, he points out, the horizon itself drops away far sooner.
The film can do so with an uncanny crispness, thanks to exposure times of up to forty minutes. The prints, which look much like photographic negatives in black and white, dare one to count the bodies or the fences. They give closely packed shelters, cars, and military vehicles a ghostly sheen. Early photography, too, needed long exposures, emptying Paris streets because people do not sit still. Here, as for Thomas Struth or Katherine Newbegin, film accentuates the masses and their immobility. It calls to mind, too, the obstacles barring movement in or of the camps, to safety or freedom.
Smaller accompanying photos allow for greater action, but only barely. All are displays of virtuosity since Mosse, after all, has only human eyes until he is done. (He says that he often has to discard the results, although he is getting the hang of the medium after two years.) He calls the work "Heat Maps," after the film's original purpose. That, too, calls attention to flesh and blood that others would rather forget, but almost everything here seems to give off heat. Humanity is itself in question.
"Insecurities" at MoMA displayed the barest of comforts that international organizations can bring to the camps. So does "Perpetual Revolution" at the International Center of Photography, with a mix of photojournalism and social media. Julio Bittencourt has, more poignantly, applied ordinary photography to the South American dispossessed. Yoan Capote looks again across the Gulf from Cuba, also at Shainman, in paintings of sunlit crossings and stormy seas. Their surfaces of oil and black fishhooks pack a triple dose of native culture, photorealism, and treachery. His mix of hopes and fears emerges in title from Cold Memories to Luminous Future—and in the space between political art, landscape, and abstraction.
Each artist is recovering lives, while also questioning those who place lives in danger. For Mosse, the latest means do not require an indifference to the ordinary. Rather, he starts with the unseen and renders it unfamiliar. A print's very distance from its subject adds to the presence and the chill. For now, Trump threatens to throw diplomacy and refugees to the winds. Art and technology are already feeling the heat.
Read more, now in a feature-length article on this site.