Photography as Agency
John Haber
in New York City
Magnum Photos and August Sander
When the founding members of Magnum Photos raised a toast in 1947, they knew that they were making history. They had founded a photo agency as a collective, giving the photographers agency in every sense of the word.
They even divided the world among them, with three to pursue their vision in Asia, Africa and the Middle East, and Europe and the Americas while the fourth could roam at will. Seventy years later, Magnum still invites new members, with a screening process that takes years. And its archives continue to grow, feeding a database of more than half a million items.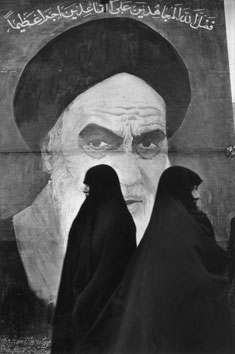 They thought that they were creating a global history as photographers as well. Three had followed troops into combat in World War II, and the fourth had photographed prisoners of war. Now, over (naturally) a magnum of champagne, they saw themselves as harbingers of a lasting peace. With "Magnum Manifesto," the International Center of Photography takes stock of both histories—that of Magnum Photos and that of the world. It finds members (ninety-two at last count) still in pursuit of political change, but with a faith in themselves as global citizens or at the center of photography largely gone. As a postscript, August Sander before them looked for archetypes but found individuals.
An anachronism?
A packed opening wall demonstrates just how vital and perilous that faith was. It holds some of the last century's most memorable images—a dogged troop of refugees like an inexorable human wave, an Indian mother and child pleading for relief from famine, an assertion of international law under the American flag at Buchenwald, a lone Vietnam war protestor on the Washington Mall, and a black power salute at the Olympics in Mexico City. They play out against text from the Universal Declaration of Human Rights, adopted in 1948 in Paris, but with none of its certainty that justice will apply to all. Rather, they already attest to the turmoil of the 1960s. They also see that turmoil in human terms. That war protestor holds a flower just inches away from the massed bayonets of the National Guard.
They present Magnum as greater than the sum of its parts. Labels appear only around the corner, making it by no means easy to assign credit. (For the record, I have mentioned photographs by Robert Capa, Werner Bischof, Chim, Marc Riboud, and Raymond Depardon.) Beyond them lie extended projects by a single photographer—such as migrant workers for Eve Arnold and family portraits by Elliott Erwitt. Each of the show's main sections has the same mix of opening overview, with text, and individual concentrations. Together, they describe Magnum Photos as both collective and agency.
Capa had come up with the idea, and George Rodger, Henri Cartier-Bresson, and Chim joined him in the cafeteria at MoMA for a toast. (David Seymour took his nickname from Szymin, his family name back in Poland.) In returning to that moment, ICP is recovering its own history as well. Cornell Capa, another Magnum photographer and Robert's brother, founded it in 1974 with much the same dream of socially concerned photography. That concern guided the first two shows at ICP's new home on the Bowery, but "Public, Private, Secret" and "Perpetual Revolution" were heavy on new media, as if photography could no longer keep up with the times. Now it gets back to basics.
But not entirely. Out in the lobby, a photo collage plays continually on two walls and a touch screen, as Unwavering Vision. For its second installation, Alan Govenar, Jean-Michel Sanchez, and Julien Roger have added a filter to bring it down to the nearly fifteen hundred Magnum photos in ICP's collection. It is interactive as well. One can drag one's finger to any point on a time line. Selecting a photo brings up related images and reconfigures the time line.
Inside, the show has its multimedia, too. It divides chronologically into three parts, with "interludes" between parts. One interlude restores a much earlier form of interactivity, with a slot machine. For "America in Crisis," a 1969 show at the Riverside Museum, Charles Harbutt created Picture Bandit. A pull on the one-armed bandit changes the portrait of a divided America on the walls, and you may not like what you see. In a crisis, you take your chances.
The second interlude allows members their outside interests. On several monitors, hands turn the pages of books of photography. On the facing wall, photos recover their context in corporate reports. Companies commissioned them to earn sympathy for their social awareness, and the photographers had a stake in both the commission and the awareness. The show ends with one last video collage—photographs broken by testimonials to what Magnum means today. It may be as central as "an expression of feelings" and "a way to behave," as limited as a gathering of overwhelmingly white men, or "an anachronism" with overtones of both.
A collage of individuals
The entire show, then, comes as a succession of photo collages, on video and physically on the walls. Even the concentrations on a single artist have their collage elements—clippings from the publications in which they first appeared. Photographs of prisoners in Texas by Danny Lyon ran under the headline "Our Prisons Are Criminal." Like the wall text opening each of the show's segments, they describe photography as a series of "Magnum manifestos." They are also changing manifestos, as iconic images give way to more intimate encounters in a diverse and troubled world. Then again, Cartier-Bresson hated the label photojournalist all along.
After the first segment, "Human Rights and Wrongs," the exhibition continues past 1968 to "An Inventory of Differences." The politically correct title notwithstanding, it attests to a world fragmented into black and white, cultures and subcultures, guards and prisoners. No inventory can conceivably be politically neutral. The final segment takes up the years since the fall of the Berlin Wall, as "Stories of Endings." Here fresh hopes give way to terrorism, the Taliban, war in Eastern Europe, and the refugee crisis. Traditional photography gives way, too, to larger formats, digital prints, and color.
Magnum, the show insists, is still on the front lines, but who is drawing the lines? To answer, one might have to ask what counts as a beginning or an ending. One may question even the show's tale of origins. The toast was real, but Rodgers (in one account) learned of Magnum's founding only when he discovered that he was already a member. The tale also skips right over a fifth founding member, William Vandivert, and the agency's first co-presidents, Rita Vandivert and Maria Eisner. No wonder the photographers in the concluding video cannot agree on Magnum's meaning or relevance.
The curators, Clément Chéroux of SF MoMA with Clara Bouveresse and Pauline Vermare, acknowledge the tensions. Their unusual layout also does more than you might think to acknowledge the photographers. It includes seventy-five of them, with hundreds of photographs and documents, but fewer than thirty projects. That way, one can linger over walls, manifestos, and personal approaches. That way, too, one can appreciate the encounters between artistry and photojournalism. A peeling poster of the queen becomes the visual equivalent of the crumbling of a colonial empire in Ceylon for Martin Parr.
In each case, the photographers see events through individuals. That can mean marginalized individuals, like "hermits and mystics" for Alec Soth, strippers for Susan Meiselas, addicts and hookers for Jim Goldberg, occult practices in Spain for Cristina García Rodero, or a masquerade for Inge Morath—but not necessarily. When Paul Fusco follows Robert F. Kennedy's funeral train and Peter Marlow the last SST, they turn their camera on those watching from the sidelines. When Richard Kalvar follows a campaign for Senate, he takes it one handshake at a time. When Alessandra Sanguinetti probes terrorism, she looks to its aftermath in the faces of others. One woman holds up a sign to address the terrorists themselves, as je ne te juge pas ("I do not judge you").
Individuals appear even in their absence. Donovan Wylie sees Maze prison in Northern Ireland as sunlit windows, loose curtains, and empty beds. An empty table serves Erich Hartmann for "Our Daily Bread." They appear all the more haunted when they try hardest to exert their presence. Gypsy children raise their painfully gaunt biceps for Joseph Koudelka. They are not mere stage performers or anthropological specimens, like disaster areas for photo spreads in today's New York Times, but they could almost be raising a toast.
Archetypes and stereotypes
If you are going to reduce people to types, it helps to treat them with compassion. August Sander did—and all in the pursuit of the universal. His photographs have collectively become a group portrait of Germany over the course of more than two decades starting in 1910. It has room for young and old, men and women, workers and the comfortable middle class. It shows how they defined themselves in the dress codes of their class, their occupation, and an older world. It evokes a way of life that was already vanishing, as an older order endured a world war only to give way to a fragile republic.
Yet he does see them as individuals, starting with the frontal poses that make them impossible to overlook. Sander does not seek Germany in the halls of power or the narratives of an older photography and an older art—although he did photograph a member of parliament and a political prisoner. His subjects smile or frown as they see fit, and even their inability to move appears today as an act of compassion. It frees them from putting on a show, and it allows them something visible to call theirs, in their appearance and the house or shop front behind them. Photos also include paired and group portraits now and then, like a restless and stoic boxer as distinct versions of a shared way of life.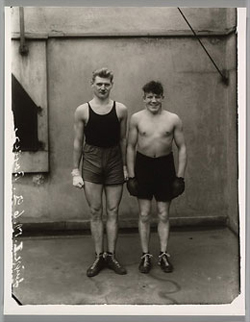 Compassion helps all the more after so many decades, when what Sander, like Teju Cole today, took for universals have become particular and quaint. Born in 1876, he began with the idea of "mankind in general" and its characteristics. He sorted people into archetypes as part of the whole, first in his native village of Westerwald and then in Cologne—many published as Face of Our Time in 1929. Now they appear on the Upper East Side in an ample selection reprinted by his son, Gunther. It was a project in sociopolitical economy, at a time when Marxism was in the air and sociology was being born. It also coincided with the rise of psychoanalysis, including Carl Jung and his archetypes.
In time, though, supposed archetypes become stereotypes. They become even more so in their titles. The types include distinctions recognizable from political and gender critique in the present—like "The Skilled Tradesman," "The Woman," "Classes and Professions," and "The City." Yet they also include "The Lost People," "The Sage," "The Philosopher," and "The Man of the Soil." What seemed scientific then borders on sentiment now. Maybe the search for archetypes always will.
The photos survive as more than stereotypes because of their imperfections. Sander insisted on "honesty" rather than the perfect moment, as the very requisite to a systematic view. He makes no effort to alter the dull or dour expressions. He embraces the stiff folds of peasant costumes, the boastfulness of a top hat, and the stains on a varnisher's apron. They make for more richly textured photographs and, like a video of Sanders at work by Omar Fast, a further reminder that their subjects are long gone. If one ever doubted the vulnerability of the Weimar Republic, one can see it again here.
It seems more vulnerable, too, in light of "Small Trades" by Irving Penn, in his retrospective at the Met. Penn's photos dwell on broad gestures and the tools of the trade. Sander includes props far less often, and they remain subordinate to the archetype and individual. The varnisher holds a tin without showing off, while an alert hound stands in front of the man in the top hat as just another part of his boast. Where Penn makes portraiture of act of stagecraft, Sander makes it an act of remembrance.

"Magnum Manifesto" ran at the International Center of Photography through September 3, 2017, August Sander at Hauser & Wirth through June 17.