New York After Dark
John Haber
in New York City
Herman Leonard, Kahlil Joseph, and Petrit Halilaj
If you had the chance to take in New York before it vanishes before your eyes, especially African American New York, with people who know it inside and out, you could hardly do better than to call on Herman Leonard and Kahlil Joseph. True, this New York does not have much daylight, and what it has is blinding. You might not even know nine times out of ten where you are. It does, though, come with a real commitment to music—and to places that have already become history.
Leonard's photographs say all you need to know about the people making jazz after World War II. Joseph circles in and around Harlem today to more frenetic rhythms—unless he turns out instead to be circling in and around his head. Things are changing, no doubt, and change is not altogether bad, provided anyone is left to enjoy the benefits. If you have your doubts about that part, so does he. Ironically, Joseph is also part of gentrification on the Lower East Side, sharing a museum expansion with Petrit Halilaj and a record of displacement and war in Eastern Europe. The irony would not be lost on either one.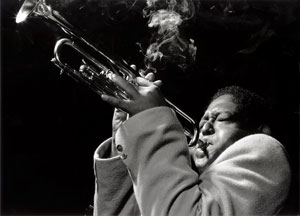 Listening hard and looking good
Sometimes, they say, jazz had to set aside image in order to make music. Sometimes it had just those late nights in small spaces when no one was mugging for the camera. From the jagged intensity of bebop to the reserve of cool, this was serious business. Then again, that, too, was an image, and no one made it as indelibly as Herman Leonard. "The Rhythm of Old New York" shows the photographer at work starting in the late 1940s. It also shows musicians in the act and, the show's catchy title notwithstanding, never more modern.
Maybe jazz never lost its glamour, but many said it had, proudly. As big bands gave way to small groups, the case goes, jazz could set aside star power for tight ensembles and a direct connection with listeners. Musicians could disappear into their music—or a cloud of cigarette smoke. They could be overweight and on drugs, like Charlie Parker, or downright hostile to the uninitiated, like Miles Davis. They could break the color barrier in their acts. Stars like Duke Ellington and Benny Goodman could take time out from the Apollo Theater and Carnegie Hall to sit in the audience, because it was the place to be.
Leonard makes the case himself. He asks not how they party, but how they perform. Sara Vaughn is seated in rehearsal, and Parker and Davis are just the start of a front line coming right at you. Buddy Rich is here as not a bandleader but a drummer in close-up, pouring it on. When they pause, like Dizzy Gillespie with a smile or Gerry Mulligan for a kiss, they have earned it. Tony Bennett hugs his mike like a loved one, and Chet Baker collapses into his trumpet, because he can do no more.
Not that many were as dapper as Bennett, Nat King Cole, or a young Frank Sinatra, and Leonard plays that up as well. The marquee at Bop City, with Artie Shaw above Ella Fitzgerald, is pretty sexy, too. The photos thrive on artificial lighting, the kind that turns night into day and day into night. They linger on the highlights of loosened shirt sleeves or that ubiquitous cigarette smoke. Even so, they subordinate the performer to the performance. Davis becomes mere hands on the valves of a trumpet, and a cigarette butt for Lester Young rests on an empty Coke bottle beside sheet music and his hat.
They marked the birth of an American art form, much like Abstract Expressionist New York in much the same years, and visual artists found a home in performance, too. Think of Robert Rauschenberg and dance, Jasper Johns and John Cage, Nam June Paik and Charlotte Moorman on cello, Pop Art and the jukebox, or formalism and free jazz. Maybe a new generation had new standards for what is hot and cool. Leonard's photo of Fats Navarro for the Blue Note reissue series helped introduce a rock fan like me to jazz. Then again, maybe jazz and rock have had much the same standards all along. Goodman was the king of swing, but Eric Clapton was god.
One can dismiss Leonard as mere packaging, just when photography was finding an America beyond cool—like Diane Arbus and Gary Winogrand in the city, Danny Lyon in a Texas prison, Magnum photography at an antiwar protest, Gordon Parks in the South, or Robert Frank on the road. No matter. The glamour holds up, and so does the seriousness. Goodman sits behind Ellington to hear Ella Fitzgerald at the Downbeat Club, just as he integrated his big band because he cared less about approval than about making justice and making music. He sat in one of the bars on 52nd Street, like W. H. Auden on September 1, 1939, but unlike the poet he was anything but "uncertain and afraid." He was listening hard and looking good.
Coming all too soon
A museum is expanding south from the Lower East Side into Harlem, with a stop in Kosovo along the way. If the geography sounds implausible, the New Museum has taken over the building next door for a renovation by Rem Koolhaas—and, for now, two galleries accessible through the existing lobby. The first has a tale of archaeological excavations in Eastern Europe, by Petrit Halilaj. And the second has an artist's commitment to jazz, family, and neighborhood, by Kahlil Joseph. A window display by Alex Da Corte allows them the enclosed spaces they deserve. In an era of museum expansions and corporate aspirations, its sign after a chain of convenience stores (with a digital Coming Soon) looks downright ominous.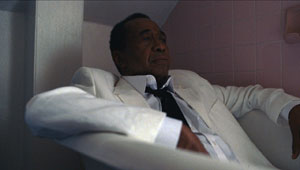 Does the New Museum need to expand after just ten years on the Bowery? Its awkward stacked boxes, designed by SANAA, already bring exhibitions to five floors, on a par with the Met Breuer or the Whitney. (A show on the floor for education conveys its history in posters, including past provocations and past homes on lower Fifth Avenue, in Soho, and in Chelsea.) The new spaces, hardly touched as yet, look even more inflexible. Many a gallery has put more into a renovation—or into preserving the architecture that they found. All this for an alternative museum of contemporary art.
Both new shows are all about property, community, and ownership. Halilaj's RU refers to Runik, a town in Kosovo, and to ruins. Both may have one thinking of Serbia, war crimes, and disputed territory, but the installation takes a longer view. Maybe it needs a deep history to assert a republic's claim to legitimacy and rebirth. One enters to low light and many video channels, each recording a dig. They look less scientific than anarchic.
The facing wall presents branches devoid of leaves—and then, surprise: it opens onto a larger and brighter realm. There the branches form forests, nests, and the illusion of a catch pool, thanks to a mirror. The promised pottery from the digs, going back well before the Kosovo War, takes shape as its life, sometimes with makeshift bird feet. The actual digs turned up a primitive ocarina, implicitly present here as a bird song. Their finds reside mostly in museum storage, but Halilaj can hope to carry them into daylight.
Joseph's Harlem has still fewer signs of place, but it is an artist's home ground. Fly Paper moves between city streets without visible markers, a sunlit park, and ill-defined interiors. The film also tunnels beneath them all, where even subway riders fear to tread. It switches back and forth between saturated color and black and white. Its soundtrack alternates jazz with quieter music before rising again to a chorus. It closes in on a furious drummer, waits patiently for the words of a black activist, and pulls back from a man alone in a loft.
It returns to him often, and the memories may be his. So for sure are the hopes of African American identity, and so is the disorientation as the camera turns the loft nearly upside down. A voice interrupts with uncertainty and defiance: "if they don't see the happiness in the picture, at least they'll see the blackness." Joseph cites inspiration in his father and in Roy DeCavara, who photographed jazz musicians and street life uptown. He may intend that the film lies past an empty space much like the loft—just one more part of a museum expansion.

Herman Leonard ran at Robert Mann through October 14, 2017. Petrit Halilaj and Kahlil Joseph ran at The New Museum through January 7, 2018. The museum expansion started September 27, 2017.