Claiming the 1960s
John Haber
in New York City
Danny Lyon
Who gets to claim the 1960s for today? Was it a time of activism and hope, of breaking barriers and expanding rights, with its legacy a black president and a movement? Was it a time of anger and silence, of lives lost to prison and voices unheard, with its legacy overpopulated prisons and bitter divisions? Was it a time of tattoo parlors and bikers, of living on the fringe, with its legacy an angry and insistent white America?
Danny Lyon insists on asking. He speaks to many lives, and he embraces them all. Lyon packed more photographs into those years than seems possible, including the series on civil rights, prisons, and bikers for which he is best known. He threw himself into his work, crossing the country, penetrating closed circles, and putting himself at risk. If anything holds his retrospective together, it is that commitment—that and seeing everything in terms of people and faces.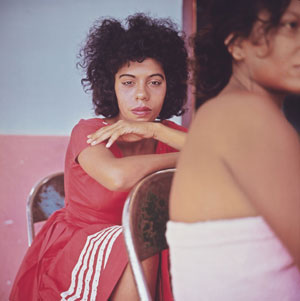 Inhabiting the ruins
Danny Lyon could well have been debating with himself. The Whitney opens a retrospective with a darkroom wall from his studio in Ulster County, about a hundred miles north of New York City, where he worked from 1985 to 2008. Like everything else about him, it is crowded and eclectic, with Janice Joplin, Babe Ruth, and seemingly everything else that has crossed his mind. What then comes next? As a sign on the wall has it, Stay Tuned. While much of his work packs into just seven years, he still turns up where one least expects it, from coal mines in China to Occupy Oakland.
His work thrives on tension, because he sees those tensions in America. His bikers are not the picture-perfect counterculture of Easy Rider. His civil rights movement is not all soaring rhetoric, although he hitched a ride to Cairo, Illinois, in 1962 to witness John Lewis, chair of the Student Nonviolent Coordinating Committee. It is not all "We Shall Overcome," although he photographed Bob Dylan making still better music than that for an impromptu audience. He shows James Baldwin and SNCC's director, James Forman, registering to vote, but mostly he shows confrontation, with no clear winner. Traveling the South, he finds a lunch counter with arrests due any minute and, again and again, the brute force of police.
As Janice and the Babe suggest, he expresses, too, a tension between what the show's title calls his "Message to the Future" and looking back. Perhaps his most poignant series records the transformation of Lower Manhattan in the late 1960s, meaning to him destruction. As usual, he moved right in, taking a loft on William Street and shooting at least once through a closed window, adding a disturbing haze. For many New Yorkers, the changes meant improvement, including the future World Trade Center at the foot of what would become Tribeca. He saw only the demolition of storied architecture. "I wanted to inhabit [buildings] with feelings and give them and their demise a meaning."
Note the word inhabit, in a neighborhood of ruins. He sees empty buildings as lost lives. Some photos contain actual lives as well, although not the displaced. Workers take in the scene through the steel frame of what they have destroyed. Lyon treats the police as people, too, with respect and fear. He registers them up close, with crossed arms, as they wished to be seen.
His retrospective captures the tensions with a wall of selections from all his series, in both color and black and white. They hang salon style, in no particular order and without labels apart from a laminated card. What connects New York subways and border communities in the Southwest? What connects bikers and activists? People. In a show of one hundred seventy-five works, make that a lot of people.
The Whitney often departs from chronology, but more often to group photographs by subject. When Lyon returns to a subject after twenty years, it goes with earlier photographs. A final room adds "ongoing activism," still all over the map. The curator, Julian Cox of the Fine Arts Museums of San Francisco, also highlights his work in film, which took up more of his time after the 1960s. Some films run just a minute or two, closely matching photos, but three run longer—of Mark di Suvero, a tattoo artist, and a man in and out of prison. They are extended encounters with friends.
People as weapons
The show is hard to follow, but only because Lyon is so hard to follow as well. He started quickly and kept doubling back. Born in 1942, he grew up in Queens, attending the same high school as Simon and Garfunkel a year older. The child of immigrant Jews, he later saw the Southwest as a scene of immigration as well, meaning borders, lives, and tensions. He studied at the University of Illinois, only to leave for Cairo and that civil rights demonstration. It was the first of many displacements.
Forman made him SNCC's first official photographer, based in Atlanta. Projects included brochures (You Can Help Too) and The Movement, a book with text by Lorraine Hansberry. He found inspiration, too, in Let Us Now Praise Famous Men, with text by James Agee and photographs by Walker Evans. Over time, Lyon made his own meandering language a part of his work. Starting in the 1980s, he creates personal albums from montage framed by his words, along with red and black polka dots. After SNCC, he returned to Chicago and its bikers, before heading to Texas and its prisons.
In each case, he made a point of getting to know people and getting them to trust him, while following his passions. He had already bought a motorcycle himself. He applied for access to the Texas director of prisons, giving him considerable freedom. Of course, he pushed it as far as it would go, with punishing testimony to scorn and abuse, in shakedowns and heat exhaustion. Back in New York, he again made himself part of a circle, this time of artists at a downtown gallery—including Robert Frank, the photographer, and di Suvero, the sculptor. He photographs them often bare-chested and always at ease. John Lennon alone does not look him in the face.
His overriding subject is that frank, personal encounter—for fans of Roland Barthes on photography, not the studium of language and culture, but the punctum. He rides the subways, like Duane Michals, but his subway cars are never empty. People choose their own poses, as for Thomas Roma, and the least advantaged have the greatest dignity. A black man in a suit looks through a subway window, a woman from outside the driver's side of a car. A biker crosses Chicago's bridges, but otherwise biking is incidental. Prisoners marched to inspections could almost be at the proud head of a parade.
Compositions can feel like snapshots, and technique matters far less than people. Lyon borrows a flash when he needs it from another SNCC photographer, and he takes a twin-lens camera to the subways on the advice of a teacher. Later he switches to Polaroids and then digital cameras, so that his subjects get and give immediate feedback. Even the longer films allow their subjects to shape the narrative, as in a home movie, to the extent that the films have a narrative. The prisoner in New Mexico loses command of his own story. "I thought you were dead," he remembers someone saying.
Single photographs do not stick in the mind half as much as their collective sympathy, with not a drug deal or hippie in sight. Lyon shares the frankness with Sallie Mann, but not her family matters. He crosses the patchwork of America, like Frank or Lee Friedlander, but without a destination. He is drawn to the excluded, much like Gordon Parks, and to outsiders, like Diane Arbus, but in the fullness of their lives. Eventually he settles in the Southwest, because he belongs with them. He photographs The Great Water-Gun Fight there, in 1984, but people are his weapon.

Danny Lyon ran at The Whitney Museum of American Art through September 15, 2016. He, of course, is not to be confused with a younger photographer, Mark Lyon.