Expecting Company
John Haber
in New York City
Dutch Painting from the Mauritshuis
For three months, the Frick Collection gives Girl with a Pearl Earring its own room. It was expecting company, thanks to the painting's home in The Hague.
Of course, the Frick was expecting visitors, so many that for once it is selling timed tickets. Vermeer's painting has entered the popular imagination—with an assist from a best-selling novel, Hollywood, and Scarlett Johansson. The artist, who also worked as a dealer, might have appreciated a market success, but also the irony: of his three dozen surviving works, several picture a young woman coping with gentlemen callers. For all one can say, this young woman is, too. No one will ever know.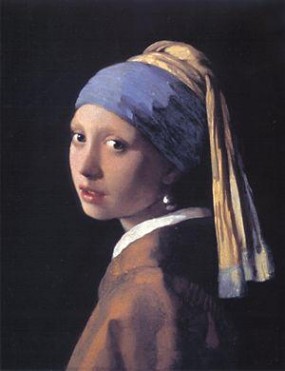 Yet anyone who goes for that popular favorite alone is missing quite a story. More work by Vermeer and his peers hangs nearby, in the Frick's permanent collection and in the Met. The very next room has still rarer company, in the form of fourteen other loans from Mauritshuis, which is closed for renovation until mid-2014. And the Dutch museum did not skimp. These are textbook works, from the artists that made the seventeenth century in the Netherlands so special, with four paintings by Rembrandt alone. The one exception, a lesser still life from 1704, helps to close out a history that begins with paired portraits by Frans Hals from 1625.
The show offers a glorious and illuminating context for Vermeer in just that history. Only four years before Hals set to work on his contribution, a truce with Spain had ended, and the independent republic was once again fighting for its survival. That fight helped to make the Dutch who they were, and paintings of people, the land, and its literature helped to define them. And yet part of who they were involves when to stop talking. Like Vermeer's painting, their art invites one to imagine potential narratives, without always finding a moral. The invitation to look is enough, and Dutch art thrives in that space between storytelling and silence.
A museum in brief
Any museum these days feels the pressure to expand into shiny new quarters, even the Rijksmuseum, so it seems does the Mauritshuis, much as the Frick feels the pressure in the partnering of small museums. Its stately building began life as a palace in the 1630s, and the collection of William of Orange still supplies the core of its Royal Picture Gallery. The state museum went private in 1995, although the building remains public property, and now Dutch architects are finishing off an addition, connected to the old by a glass-covered walkway. In the meantime, a hundred paintings have a home elsewhere in The Hague, and about half that number have traveled first to Japan and then to San Francisco. The Frick chose only a smaller selection, surely with its complementary holdings in mind. It celebrates at once a European museum, the age of Rembrandt, and the art's enduring place in New York City.
The show includes each of the age's genres, starting with portraiture. Frans Hals, a portrait specialist, depicts a brewer and his young wife on their first anniversary. Late in his career, Rembrandt shows a friend after a lifetime of self-indulgence and disillusionment. An early Rembrandt, from 1635 and still in Leiden, allows a man with a feathered beret his youthful confidence—and no qualms about showing off. His cocky pose and face have led many to mistake him for a self-portrait. But no, it is up to you to linger over the painting's easy way with light and textures, before supplying your own story.
The Dutch called that second genre, of apparent portraits commissioned by no one and for sale to anyone, tronies—and Girl with a Pearl Earring is one as well. A young Rembrandt also contributes two religious narratives, one of Mary and the infant Jesus in the high temple. Simeon, who had received the promise of witnessing the messiah before he died, sees just as much a natural and heavenly illumination. Not even the spectral interior or a prophetess with her back to the viewer can bathe them in shadow. In the other Biblical scene, from the book of Daniel, Susanna at her bath, her clothes cast behind in a pool of light, draws in her arms to protect her naked body from spying elders. Unlike Peter Paul Rubens, Tintoretto, Artemisia Gentileschi, and countless others, Rembrandt specifies neither her pleasure nor her terror, and he leaves it to the viewer to play the part of the male gaze.
Jacob van Ruisdael supplies the landscape, with sunlight helping to bleach the linens set out to dry in the foreground, Haarlem along the low horizon, and clouds towering above. Nicolaes Maes, Gerard ter Borch, and Jan Steen all supply Dutch interiors with a woman alone, the third indulging herself in oysters. Steen also supplies an even plainer morality tale, with the excesses of grown-ups luring in the young, and Pieter Claesz the expected still life—a Vanitas, or meditation on death. A candlestick holder has lost its flame, a feather its ink, and books have all but crumbled. Yet seams in a skull, the dark hollows of its eyes, and the gleam on its forehead are more palpable than in life. That leaves the one painting without a human actor, The Goldfinch, painted in 1654 by Carel Fabritius.
The show spans its time as well and the development of a style. Hals does not yet think in broad bursts of black and white. Up close, the gold threads and finery are casual loops. He could have dashed them off in his sleep. Rembrandt leaps ahead to a counterpart to his late self-portrait in the Frick, where old age has brought weakness along with dignity, and Maes and Fabritius emerge along the way from Rembrandt's workshop. Adriaen Coorte rounds out the tale with five apricots, the muscular stone on which they rest, and a soft polish that ushers in the late Baroque.
As the show's title takes care to point out, "Vermeer, Rembrandt, and Hals" includes the period's leading lights, at least in modern eyes. Indeed, it goes far to describe the evolution of modern tastes in art. The Dutch did not invent any of those genres, but genre painting goes far to define the age of Rembrandt. Painting now serves not the rulers of a church or an empire, but a dominant middle class that identifies itself with its nation. No wonder Haarlem can show off its bleaching grounds and cathedral. No wonder, too, that the two religious paintings come early in the game, and neither is complete without the viewer.
Talking about silences
Which brings one back to the ultimate in contemporary tastes, by Jan Vermeer. It stands more than midway in Vermeer's career, between the explicit detail of his early work and the cold, hard surface of his late allegories. It makes for a nice comparison with another of Vermeer's women in the Frick, from almost the exact same year. In place of the Frick work's velvet blues, the loan has streaky, almost unnaturally blue shadows in a yellow shirt. They almost match the pale, thin colors in the scarf wrapping her head. Against them, Vermeer sets the simplified roundness of her face, the redness of her lips, and the white highlights on her eyes, her lower lip, and the glass drop masquerading as a pearl.
She has turned to look out from a background that, over time, has blackened. A cleaning has restored the painting as best can be, removing a speck of loose paint that had long passed for a highlight. Cleaning has also brought the woman that much further toward the viewer. Vermeer's women always have an ambiguous relationship with the world, mediated through maids, letters, and music lessons. Only this one appeals so directly to the unseen. Do her parted lips, wide eyes, and sudden turn express anxiety or longing, and for whom?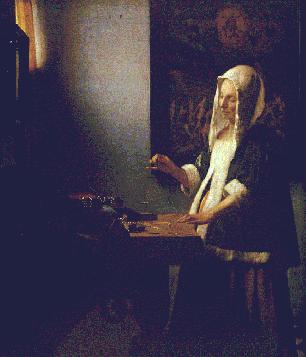 Popular culture does not have much room for open questions, but Dutch painting did. Something of Vermeer's silence also animates Woman Writing a Letter by ter Borch or The Old Lacemaker by Maes. Shrunk toward the right edge of the panel, the old woman seems oblivious to the props on the table beside her or even blind. Yet she gives the painting its brightest whites, its color, and no doubt its meaning. Silence plays the leading role in another way for the still life, with the skull of a person who can no longer speak. Steen's proverbs seem crude by comparison.
So, unfortunately, do adaptations of Girl with a Pearl Earring. In the novel and film, she is Vermeer's housemaid, in conformity with her modest clothing, and she comes with a hefty back story. Yet Vermeer left that story out. An arts writer, Benjamin Binstock, manages an even sillier identification. For him, she is one of Vermeer's daughters (and never mind which one), who also just happens to have painted at least five works that you, I, and other sentient beings have taken as Vermeers. Speculation, good cheer, and a nod to feminism will have to stand in for the slightest shred of evidence.
The Dutch did seek meaning. The silence of a Dutch interior relates to the diligence, the losses, and the inner lives of its inhabitants. The sweeping view of Harlem points to the ambitions and industry that sustained it, and the still life with skull warns of death. Hals portrays love, but also hierarchies of gender. Man and wife mirror one another's poses, but the woman's arm crossing her body reflects her having nothing to hide, while the man's cocked elbow demonstrates his pride. The woman clutches a limp, white glove, the man what could almost pass for a weapon.
The very promise of meaning demands attending to the silences. In introducing Vermeer, I asked one to take seriously his women's choices. Imagine the content of their letters, the associations of love with music or a cupid painted on the wall, the meaning of a Last Judgment behind A Woman Weighing Pearls in the National Gallery in Washington, or the many hints of a wider world. And then look freshly at what Vermeer never spells out. He paints the narrative of the failure of narratives, and that becomes the viewer's narrative, too. It becomes the story of simply looking.
The next Dutch movie star
Girl with a Pearl Earring is not a fable or a portrait, although it must have had a sitter, but a tronie. Yet so in a sense is all of Vermeer, and so increasingly as the century evolves is all of Dutch painting. Rembrandt's career has long summed up changing tastes. His four paintings from the Mauritshuis start with a tronie, and they show greater and greater reserve. From there one can go to the permanent collection, with its late portrait and The Polish Rider. And there one has to make one's own identification. That demand on the viewer still helps make Dutch painting contemporary.
For my taste, Girl with a Pearl Earring makes its demands too explicit. People will read into it what they wish, tempted by a soft spot for shiny surfaces and vulnerable young women. I can hardly complain about the chance to see it again in New York, not when I once hoped by traveling to see every existing Vermeer (and fell one short, until a Vermeer retrospective brought it to America). I can hardly begrudge it its own room, not when the woman is so alone and in such good company. Still, do take time for more. Take time especially for a rarer experience.
I do not mean the early Hals or the mixed bag of Rembrandt. I do not mean Steen's exaggeration either, although I may finally be getting a handle on why Dutch historians rank him so high. He strives to compete with the best works of its time, on their terms. His painting after a proverb brings together still life, a self-portrait, and a Dutch interior. He delights in weaving a dozen gestures of dissipation into a single composition. With the texture of the rough wall behind them, he even slips in something of The Goldfinch.
I meant Fabritius when I spoke of rarity, for no artist here was more experimental. Like Vermeer, he painted a View of Delft, but in a fish-eye lens and with a shared focus between the lens and a man lost in thought in a corner. He painted a sleeping soldier, but without the high condescension that Steen would have brought. He has been taken as the missing link between Rembrandt and Vermeer, although their development was each quite extended enough on its own. He will also stay forever young. He died at age thirty-two, probably in his studio, in an explosion of the city's gunpowder stores that also leveled a quarter of Delft and much of his work.
The Goldfinch shows nothing more than the common city bird, a step above New York pigeons but kept as pets. Its eyes are little more than dark smudges, its wings intense black and yellow streaks, its fur the bristles of a brush pressed to panel, and its shadow on the wall an irregular blur. And yet one treasures each, in what could be the living portrait of a blank wall. Like Vermeer, Fabritius hints at unseen humans, here the ones that have chained the goldfinch to a perch. The bird might have landed there a moment ago, but now it can never fly away. Then, too, the painter withholds its story, almost to the point of abstraction.
Here again, others are eager to fill in the blanks. A new novel by Donna Tartt puts The Goldfinch at the center of an intellectual thriller. A boy rescues the painting from a terrorist explosion at the Met, like the one that killed the artist, and it gets him into the midst of a Dickensian cast of characters that I look forward to meeting. (I hope that terrorists spare the Frick.) Hokey or not, Tartt has me hoping: will a goldfinch be the next Dutch movie star?

"Vermeer, Rembrandt, and Hals: Masterpieces of Dutch Painting from the Mauritshuis" ran at The Frick Collection through January 19, 2014.