Struck with Amazement
John Haber
in New York City
Rembrandt's Judas and Abraham
If God has spoken to an artist face to face, it would have to be Rembrandt. Could that be why Rembrandt kept returning to a man who spoke with God? With "Divine Encounter," the Frick takes up the life of Abraham.
"Even as I write these words I am struck with amazement." Constantijn Huygens was not speaking about the face of God. At just twenty-three, Rembrandt had a fan in Huygens, the writer, musician, connoisseur, and diplomat—and, the Morgan Library argues, his first masterpiece.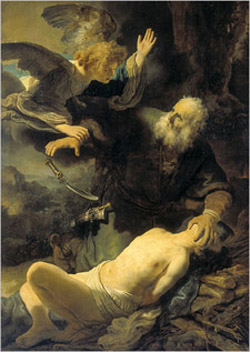 Face to face with God
Kidding aside, Rembrandt always thought of belief in personal terms. He shows Abraham prostrate on the ground, unable to face God, humbled by the promise of a son and a covenant with the Jewish people. He shows him hearing again the promise, from three strangers who will reveal themselves as angels and then as the voice of God. He shows him facing God's command to sacrifice that promised son, Isaac—and acting on that command even as an angel interrupts the sacrifice. He shows him casting out an older son, Ishmael and the boy's mother, a mere serving woman, while unable to turn his back on them. In every case, Rembrandt shows the patriarch coming to grips with the strangeness of the divine, only to rediscover the terror and confusion of his own humanity.
The Frick borrows a single painting less than nine inches wide, perhaps an oil sketch for a lost or never completed major work. With that and just eight prints and drawings, it has staged a small show in every respect but its artist. The painting, from a private collection, shows Abraham Entertaining the Angels. The patriarch has welcomed three strangers—in anticipation of the commandment only much later, through Moses, that "you shall not wrong a sojourner or oppress him, for you were sojourners in the land of Egypt." Abraham raises a pitcher, its lid just slightly ajar, and a bowl to receive its content. Will he ever deliver sustenance to strangers in a strange land? It depends on what anyone can know about the needs of the human or divine.
A man addresses Abraham at the painting's center, as a teacher or a friend. The mere mortal at right and the other two strangers at left form a half circle, hanging on every word, but also a pyramid with the young speaker at its apex, elevating him to the rank of a god. He has not yet revealed himself, but he is not just bathed in light. His glow also illuminates others in a darkened world. The angels still shield their wings from Abraham's field of vision, and the one in the foreground has the earthy colors of this world. The tree behind them, with its thick bole and twisted branches, could stand for earthly vegetation or the tree of life.
The illumination does not extend to Abraham's wife, Sarah. The Bible has her laughing at the thought of a son at her age—or even scorning it. Here she looks on in suspicion, lurking in an open door, just as she will in a print of the same scene ten years later, in 1856. There God has the beard and robe of an elder statesman, with Abraham almost his mirror image. The background has grown deeper and lusher, and Ishmael scampers over a fence. His playfulness reinforces the moment's solemnity, and his crossing the fence to a wider and wilder world anticipates his banishment.
Abraham is caught between families, between obligations, and between worlds. So he is again with his arms outstretched to banish Ishmael and the boy's mother, Hagar. Is he lying to himself about his responsibility toward others? One hand points to the wilderness, the other to the doorway and a dog—at once firm in his resolution and desperate to hold onto them all. Rembrandt never does represent him at his most outspoken, negotiating with God over the fate of Sodom and Gomorrah. When Abraham asks if God will kill even a handful of the righteous in order to punish the wicked, is he speaking on behalf of the saints, the sinners, or his own dual nature?
Maybe only Rembrandt could have found a way to ask. His etchings animate the shadows with cross-hatching and freer touches of drypoint, while thick squiggles of ink leave much of the paper untouched and a story's conclusion unstated. The curator, Joanna Sheers Seidenstein, suggests that he understood the burden of a divine encounter from Calvinism, but he has a way of speaking the unspeakable in art. The show does not borrow The Sacrifice of Isaac from 1635, when Rembrandt was not yet thirty, but the remaining drawings and prints stick to its theme. Even when Abraham fondly strokes a son's chin, one has to remember where he will later raise his knife.
In Rembrandt's early painting of the sacrifice (now in the Hermitage), a century after a shocker by Andrea del Sarto, the angel obliges Abraham to drop his knife—but it hangs suspended in midair, its point aiming straight at Isaac's throat and its blade falling toward the boy's crotch. Does it matter that God will provide or that God's covenant requires circumcision? In a drawing from the 1650s, Abraham still bends over Isaac, laid out on a table as if for surgery, even as the angel bears down. In a print from 1655, Rembrandt clings to the knife even as the angel's face comes close to kissing his dark, blank eyes. One can barely discern the ram that the angel has brought to the sacrifice, and the angel still covers the boy's eyes. God has spoken, but will human nature have the horrifying last word?
The gesture of inwardness
Listen to Constantijn Huygens as he describes Rembrandt's amazement—and his own:
The gesture of that one despairing Judas . . ., that one maddened Judas, screaming, begging for forgiveness but devoid of hope, all traces of hope erased from his face; his gaze wild, his hair torn out by the roots, his garments rent, his arms contorted, his hands clenched until they bleed.
Yet the interest of Judas Returning the Thirty Pieces of Silver does not end with that gesture. Displayed with five sketches toward the painting, it offers a rare look at the artist's first thoughts and his passage toward maturity. It shows Rembrandt back when he still worked out paintings on paper rather than in layer after layer on canvas. It also comes at the center of a further selection of prints and drawings, almost all from the Morgan itself.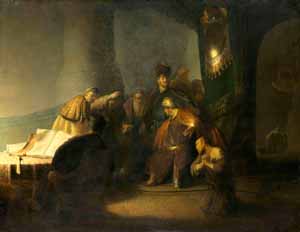 To be fair, Huygens does not rest his case on a gesture either, apart from "all the other impressive figures in the painting." Judas has entered the temple, where at least eight others are going about their business. Yet another is arriving in the background, through a dark passage at right. Highlights linger on the open book and ceremonial shield above their heads, testimonies to their authority and their duties. If the disciple hopes to return the price of betraying Jesus, the priests and elders have other things on their mind. As the high priest says in Matthew, "What is that to us?"
In 1629 the young Rembrandt had not yet left a newly thriving Leiden for Amsterdam, where he got to know the Jewish community. Already, though, this is more than the story of an alien order. He takes care to insert Hebrew lettering in the book and to lend his entire cast both vulnerability and respect. They form a rough triangle within a circle, with Judas as its base. Several look apart or within. The background figure might be groping in the darkness as painfully as he.
Rembrandt knew religious wars at first hand, not in ancient Jerusalem subject to Rome, but in the Netherlands fighting free of Spain. And his delight in the exotic and in paint appear in their costumes and the shield above. At this stage, his palette is lighter, as with the Sacrifice of Isaac a few years later, and light seems not so much to emerge out of the darkness as to glow beside it. The influence of Italian art also appears in drawings after Leonardo—and in a print after a print after Raphael. Rembrandt learned from the early Baroque, too, in all its extroversion. A later print adapts a famed altarpiece in Antwerp cathedral by Rubens.
Look again at the praise from Huygens. It shows the new value placed on interior states, especially extreme states—despairing, maddened, screaming, begging. Yet it also shows the value placed on making them fully visible, as gesture and as theater. Judas, in desperation, has cast the silver to the ground, which a circle of light converts into a proscenium stage. "A blind impulse has brought him to his knees," the writer adds, "his whole body writhing in pitiful hideousness." The backdrop at left, in pale green, resembles a stage curtain.
The Morgan opens with self-portraits on paper. Not only van Dyck was presenting himself with style. The strikingly young man lets his hair grow wild, and shadows divide his face in half, like theatrical lighting. He is a whole new kind of artist, self-conscious and divided in two, much like Judas. He is confessing to his impulse, but also forging an image. He is fixing on a signature literally as well—no longer RHL (for Rembrandus Hermanni Leydensis), but Rembrandt.
Salvation or suicide
Far be it from me to quarrel with a polymath like Huygens. The exhibition includes a book of his, to show his learning, and a portrait by Jan Lievens, Rembrandt's friend and fellow student. Still, you may find yourself wondering at the weight he places on Judas and gesture. You may find yourself marveling more at the tension barely confined within the disciple's clasped hands, seemingly more an onlooker than an actor. Neither he nor the high priest occupies the painting's center, and the glances run every which way. This is an ensemble piece, from an artist who trained as a history painter.
"Rembrandt's First Masterpiece" has the air of self-congratulation or of flattering the lender, a British private collection, and some may prefer one of Rembrandt's self-portraits in oil from the same year—or his likely first commission, a portrait in the Met painted two years later. (Per Rumburg got the ball rolling before departing the Morgan for the Royal Academy, London.) Still, an ambitious artist was working his way out of the dryness of his teacher, Pieter Lastman. He is using nimbler brushwork and thicker surfaces to capture varied textures, deeper shadows, and that inwardness. He is showing off.
Is the display too familiar, even with a masterpiece? The Morgan exhibited "Rembrandt's World" as recently as 2012. Still, it looks familiar for good reason—because work like this shook things up for good. The bulk follows Rembrandt at work on the Gospels. It shows him adopting larger and more varied compositions. One moves across them, finding new incidents every step of the way.
It shows multiple versions of the same print, the plate reworked each time. It shows him scraping away incident and then darkening the scene again—as in the Met's "The Unfinished Print." It shows him turning to the freest of tools for incising into a plate, drypoint. It shows, too, his concern for the gritty darkness of life. In that print after Rubens, he stresses Jesus not reaching to the sky, but pressing to the ground. On a lighter note, he cannot resist inserting a dog into The Last Supper.
For all that, the surprise is not how much studies for Judas reveal, but how little. Rembrandt has sketched a few figures quickly, then moved on. A leg in dense red chalk presses the ground, but it takes imagination to relate it to the panel's clothed figure. It takes even more to relate Judas to the exhibition's final section, on the artist's repertoire. Saint Jerome, too, is kneeling, although in holy contemplation. Still, Rembrandt has poses like this one available to him much like any artist, and so would you.
The greatest surprises lie in the painting—as inwardness and spectacle alike. As at a play, the viewer is watching, but so are the actors within. Judas is not gesturing wildly but looking on and looking for hope. Those looking out of the canvas engage the viewer directly with their eyes. You are in his position and in theirs, and so it will be when Rembrandt turns at the Frick to face Abraham and God. The dilemma of hope or madness, salvation or suicide, is on you.

"Divine Encounter" ran at The Frick Collection through August 20, 2017, "Rembrandt's First Masterpiece" at The Morgan Library through September 18, 2016.