The Great Beyond
John Haber
in New York City
Meret Oppenheim: Beyond the Teacup
If any modern movement is associated with liberating dark feelings, surely it is Surrealism. Many have felt particularly threatened by one of its anxious objects. A fur-lined teacup became Meret Oppenheim's most famous—no, her only famous—work, and not solely for its playfulness. It has suggested to many viewers that they must taste something bristly and inaccessible.
Is that fear related to a male viewer's unconscious associations with a vagina? In fact, as art historians focus today on the dark side of Surrealism, are they more stereotypically male than they may think? In an age of feminist criticism, no wonder her art begged for rediscovery. This show promises to take one "beyond the teacup."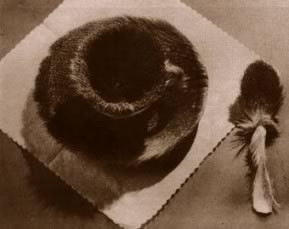 Oppenheim could stand for much of Modernism. Drawn early to Paris, she took part in its ferment. With works titled in both French and her native German, she suggests its cosmopolitan ideal. Can it be that John Russell's textbook history of modern art does not mention her even once? Not that the Museum of Modern Art's own magisterial survey avoids sexism any better.
Most of those works date from long after Surrealism. They include somber abstractions in oil, not unlike American art of the 1930s. Indeed, painters such as Arthur G. Dove had a similar concern to retain the beauty of Surrealism without its sometimes rambling stories and its crises.
My favorite works turned out to be those that most reminded me of the teacup (photographed here by Man Ray). Another meal, seemingly art stained with blood, again juxtaposed a culture's obsessive associations with food, violence, and sex. Works like this one rely on small objects, isolated from their everyday context by their museum solitude and subtle juxtapositions. Unable to live easily alongside their familiar associations, their modesty and challenge look strikingly forward to the 1960s. I was reminded of Yoko Ono in her intriguing gallery show earlier this year.
The flip side of her output's diversity is its lack of character and bite, a criticism all too often leveled at women artists in male circles, such as Lee Krasner. The self-awareness of early Modernism must have been hard to maintain. A photograph near the show's entrance helps suggest why. It presents her with a stunning elegance. I could not help thinking, though, of its resemblance to Marcel Duchamp as Rose Selavy, but without his self-reflective irony.
I reached Oppenheim's work in a state of exhaustion after more than 500 art objects. I had seen the Guggenheim's grand history of African art. Like Africa, a woman's dreams stood to Surrealism as a dark continent. Both shows proved the independence of what men had hoped to appropriate. Yet both also confirmed Modernism's steady insight into the fears of its audience and the power of the suppressed.
Reaching the museum's top floor, I am thankful that I lingered for the show that drew me to the Guggenheim in the first place. When Meret Oppenheim left Paris after Surrealism's peak, she paid a price for the collapse of a movement. In that way, too, she opens up a new history of this century's art. She has given New York its most talked-about show.

"Meret Oppenheim: Beyond the Teacup" ran through October 9, 1996, at The Solomon R. Guggenheim Museum.