A Renaissance on the Surface
John Haber
in New York City
Petrus Christus: Renaissance Master of Brugges
In 1444, already nearing the height of his art, Petrus Christus formally took the title Master of Bruges. It may sound strange that a small Belgian town once had the temerity to issue an artistic green card. If it does, the retrospective of Petrus's work at the Metropolitan Museum will offer a wonderful introduction to the first great century of the Renaissance.
Bruges, a delightful city of quiet canals and greenery, is still an essential visit for anyone who cares about northern European painting. Once shipping routes changed, bankers took off for Brussels and Amsterdam. By then, though, Bruges's wealth had made it an artistic center of the Renaissance.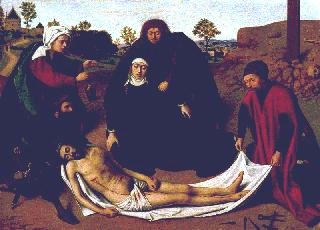 And yes, it had a regulated guild system. That meant that Petrus, from a village by the name of Baerle, had to go through some formalities to manage a profitable workshop.
A revolution, and Northern Renaissance art surely was one, is headiest in its earliest days. Just as in Italian painting, God walked easily in human surroundings. And, like Bellini's Saint Francis from those years, art stood erect and opened its arms to the skies.
In the north, artists traced their roots to manuscript illumination and Gothic spires, not to sculpture, icons, and the farmland of Italy. And there Jan van Eyck, Robert Campin, and Rogier van der Weyden developed oil painting on wooden panels, well before Antonello da Messina and others brought it to Italy. Rogier's greatest pupil, Hans Memling, established himself in Bruges around 1470, after van Eyck's death. Nothing I know can ever surpass that glowing record of the interiors, city streets, and intensity of religious observance they all knew at first hand.
Among their close followers, only Petrus Christus has much work in American collections today. He seems ideal for a retrospective. The Met even reproduces in color nearly everything it could not borrow. The museum has an excuse, too—showing off the techniques of painters and restorers.
Refined surfaces and awkward people
A revolution also has a history. Historians are more than likely these days to see even the Renaissance as a only slow, uncertain development from medieval times. Petrus's half-generation, just following the first innovators, is therefore particularly interesting. He could consolidate and extend the vision of many artists, in Italy as well as at home. Rather than a revolution, he could develop a style.
He had the special good fortune of access to van Eyck's designs. He labored right in van Eyck's workshop, most historians think.
Petrus can also be more approachable than his predecessors. He paints ordinary, or even clumsy men and women, and his spaces are more open to air. At times he comes near to single-point perspective. Compared to van Eyck's delicate line, he uses the broader whites and heavier shadows of a house painter. Petrus's more modernist flavor is in fact what has long made him so attractive to American collectors.
He is at his best in single figures. A grumpy looking man, a portrait from the Los Angeles County Museum, may well have served as an inspiration for Venetian art. (Antonello da Messina may have seen it on his travels to the north from Italy, if the legend of those travels holds true.) A woman's face, in a portrait on loan from Berlin, glows in golden whites, while soft blacks of background and clothing effortlessly interlace. She is enveloped in a weight of garments, and yet her strangely tiny head somehow manages to hold its own. We admire her elegant composure, and we are obliged to recognize a woman's all-too-traditional place.
Petrus's reticence makes religious scenes peculiarly moving. As his dead Christ is lowered to earth, in both a small Lamentation in New York and a greater one in Brussels, mourners reach out mutely, vainly, stumblingly. Some tiny works in this very show appear rarely in public, including an illuminated manuscript. An Ecce Homo, or a figure of Christ in his humanity, was recovered from theft only after the exhibit opened, but here it is for anyone to see.
Petrus had little interest in hidden religious symbols, yet another tribute to his modernity. If he has a story to tell, he tells it, as prosaically as necessary. To identify Saint Barbara, van Eyck let a church steeple of his imaginary city view just happen to fall behind her. (His viewers thought she was imprisoned for three days in a tower, like Christ under earth.) Petrus's variant carries her steeple around like a lapdog.
A work now in New York shows Saint Elegius, the patron saint of jewelers, as he helps a young couple select wedding rings. Their innocence comes with obvious concern for getting their full money's worth, and they make an understated contrast with two dandies, reflected in the shop mirror, who strut outside. One is entertained by the moral tale, the warm tones and busy interior of the shop, and the cleverly mirrored spaces—but saintliness is another matter.
Art history at the museum
The retrospective has a more specialized interest as well, for it has allowed the curator to plead a case. I mean that beyond the show's own spelling of Bruges. Tradition, not to speak of plenty of scholarship, calls Petrus the pupil of van Eyck. Maryan W. Ainsworth disagrees.
I hate the practice of treating a museum show as a private thesis. It throws the weight of the institution into a professional dispute, and it tells newcomers to the art exactly what to think. In fact, that may be part of its appeal. History by wall label and press release can be dangerously successful, at least when it is not plain silly. Newspaper reviews obediently referred to Petrus as formerly associated with van Eyck.
I am not convinced. Ainsworth herself shows why. She stresses Petrus's reliance on van Eyck's workshop schemes. It goes beyond the Barbara panel I mentioned. Elsewhere he copies floor decorations from a van Eyck that in Petrus's time would have been locked away in a private collection. He must have seen it in the studio.
Ainsworth draws the links still tighter too. Along with another recent scholar, Joel Upton, she gives Petrus a work that has often been attributed to Jan van Eyck and Hubert, his mysterious older brother. She agrees, too, that toward the end of Petrus's career, when invention flagged, he returned mostly to Jan van Eyck, his great predecessor, for compositions.
Worse, to help her case, she has to damage Petrus's reputation. She takes from him two key early paintings, and she adds a clumsy later one (a Death of the Virgin in San Diego) to stress his range of tastes. One of those early paintings was once given wholly to Petrus. After spotting a manuscript shown on Saint Jerome's desk, historians have had to transfer half of the painting to van Eyck, but Petrus deserves his share, too. Jerome's lion, as smooth and nonthreatening as an inflatable toy, is very much part of the artist's style and sensibility.
The glory of the show is that one can decide for oneself—or choose not to care. My, how proud the Met must be of the show's title. See, it spells Bruges in a scholarly, medieval way (with an extra g) in the show's title! Most visitors will have other concerns, from the origins of the Renaissance and its beauty to sheer pleasure.
It may be that the show's aims point to the dilemma of art history in a Postmodern age. Today museums bring art to markets as well as to individual viewers. Meanwhile scholars face up to the job of restoring to art its history, down to gorgeous Renaissance books rarely on display. The paradox is that scholarship then enters the market as well, and conflicts over present-day ideas take on a greater weight.
There is another paradox, too. Art history is about more care for about what art means. And yet it must take on Petrus, who in a sense gave up on his teacher's symbolic meanings, with a reticence that reminds me of Vermeer, inarticulate before the fate of his women. The methods of criticism are at their best when they reflect on not just the art, but even their irrelevance.
Petrus shines in the fragile drawing, clear oil colors, and introspective sensibility of the Northern Renaissance. They may reveal themselves to a newcomer only slowly, but take the time. The portraits alone are worth the visit.

"Petrus Christus: Renaissance Master of Brugges" ran through July 3, 1994, at The Metropolitan Museum of Art.