Game Set Match
John Haber
in New York City
Raymond Pettibon and Jackson Mac Low
"Sport exhibition entertainment competition coupling match date": so which will it be?
Do not answer too quickly. When Raymond Pettibon asks in a drawing, he is describing the fight between Batman and Superman, but the question could apply to his entire retrospective, "A Pen of All Work." With three floors plus the lobby wall of the New Museum, you have plenty of time to make up your mind. And with some seven hundred drawings plus paintings, videos, album covers, and full-blown comic books, you have every reason to wonder. You can take your time, dip in and out of the thousands of words and images, or move through impatiently in search of a grown-up. You may have witnessed a thoroughgoing chronicle of the last forty years or just an unedited fantasy—and a postscript looks at a more disciplined but equally quirky mix of drawing and text in Jackson Mac Low.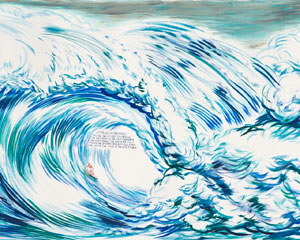 The dynamic solo
You can start anywhere, in a retrospective with little regard for chronology—but by all means start at the top, with a metropolis and its superheroes. This particular dynamic duo will greet you off the elevator on the fourth floor, and they presage it all. They belong to many a childhood, and the show includes drawings from when Pettibon, born in Tucson in 1957, was still a child. As original work based on the comics, they belong to the territory between popular culture and art, and he got his breakthrough in 1978, with a raunchy "zine" that covers a full wall, as Captive Chains. (Never mind whether you can read it all, because the question applies to much else in the installation as well.) In his mind at least, the confrontation between Batman and Superman also has the weight of the counterculture versus the stifling and newly triumphant mainstream, and he earned notoriety in the West Coast punk scene with album covers for Black Flag.
They lack for a title, like almost everything from his hand, but they sure do not lack for text—often but not always his own. I have quoted only the first few words of a dense drawing. He cannot resist adding more to his boyhood drawings as well, bringing their crudity more or less into the present. As with Batman and Superman, too, he can rarely resist two words when one will do. With competition and match or with coupling and date, he is tracking not nuance, but impulse. As he confesses elsewhere, "My head and imagination are full of my own urgent imagery and issues."
And the issues keep on coming. "I write very little now, draw even less," Pettibon pens once in the style of a potholder or sampler. Yeah, right. "Pardon these lines." Apologies notwithstanding, his certainties are his real subject, and they do not often permit self-examination. Everything is just too urgent.
That includes the state of the world, and the caped crusaders open a floor for politics. Clearly that, too, does not exclude comic strips and fantasy. This being some years ago now, Mayor Rudy Giuliani makes an appearance, unwelcome to all. Still, the focus is on the heroics. "Do you see stars, fascist Superman?" You better, before the battle to the death gives way to a reconciliation.
Brothers must unite in the end, because this is very much male territory, much like the graphic imaginings of Jim Shaw or Mike Kelley. Pettibon devotes another full wall to "the dear old thing," his prick. "Fifty dollars and you can have me forever." You can have an obvious equivalent as well in a series devoted to locomotives roaring at full speed. Women appear mostly as sex objects or threats. Talk of love shifts quickly to talk of sex—and talk of communes to Patti Hearst.
The superheroes have his signature style, too. Whatever his medium, from pen and ink to pastel or watercolor, it dashes across the page in bold strokes of color or black and white, before joining art and text. He allows himself painterly gestures and highlights, so that heroes look muscular and flatter cartoons look starker and more violent. From a distance, the surrounding text could pass for atmosphere. A few animals, in a series on planet earth, even approach realism. Still, the god of the Sistine Chapel is present at the creation, and humans are barely apes.
Politics and the comics
"I see them complete, color, texture, everything." Complete as what, though? The aphorisms over the lobby desk have nothing obvious in common. As one says, "Nobody can analyse my handwriting." You may relish his fertile imagination—or keep begging for a narrative. Yet Pettibon does have his preoccupations.
The second floor introduces the most basic, as curated by Gary Carrion-Murayari and Massimiliano Gioni, among them baseball and religion, which he takes seriously. ("Heaven is so high now you need references to get in," and money has "has become a symbol of worship.") It also introduces some of his avatars—including Gumby, who stands before god and James Joyce's Ulysses, and Vavooom, a character who spews as much fire and noise as his name suggests. He levels mountains. The third floor supplies some background to Pettibon's anxieties, in love, sex, and family. It has him competing for art school but skips over his success at UCLA.
It also introduces him to music. He looks back fondly to Elvis, for sex and stardom, but remembers Ringo as the "largest" Beatle. He feels ambivalent at best when Dylan goes electric. He is more at ease, though, surfing—in his largest, most extended in time, most colorful, and least textual series. After growing up in Hermosa Beach, "My purpose in life is to do this. On the seventh day I paint."
On the top floor comes politics—always grim and not always based in reality. "Vote us out," the voices say to him. "Try!" He seems perfectly sincere in raising JFK assassination conspiracy theories, and he sees the Twin Towers through the same disillusioned eyes. "We have made monuments to ourselves" at Ground Zero. "Therefore they shall serve as tombstones."
Although a leftist, Pettibon is an equal opportunity mocker. Boasts Che Guevera, "I've still got my good looks." He also has the courage not to paper over the violence in political art, but he can seem distant from events all the same. He all but says as much, in adapting T. S. Eliot to "history anesthetized upon a table." He replays Vietnam, the civil rights era, and looming nuclear war at their most terrifying to participants, but they still seem far away. Obama and Trump make appearances, but only barely.
He seems deadly earnest and unedited, even when joking. He called a show of art after 9/11 in 2007 "Here's Your Irony Back," and it seemed all over but the block caps and the shouting. Even his politics has room for the comics. It has room for untold other rants as well, and I have quoted only the memorable. The onslaught has something in common with the drawings and animations of William Kentridge in South Africa, but without the demand to sit still and to watch. Anxieties are too pressing, and surf's up.
From language to landscape
It took Jackson Mac Low a long time to find his voice. It took him even longer to lose it, in a tangle of line and color. With each step, he was becoming an artist. With the first, in 1953, he had made some of the earliest text art, well before Lawrence Weiner. By his death in 2004, he had found his way to a boisterous abstraction, in crayon, acrylic, and oil stick on paper. When others were questioning publicly whether painting was dead, he made it a matter of private celebration.
It was for him a literal celebration, and it still involved words. With his late "name poems," he made art as a shout-out to others—most often to his wife, with love, on her birthday. You may or may not be able to make out her name. Does that make Mac Low a poet, an artist, or both at once? The Drawing Center makes the case for his art, but it does not insist too hard. It calls the show, open-mindedly enough, "Lines – Letters – Words."
If you know him at all, and I did not, it is more likely as a poet and performer. He counts among the "language poets," a group for whom the elements of language mattered as much as their meaning. He admired chance procedures in music by John Cage as well, and he meant many of his drawings as scores. That includes letters from Sanskrit chants and prayers, arranged every which way on graph paper as his Gathas, starting in 1961. It also includes the Skew Lines from 1979, in light pen traces that he imagined as "dropped" onto paper. Their length corresponds to the duration of sounds, and never mind that he rarely got around to performing them.
With each stage, Mac Low was working against his time, like a proper avant-garde artist. Born in 1922, he made text art just when Abstract Expressionism and then Minimalism insisted on the purity of visual expression. Then he made his text visually alive and unreadable, just when art had become drier and more ironic. Still, he was by no means standing apart from his time. It comes as a shock to discover pen drawings from 1951 as fluid, dense, and abstract as those by Jackson Pollock that very year. It comes as a shock, too, to see his "static film" of a tree from 1961, three years before Andy Warhol shot the Empire State Building.
Static or not, his only constant was change. As it happens, he shares the Center with Amy Sillman, who called her last Chelsea exhibition "Stuff Change"—here with a video of drawings inspired by Ovid's Metamorphoses. (The main gallery holds a hybrid of art and architecture by Mateo López.) The display begins in 1953 with something akin to primitive traces, although also to black brushwork by Franz Kline—followed by the equally primitive language of Hi and Ape, just one coarse red word to a sheet. More jumbled text from the 1960s approaches aphorisms, and one last series, from 1995, takes language to the edge of landscape, with the faint pencil of Birds, Trees, Mountains, Moss, and Leaves. As an artist Mac Low may have earned only a footnote, but as a performer he had entered fully into space.

Raymond Pettibon ran at The New Museum through April 9, 2017, Jackson Mac Low at the Drawing Center through March 19. A related review looks at Pettibon's political art ten years before.