Does Architecture Matter?
John Haber
in New York City
One World Trade Center
Does architecture still matter? And does it still have anything to do with buildings?
The questions may sound peculiar, but some might answer no to both. The debate over public spaces has intensified, for good reason, to the point that what surrounds those spaces can barely rate a mention. Consider just some of the symptoms—and then consider just how much they leave out. Architecture matters not just for appearance sake. It matters because it shapes the lives of those who inhabit its spaces and embody their values. First, though, the symptoms, including debate over New York's tallest and perhaps most value-laden development of all, at Ground Zero.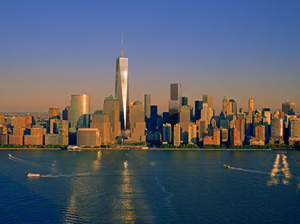 Going public
"A majestic threshold into the headquarters city for the traveler from Glen Cove or Chicago." When Nathan Silver wrote Lost New York, in 1963, Penn Station was not yet lost, but he could see its destruction coming. He evoked a structure more like the glass and dark steel of nineteenth-century Paris than New York today, but also an integral part of this headquarters city. It was coming down, to leave only the cramped, underground passage through fast-food restaurants that bedevils travelers to this day. Above, the faceless tower of Madison Square Garden was coming, but who among the champions of preservation even troubled to mention it? These days, people would be talking instead about the shadow of the Garden.
Shadows are in the news now, with hardly a building in sight. They dominate discussion of plans to rezone north and east of Grand Central Station, to allow taller buildings. They fall across the park in the shape of condos planned for Central Park South. One could object to the architecture, but who can even remember it? It took a garden pavilion by Dan Graham on the roof of the Met to remind me how much they already invade one's field of vision. They present a New York after architecture.
In each case, the preservation of public spaces has become more important than the preservation of architecture. And that holds even with public spaces less essential than midtown Manhattan and Central Park. With housing planned for the north end of Astoria, the issue is affordability. In still other cases, architectural preservation has itself come under fire for interfering with just that. Landmark status can be a gift to wealthy owners, at the expense of growth and community. Meanwhile the city's most popular new development has been the High Line.
Somehow, then, the debate has changed. Not so long ago, museum retrospectives were helping to anoint star architects, like Zaha Hadid, Herzog and de Meuron, or the cast of "Tall Buildings" and "Burgeoning Geometries." Now they are taking more skeptical looks at the proto-"starchitects" of Modernism's past, like Le Corbusier. Shows of political architecture have preferred modest expectations centered on open spaces. They have sought a global reach, without concrete utopias. Other recent shows argued strongly for Frank Lloyd Wright, but precisely as a garden-city planner.
Not that museums have given up on growth, big time. They can turn out as pompous and hostile to art as the New Museum, the Museum of Arts and Design, or MoMA in 2004. Yet there, too, or in ICA Boston the focus has been on public spaces, in the form of a cafeteria and museum atrium. Renzo Piano made one the center of the Morgan Library, and another looms in the Whitney's future home in the Meatpacking District. As for preservation, when the Modern prepared for its next outsized expansion by demolishing the former Museum of American Folk Art, concern was largely limited to the arts community. And even there, one of the most popular art critics, Jerry Saltz, dismissed MAFA's design as a waste of space.
The New York Times embodies the shift in its own architecture critic, Michael Kimmelman. Despite his title, he hardly mentions new architecture, except as access points. In his review of One World Trade Center, designed by David Childs of Skidmore, Owings & Merrill, the building itself comes as something of an afterthought. While he dismisses its symbolism and symmetry as trite and obvious, he sees the very idea of an office tower a missed opportunity. A combination of offices, shops, and residences could, he argues, have revitalized lower Manhattan. It might have taken years longer, but there is something more important to a city than building.
Which public?
How did things get to this point? Art has had thirty years of postmodern critiques to convince it that it failed on its promises, and so no doubt has architecture. That alone might have concerned minds looking elsewhere, but so might the city and the planet. Growing inequality and gentrification risk turning much of New York into virtually a gated community, with access for a privileged few. Globalization and climate change, too, demand more than vertical development, however fine its design. Conversely, a revival of the city after years of crime, financial failures, and suburban sprawl offers an opportunity for more sustainable solutions.
Of course, too, this is only a part of the picture. Architecture is doing just fine, thank you, in the sense that big buildings keep coming. All that global wealth wants to leave its mark, with architects as brand names. It revels in such flourishes as Frank Gehry's rippling walls for an enormous residential tower downtown—a building that nearly dwarfs One World Trade center as seen from Brooklyn and the bridge. A form that need no longer follow function has taken hold not just from Postmodernism, when every historical style is available and anything goes, but from engineering advances as well, including Gehry's software. Architects may go for curves and cantilevers simply because they can.
Kimmelman's predecessor in fact championed high style amid ruthless development. If support is growing for something more open and dynamic, then, all the better. And if criticism has become polarized between great buildings and great spaces, it merely reflects a polarization in society, between the 1 percent and everyone else. Still, does that mean having to reform humankind, as with "Uneven Growth" at MoMA, with hippy-dippy visions of Third World slums as "social islands"? Does it mean turning one's back on what architecture is for? Consider what Kimmelman's eloquent, savvy, and hopeful criticism leaves out.
For starters, it leaves out much of what is going on downtown. Wish Ground Zero had shops and residences? Just lift up your eyes to the gigantic invitation to buy or to rent draped down yet another tower a couple of blocks northwest. Just walk in that direction toward more offices, more residences, and the usual big-ticket stores. A couple of blocks further takes one to a community college and Tribeca restaurants. Or head the other way, toward City Hall and the usual bustle of New York.
Only do not expect much of this to be affordable. Kimmelman also manages to leave out the actual needs of most New Yorkers. He had already praised offices just west of Ground Zero for a covered walkway with a Shake Shack and a couple of stores. A financial firm planned the enclave so that its employees could have lunch. What look like public spaces function in reality as privileges for the privileged. Mixed use alone can take one only so far.
The call for more deliberate planning also leaves out the positive side of office construction. Growth creates its own demand, which stimulates the very mix at stake. One World Trade Center is open to tenants as of November 2014, already thirteen years after 9/11. People were not just asking to rebuild as a symbol of American resilience. They really needed something more than a hole in the skyline and the ground. Further long delays in the interest of a master plan would only replicate the failures of Modernism's grand visions.
Losing weight
That still leaves the question of architecture. Kimmelman slips in a dig at One World Trade Center almost despite himself, as if he could not justify an assault on "upside-down priorities" were not the building so ugly. The turn is almost apologetic at that, for he actually likes the vaulted lobbies for their tall windows, sunlight softened by pastel glass, and passage to public transit. (I could not judge apart from photographs, as they are off-limits to people like me.) I might trust it more, too, if it did come with praise for the old World Trade Center, two of the most hated buildings ever for carrying facelessness to epic proportions. Hey, they had "sculpted corners" and a passage between them.
The shift midway through can make his review a kind of Rorschach test. Those who dislike the building will read into it whatever they feel. I, too, can make fun of José Parlá's "cheery" mural for the south lobby, at least in reproduction. I can fear the sentiment behind a steeple that carries the building to 1,776 feet, although I can empathize with topping out the actual building at the height of the old towers. I can just plain hate a complex of tall buildings and the corporate interests eager to fill them. Still, let me offer a hesitant defense.
Kimmelman describes One World Trade Center as an "abbreviated obelisk" atop a "concrete bunker." He also insists on its symmetry, as if every building before Postmodernism were too weighty for words. I would describe it as tall interlocking triangles. From a distance, they create a sense of twisting or turning, tempering the building's height and mass. Up close, one sees a single white triangle tapering to a point in the sky—almost filling lower Manhattan as it does for Liene Bosquê. Reflective strips and windowed entrances cover the "bunker," which in turn roots the building in the geometry of the plaza and streets.
It makes a welcome contrast with its neighbors, mostly stacked glass pyramids. That includes 7 World Trade Center to the north, also by Childs, which Kimmelman praises. True, its trapezoid fits creatively into its surrounding streets and presents a shifting corner view from all sides, but that amounts to the corner of one ordinary glass slab among a dozen downtown, adding nothing to the neighborhood's skyline or diversity at all—and up close the metal slats of its tall base bear down like a prison. One World Trade Center also makes a welcome contrast with entries to the competition from which it emerged. Inventive as they were, they all strove to be as imposing as humanly possible. A separate proposal to replace the old towers only with twin beams of light had promise, but they would have had chilling echoes of searchlights during an air raid, and anyway the twin pools of the memorial at Ground Zero have made them superfluous.
In all these ways, the western hemisphere's tallest building has lost weight. It has also legally shed the name Freedom Tower and, with it, still more heavy-handed symbolism. It asks for a return to normalcy, as one building among many, while standing apart as a reminder of what came to pass. It rests to the side of the old site, the memorial, and a museum while asking to be a part of them. It lacks the soaring creativity of the transit hub still in progress, by Santiago Calatrava. Still, it is in place and a lot less over budget, and Calatrava's ribbed wings being lowered by cranes might be enormous claws.
In other words, it is shaping Manhattan and responding to the expectations that people bring to it. It may or may not be great architecture, but it is a potent reminder of what architecture does. Nathan Silver resigned himself to the old Twin Towers in similar language: "great architecture or not, that violent sacrifice, exacted from the buildings and people of a peaceful city, transfigured the towers and exalted them." I would prefer a building able to transfigure lives and to exalt itself. I can look forward to a time when public spaces and community matter more than grand designs and brand names, but a single work of architecture can contain them all.

One World Trade Center opened November 3, 2014, and Michael Kimmelman's review appeared November 29 in The New York Times, which profiled Nathan Silver on December 12.