Bridging Architecture
John Haber
in New York City
Mateo López, Dannielle Tegeder, and Melissa Kretschmer
Hariri & Hariri and Dialogues: Art and Architecture
Not every architect is an artist, but architecture is still an art. It participates, too, in modern art's dream of transforming life.
Plenty of architects dish out cheap and ugly housing for the poor or vast and ugly enclaves for the rich. Artists, too, though may play to markets, especially those at the top. Yet artists can also reflect creatively on architecture. Mateo López does, remodeling the Drawing Center as a site for drawing, sculpture, and performance.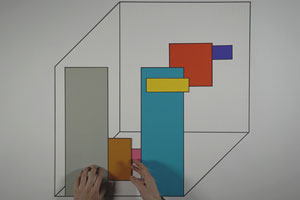 So do Dannielle Tegeder and Melissa Kretschmer, who incorporate elements of sculpture to disrupt the border between abstract painting and architecture. Most of all, so does a show all about the dialogue between art and architecture, centering on visionary designs by Hariri & Hariri.
Dancing in the Bauhaus
Take a long strip of cardboard or stiff paper, and fold it into white squares. Stand it on its side, like an accordion book, but with alternate folds pointing outward, like a six-pointed star. The gray end pages can still bend apart from one another, like a grand entrance to the pointed inner chamber—or the covers of a book. Now cut a rectangle out of each square, apart from the covers, and replace it with colored paper. Do not worry if the pieces never quite line up, leaving six doors to the inner chamber slightly ajar. Is it architecture, collage, or book art?
For Mateo López, it could be a model for the rest of his exhibition as well. Maybe not a scale model, but a model for his multidisciplinary art. Actual architecture takes up much of the main gallery at the Drawing Center, with similar plain white walls broken by open passages and bright colors. This structure, though, consists of staggered rectangles, as reasonable places to live or to display his art. They are also spaces to wander, much as he might have experienced them in the process of assembly. Accompanying videos document just that.
Trained as an architect and still in his thirties, López plays with the borders between space, objects, and the human body. A chair takes the angle of its back, he insists, from his own while seated. (Hint: he has atrocious posture.) A drawing portrays a less strained spinal column, while a watercolor takes its shape from a dance in New York subways. An actual dancer stops by now and then to "interact," as the Center puts it, with two of the sculptures. One, in brown wood staggered much like the rooms, consists of bed slats.
This is interactive art without need of a touch screen or mouse. The show's only allusion to new media comes in its title, "Undo List." And López likes lists, as part of the regular assembly of his designs. One drawing amounts to the days of the week and another of numbers. They also amount to yet another kind of interaction, between the artist and modern art history. They come close to copying works familiar from Minimalism, conceptualism, and process art.
One drawing borrows a knot from Bruce Nauman, while a dustpan contains the remains of an interview with William Kentridge—in an exhibition, after all, that is just cleaning up. The allusions reach further back in time as well, comporting with the boundary breaking. Another drawing in fact has as its title Look Back, Move Forward. The house pays tribute to the Bauhaus and Oskar Schlemmer, and a sphere hanging overhead could pass for steel sculpture by Antoine Pevsner or Naum Gabo. Of course, its spiraling planes are paper.
The Colombian artist also alludes to his homeland, with a gold mask after pre-Columbian art. Still, his heart is in Latin American architecture and European modernism. With his mix of disciplines, he also revives debates over both. Do they reduce people to puppets or machines, like the dancers in Schlemmer's film in "Dreamlands" at the Whitney—or do they serve instead as designs for living, open to the choices of their creators and inhabitants alike? One last drawing resembles dance steps, but its curves connect words that begin "walking around a bit like an animal in a cage." They also end with "hope."
Framing the gallery
Dannielle Tegeder speaks of her paintings and drawings as utopias, but they do not approach formal perfection. They have bulky frames. They do not even hang on the wall. Leaning up against it, they might be staking out their place in an unfinished installation.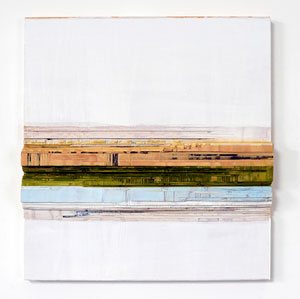 She or her dealer might still be having second thoughts. Not that the works lack for polish.
Tegeder's geometry does not stop with the frames and the walls. Nor does her engagement with the gallery. She has worked directly on the wall and leaned work directly against walls and floors. She has also leaned works against one another, hiding them while bringing them that much further into the room. Here they rest on what pass for makeshift plinths, where another artist might settle for paint cans. Look again, though, and the plinths have their own geometry and polish, like her images. They might have tumbled out of the thick white frames.
The sculpture recalls Constantin Brancusi, while her tumbling compositions and subdued palette could belong to any number of past utopias, from Russian constructivism to László Moholy-Nagy and the Bauhaus. Both media are hard-edged, modular, and irregular. The paintings and drawings have wide open spaces, just like objects in a room. Tegeder exhibited in "Geometric Days" at Exit Art in 2011, and one could locate her days mostly in the past. Yet she approaches the urban chaos of Julie Mehretu.
Tegeder leans to Modernism, but also to the city she knows. She has mapped taxi rides as an artist book, which she calls the real or outright dystopian side of her vision. It puts the zombies in "zombie formalism." The show itself bears a less than optimistic title, "Blind Hierarchies." Its broken boundaries and dystopias have counterparts in politics as well, although one might never know it. Still, she encourages the viewer to navigate her spaces in order to see.
Melissa Kretschmer, too, introduces frames and walls into her paintings. They just happen to fall roughly midway. Her abstractions look familiar enough, although from a later Modernism than Tegeder's. A tight group of horizontals or verticals interrupts an otherwise blank field. The patterning may recall Gene Davis, although in more muted colors, while the sudden, spare interruptions recall "zip paintings" by Barnett Newman. Their creamy white surroundings recall the layered textures of Sean Scully in oil or Brice Marden in encaustic, but the edge has moved to the center.
The stripes have an additional dimension, and so do the more open fields. She calls the series "Excavations." Kretschmer works in vellum, gesso, gouache, beeswax, and graphite on chiseled plywood—where even to list the media all but buries her pigments in the stuff of craft, books, nature, and construction. Her easel scale refuses late Modernism's mural scale as well. The zips resemble molding, which could belong equally to a picture frame or to a door. They revive the old metaphor of painting as a window onto the world, while insisting on the window as an element of architecture.
Structure and light
Maybe Modernism was only a dream, but there are still visionary architects. "Dialogues: Art and Architecture" insists on them, as part of an extended dialogue between the practice of architecture and the creative imagination. The show lists its participants as equals, but it boils down to the firm of Hariri & Hariri, complemented by a selection of gallery artists. They challenge one to decide where painting and sculpture end—and where planning and modeling begin. They also challenge one to decide what the firm could conceivably have built. The answers, at times, surprised even them.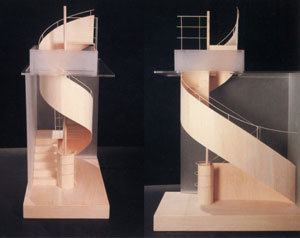 The two sisters speak of themselves, too, as between art and architecture, and that still earns them a degree of skepticism or scorn. Architects, after all, are supposed to worry about practical matters—in the interests of clients and in the interest of earning a living. They approach their scale models, though, as art or craft for its own sake. Wood takes on delicacy and detail, with accents of metal and glass. Broader surfaces, in sweeping curves, reflect ambient light. Whole towers are lit from within.
The interaction of structure and light interests them, as part of the interaction between a building and its environment. It also leads them to structures that rise above their surroundings. Embracing Towers, from 2003, would have nestled into one another, shaped like twin piano pedals. Beacon of Light, in stone from 1988, resembles a candle holder from an ancient civilization, piercing the fog that keeps cultures apart. Fog Habitat, meant for San Francisco in 1994, would have formed a bridge through the fog, suspended on two narrow towers barely large enough for an elevator and stairs. A more sober bridge, meant for Korea in 1988, would have spanned the DMZ.
Born in Iran and educated at Cornell, the architects have every right to bridge east and west. And the show's most recent project, for Iran, actually got built. They were not always so lucky. Möbius Strip Hybrid Stair, a spiral staircase nestling a more direct vertical, proved technically impossible. The firm has also appeared in "Contemplating the Void" for the Guggenheim's fiftieth anniversary—in honor of another often impractical visionary and the designer of Mile High Illinois, Frank Lloyd Wright. But then the idea of architecture as a dialogue with nature or the imagination runs through Modernism and Romanticism before it.
Others in the show touch on art and architecture as well, if at times only tangentially. Don Eddy paints New York's bridges and skyline in a crisp photorealism, with the accent on sky, glass, and metal. Ilan Averbuch approaches a spiral stairwell in ceramics and stone, Rupert Deese takes up fog off a California river in monochrome, Mark Calderon thinks of his bronze animals as archaeology, and Sarah Bridgland does her modeling in paper collage. Painting for Richard Purdy has the pixels of computer-assisted design, product logos, or primitive video games, while Linda Mieko Allen incorporates marble dust into a hybrid of fractal geometry and sunlight. Hariri & Hariri recap Modernism now and then, too, with a square tower crossed by a plain lattice, stilts out of Le Corbusier, and a covered plaza like the Lever Building. They seem happier, though, dreaming of more.
One can take comfort in the failures of visionaries—and not just for the leap of faith. It comes as a reality check as well. One may wonder whether anything these days cannot be built. The undulating skins of Frank Gehry or "superboxes" of Ettore Sottsass might suggest otherwise, but the obstacles are real. One can dismiss much urban design as utopian, assuming it were even worth building, from Buckminster Fuller to Latin America today. Yet one can always call it art.

Mateo López ran at the Drawing Center through March 19, 2017, Dannielle Tegeder at Johannes Vogt through January 8, Melissa Kretschmer at Lesley Heller through February 5, and Hariri & Hariri at Nancy Hoffman through January 28.