The Sketch Artist
John Haber
in New York City
Gabriel de Saint-Aubin and Drawing Connections
Gabriel de Saint-Aubin did not lack for worldly ambition. He just kept his perspective on the world.
In 1752, at age twenty-eight, Saint-Aubin offered an oil sketch for a ceiling. He had studied at the Royal Academy, where he applied three times without success for the Prix de Rome. Now he was again out for respect. Cupid, representing The Triumph of Love, floats radiantly at the center. Around him the gods display ample flesh, no end of poses, and fantastic foreshortening. The project, wrote his brother, would suffice to make a career.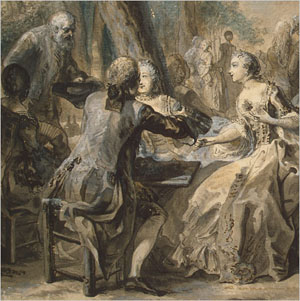 Suffice it to say, it did not. Instead, he became one of the most successful and prolific illustrators of his time. If he never got that scholarship in Italy, at least he could remain in Paris, where the action was. And he never lacked for work describing it.
The Frick's selection of drawings and other works explains why history has often forgotten him. It also makes clear why a sketch artist like Saint-Aubin can seem so at home today. Unlike much of Rococo art, he knows when to keep his distance—and when, too, to lighten up. Meanwhile, with "Drawing Connections," the Morgan Library allows four artists, including Dorothea Rockburne and Georg Basilitz, to make still more connections between contemporary art and thousands of sheets from the past.
The imagination and the streets
What went awry with that ceiling? For one thing, the other gods, too, appear as putti, or babies—and I mean small, peevish children. Their plump bodies show more concern for motion than for anatomy, and not all that much distinguishes their faces or their nasty goings-on. An academic might note, too, the profusion of clouds and the strong division between love's brightness and the dark architecture. Together, they almost flatten the depth of heaven. Think of a gifted cartoonist filling in for Giambattista Tiepolo.
A collaboration between the Frick and the Louvre shows Saint-Aubin as just that—a talented draftsman roaming happily across the Parisian scene. Certainly he had the speed of a great sketch artist. His brother claimed that he turned out a hundred thousand drawings, and one hardly knows whether to call the exaggeration a criticism, a boast, or a joke. If his less than methodical strokes leave empty spaces at the margins, clutter in the foreground, forgettable faces, or a casual approach to the human figure, one can understand why. His hand and eye just refused to sit still.
True, the French insisted on drawings as essential to an artist's education and practice. His teacher at the Academy, François Boucher, churned out thousands. Yet Saint-Aubin filled the margins of Salon and auction catalogs with studies, at times seemingly of every composition on display. If he were to catch the lecture slides in art-history class today, he would never have to buy a textbook. As if to underscore his productivity, he combines pencil, pen, chalk, and brush, often in a single drawing. He could not have executed many of these on the spot.
Like a modern cartoonist, he felt equally at home in his imagination and in the streets. He regretted his failure as a painter, but he never looked back. He has few attempts at higher genres, such as panoramas from history or the Bible. Even when he sketches the triumph of Pompey, one strains to spot the general's elephant. He has yet to abandon horseback in order to squeeze past the gates of Rome, and it will be quite a squeeze. Do not even try to count the people pouring into the city ahead of him.
Like a cartoonist, too, Saint-Aubin seems to know everything, or he likes to think he does. His other historical composition in the grand manner includes up-to-date shipyards, appropriate or not. He takes note of an astronomical clock and his design for a watch case, with a precision unusual for the artist. His interest in modernity leads him to chart the construction of the Louvre, all the way from demolition of old structures to the hanging of paintings, but do not expect architectural specs in between. He describes the factory of the future, but with a double-bobbin spinning wheel that would never exist.
A cartoonist, like many an artist, loves to exaggerate. Two drawings focus on new arches for the boulevards of Paris. However, his perspective assumes an impossibly low and close observer at odds with the scene itself. When Apollo and Mars play chess, the board tilts alarmingly forward, and Zeus himself all but slides down onto it. Above all, a cartoonist loves people, mobs of them and very much in the present. Do gods play chess, or only when they drop in on a Parisian coffee house?
The audience as spectacle
A cartoonist may imply a reporter, especially a sardonic one. The curators at the Frick, Colin Bailey and Kim de Beaumont, suggest a comparison to Honoré Daumier. Subjects like a busy café or a pack of lawyers look tailor-made for Daumier's time, when Saint-Aubin slipped back briefly into fashion. The sketch artist as reporter makes sense, too, on the eve of the French Revolution, before photography could do the job. Saint-Aubin's most obvious portrait is of a criminal, ripe for today's tabloids.
A dispassionate reporter also accords with Enlightenment values in painting, as when J.-S. Chardin captures in still life so many fleeting movements and quiet textures. And Saint-Aubin idolized a symbol of the Enlightenment, Voltaire. One sketch depicts the wisdom of Solomon, from a play by Voltaire, although as usual one can hardly tell who is doing what. Another shows the playwright at work. Yet another has him crowned in laurels at the Théâtre Français, and with the artist's usual overstatement he combines two separate events. Voltaire would draw the right morals about favoritism and fame.
However, Saint-Aubin makes a poor candidate for reporter, documentary photographer, social critic, or proto-modernist. He lacks the objectivity, when he can delight in allegory or just make things up. He lacks the specificity, when faces so often blend together. In the coffee house, crowds basically stand around and chat. When Jean Antoine Watteau took to the streets, he found the weariness of a soldier, while Saint-Aubin finds only acclaim for a king. Even that criminal comes duly labeled a scélérat, a scoundrel.
He does not look outside his class or into the depths. At the theater, he notes all who take pleasure, from lords to the clergy, but without satire or incident concerning either one. Even near death, he has time for a smile. He draws his own studio, with an unidentified body on the floor and Jesus on the cross looking toward heaven, but also a couple of open wine bottles. The closest he comes to an intimate connection between observer and observed is within a scene—of himself painting. And there he prominently displays his nicely stockinged leg.
Saint-Aubin loves public displays because he imagines life as a busy spectacle, one that not even thousands of drawings can match. It draws him to the opera and the operating theater. It draws him to a raging fire at the Hôtel-Dieu, the famous charity hospital, but without too much sign of its victims. Spectacle to him does not mean, though, the high moral theater of Jean-Baptiste Greuze or Neoclassisicm. These scenes do not play to the viewer's sensibilities, but to the audience within the drawing, giving its ovation to Voltaire or a king. For him, the greatest theater of all was the audience.
And in that lies the artist's greatest claim on the present. I can imagine him hanging out downtown, enjoying the activity and defining a style. I can imagine the results in an indie paper, online, or in a graphic novel, but he might still have more fun in a museum. One drawing observes a procession of jousters—except that the procession takes place almost entirely off the sheet. Instead, some mythological creatures hang out above, and a horse cart dominates the composition. The looming mass of horse and wheels supplies a rare and very special moment of darkness and empathy.
A modern Morgan
It must be the oldest and laziest trick in a curator's book: invite an artist or two, and let them pick a group show. However, when artists can choose from the thousands of drawings in the Morgan Library, the real trick is knowing when to stop. "Drawing Connections" allows a nifty comparison of two continents, four artists with four takes on themselves, four approaches of tradition, and four views of the whole point of curating.
Georg Baselitz, Ellsworth Kelly, Giuseppe Penone, and Dorothea Rockburne each get two adjacent walls, the run of the collection, and the opportunity to display his or her own work prominently alongside it. They could start with catalogs of past shows, browse a state-of-the-art database, or delve deeper. The curator, Isabelle Dervaux, confesses that one of the four seemed determined to look at all twelve thousand drawings. The museum sees it as an assertion of "continuity through the ages," and even academic artists may look more contemporary in drawings. Modern art has accustomed viewers to spontaneity, incomplete thoughts, theatrical gestures, and intimate observation of the real. However, each artist establishes the connections differently.
Rockburne deserves a retrospective at this point, and she treats the occasion like one. Her drawings on loan look much like paintings, thanks to their relatively large size and such rich materials as gold leaf, dark vellum on thick panels, and watercolor on polyester film. She intersperses the Morgan's drawings like illustrations: see, they insist, how a forcefully modeled hand perhaps by Pontormo relates to the articulation in her surfaces or how Tintoretto's Man Climbing into a Boat relates to her folded and unfolding geometry.
Baselitz goes instead for a study in contrasts. He selects a single artist from the past, separates the two bodies of work into clusters, and sketches mostly right-side up for a change to facilitate comparison.
Both turn to Mannerism, but again for very different reasons. One might expect Rockburne, who often bases her work on ratios from classical mathematics, to prefer the perspective studies of the early Renaissance. However, she sees Mannerism as consciously pushing Renaissance formalism to its limits, and she likes instability more than balance anyway, as in Tintoretto's outstretched body—which I mistook for a tragic fall. Baselitz naturally sees Mannerism as a matter of rule breaking, not to mention a sometimes anguished reflection on the immediate past. However, he does not ask simply for parallels to himself. He selects Parmigianino at his most intricate and ethereal, in red chalk and brown ink, while Baselitz's own charcoal heads have a blunt, Germanic earthiness closer to Käthe Kollwitz.
Penone, a new name to me, treats his display as an exercise in canon formation. The Italian, affiliated with Arte Povera, tends to flat, monochrome, all-over surfaces, and he likes his art both busy and rational. That includes a broad landscape by Bruegel, a torrent of bodies from the school of Mantegna, a thoroughly rational portrait of the artist's brother by Albrecht Dürer, and landmarks on the way to Modernism like bare trees by Paul Cézanne. Finally, Kelly offers a glimpse of what might have been. At one end stand drawings that reveal the basis of his art in spare, chance glimpses of recognizable things. Together with equally surprising parallels to a variety of other artists, one can imagine him if his art really had stuck to nature.
Kelly's curves seem much thicker than their pencil traces are because of the space between, and they just barely coalesce into outlines or patterns, much like the self-portrait here by Henri Matisse or the three-chalk technique of Watteau. Seaweed rises up, and sure enough he includes ascending sheaves of wheat by Vincent van Gogh. The head of a man after death has the vulnerability and simplicity of a child's, but it may or may not relate to the more potent prone body of a sleeping lion by Peter Paul Rubens. What happens, then, when artists and others look back at art? Does it become an act of confession, an interpretation of the past, or a redefinition of tradition? The four artists here ponder distinct but not unrelated answers.

Gabriel de Saint-Aubin ran at The Frick Collection through January 27, 2008, "Drawing Connections" at The Morgan Library through January 6.